Appointments
G42 names ex-Xiaomi VP Manu Kumar Jain as India CEO
The Abu Dhabi-based G42 is expanding its operations in India under the leadership of Manu Kumar Jain, who played a pivotal role in bolstering Xiaomi's global operations in South Asia for over 10 years.
Manu Kumar Jain has assumed the role of India CEO for G4C, an Abu Dhabi-based AI and Cloud Computing firm, with the aim of expanding the company's operations in India's thriving tech industry. He has immediately taken up this position following more than eight years of service at Xiaomi.
Prior to his appointment, Manu was located in Dubai as Xiaomi's Global Vice President, overseeing operations in the South Asia region, including India, Bangladesh, Nepal, Bhutan, and Sri Lanka. Following his departure from the company in February 2023, Alvin Tse assumed the responsibilities of Global VP.
The AI technology company announced Manu's appointment as part of its India expansion strategy, stating, "We are thrilled to announce our upcoming expansion into #India as we continue our journey toward becoming a global leader in AI. Leading us into this new chapter of G42's growth story is Manu Kumar Jain, a name synonymous with transformative leadership and groundbreaking success in the consumer technology sector. Together, let's unite and strive to surpass boundaries, creating impactful advancements in technology for the benefit of society."
Manu also expressed his excitement about this new endeavour on x.com, saying, "I am thrilled to share my next professional journey! After building the largest smartphone company and one of the biggest fashion e-commerce companies in India, I am embarking on a new and exciting adventure. I am delighted to announce that I am joining G42, a leading global AI company, to kickstart a new AI business in India! Together, we will innovate, disrupt, and push the frontiers of Artificial Intelligence forward. #AI is transforming our lives and industries, and its potential is limitless. There is a great opportunity to harness this power and make a significant impact on India's tech landscape. Stay tuned for more updates as we work towards shaping the future of AI in India. Thank you all for your continued support, and I can't wait to share this exciting journey with all of you!"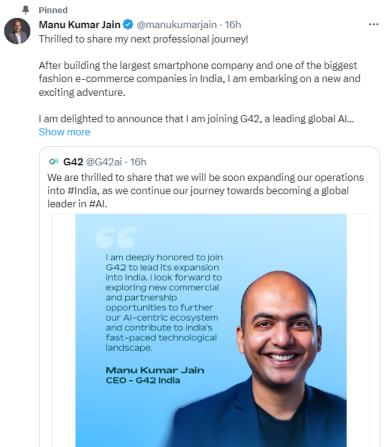 Manu brings nearly 30 years of core expertise to the industry, having held several key leadership positions. Before joining Xiaomi, he was a part of the leadership team at WorkIndia and ZestMoney. He also served as a Board Member at Hungama, India's leading entertainment company. Prior to this, he served as Co-founder and Managing Director at Jabong for two years.