Appointments
Senior leadership changes at Uber India
The US based cab company has announced a new role for the current Chief People Officer and the current India & South Asia President.
Cab aggregator Uber's search for the head of Asia Pacific business comes to an end. The US-based company has promoted their India Chief Amit Jain as the head of Asia Pacific Business. Before this new role, Jain was the President, Uber India and South Asia.
He has worked with different organizations such as Rent.com, Deloitte, Resurge International, TPG Capital, McKinsey & Company.
In his new role, Amit Jain will manage countries such as Australia, New Zealand and North Asia. He will continue to lead the India business as well. It can be recalled that the cab aggregator is also looking out for India's head. Jain is excited about his new role and said he has amazing people doing phenomenal work in the company.
He said, "I am really excited to be stepping up to lead Uber's ridesharing operations in APAC. We have amazing people doing phenomenal work, here at Uber, and I am excited to work with them to grow and expand our business in APAC. We will remain committed offer the best ride experiences to our riders, creating sustainable economic opportunities for our driver partners, and redefining the future of urban mobility in our cities across the region."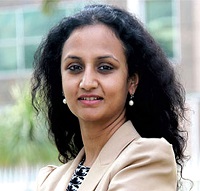 In another development, the company has announced the elevation of Vishpala Reddy, Chief People Officer, India & South Asia to a new role of Regional HR Director, Asia Pacific, Uber. The company announced this news last week.
Commenting on the development, she said, "My journey at Uber has been truly exceptional. Since day one, I have been inspired by the diverse group of employees at Uber, who share the same passion and are driven by a common purpose to keep India moving. I am now excited at the opportunity to lead the people function across the APAC region. I look forward to working with our incredibly talented leaders and employees across the region in continuing to drive strong business growth. My team and I will remain focused on making Uber a more diverse and inclusive workplace and an amazing company to work for."

Vishpala joined Uber in August 2017 from American Express where she worked for more than 12 years. She is a veteran of human resource and worked with companies such as Aon Hewitt and Cognizant.
Image source : moneycontrol