Appointments
Twitter appoints Managing Director for its India business
The new leader will replace Balaji Krish who was appointed as the interm country head, after Taranjeet Singh stepped down from his role in September last year.
Manish Maheshwari, the former Network18 Digital Chief Executive has been appointed as the Managing Director of its India operations. He will be leading the company's strategy and execution in India also be responsible for growing Twitter's audience and revenue growth in the country. 
Maya Hari, Vice President, and Managing Director, Asia Pacific announced the appointment on Twitter.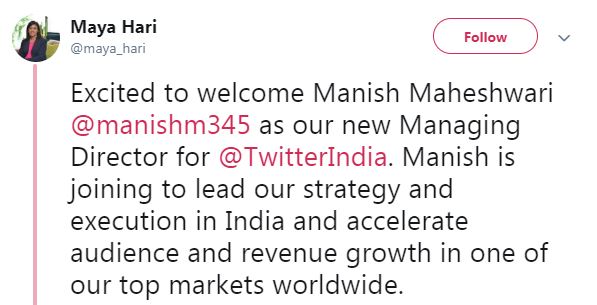 She also shared that Twitter's focus in India is to remain consistent and strong as ever.  She shared, "Twitter is here to serve the public conversation, be the destination for what's happening and the place where brands can launch and connect with audiences when they're at their most receptive."
And India is an important market for the American online news and social networking services company. 
Maheshwari hence has a lot of responsibilities on his shoulder. The experience he has had from working with companies like Reliance-owned Network18, Intuit, McKinsey, Flipkart and Procter & Gamble will add value to Twitter's business in India. 
Now in his new role, Manish Maheshwari is excited to lead the US-based company's India business towards great heights. "India's future is digital and full of possibilities. With our amazing teams across the country, I'm bullish about the positive impact that we can have on all elements of Indian society," said Maheshwari. 
Before Maheshwari's appointment, Balaji Krish was taking care of the India Business as the interim country head, after Taranjeet Singh quit the company in September last year. Since then the company was missing the presence of a dedicated leader. Although the market is full of opportunities for Twitter, the new challenges are also always around the corner in this age of disruption.  For instance, in India, social media platforms including Twitter are facing intense regulatory scrutiny over concerns about political misuse of social media during the ongoing general elections in the country. How Maheshwari sails the ship for Twitter through these small and big storms and ensures it reaches the shore of success in India is to watch out for.