Appointments
Emily Horne appointed as Twitter's new Communications Director
Horne, who was earlier serving as the Assistant Press Secretary of the National Security Council, will now head the global policy communications for Twitter
Microblogging website Twitter has hired the State Department veteran Emily Horne as its new Communications Director.
The decision was announced on Twitter by the company's corporate communications leader Kristin Binns, to whom Horne will report when she assumes duty.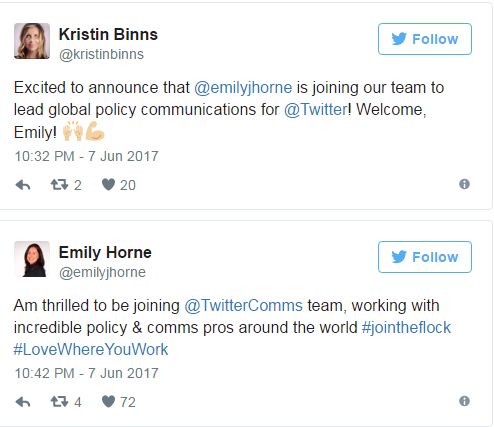 Horne will join at Twitter on June 19, and would lead the global policy communications.
"Horne will oversee Twitter's messaging and communications for all things related to Twitter policy, including issues of abuse, hate speech and user privacy", Recode reported.
Horne's appointment comes after several communication executives quit Twitter last year, including Natalie Kerris (former vice president, global communications) and Jim Prosser (former head of corporate, revenue, and policy communications).
Horne was previously serving as the Assistant Press Secretary and Director of Strategic Communications, for the National Security Council. She was the spokesperson for the White House and National Security Council on key foreign policy issues, like counter-terrorism, international economics, and trade. She also regularly briefed senior White House and National Security Council officials, and coordinated senior government communications efforts (State Department, Defense Department, Treasury, Intelligence Community and others), as per her LinkedIn profile. She has been working with the US Department of State since 2009, after joining as a Historian.