Leadership
Expedia selects Mark Okerstrom as its new CEO
The American travel tech company has entrusted its chief financial officer Mark Okerstrom for the CEO role, replacing Dara Khosrowshahi who quit to join as Uber CEO
Expedia has appointed its finance chief Mark Okerstrom as the new president and CEO in the place of Dara Khosrowshahi, who will now be CEO at Uber. Okerstrom will also join Expedia's board of directors, and Khosrowshahi will continue to be a member of the company's board.
Congratulating the outgoing CEO and elucidating on the rationale for Okerstrom's appointment, Expedia Chairman Barry Diller said, "We all wish Dara Khosrowshahi the best good fortune as Uber's CEO. Prior to Dara leaving, Mark Okerstrom was his principal partner in operating the Company - and therefore this transition is as natural as water flowing down a snow-packed mountain."
Remarking that the Board did not consider any other candidate for the role, Diller expressed confidence in Mark's leadership and the executive team surrounding him, and asserted that the company will continue to grow and prosper under him.
Soon after the announcement, Okerstrom wrote on Twitter that he was honored to lead Expedia through its next exciting chapter.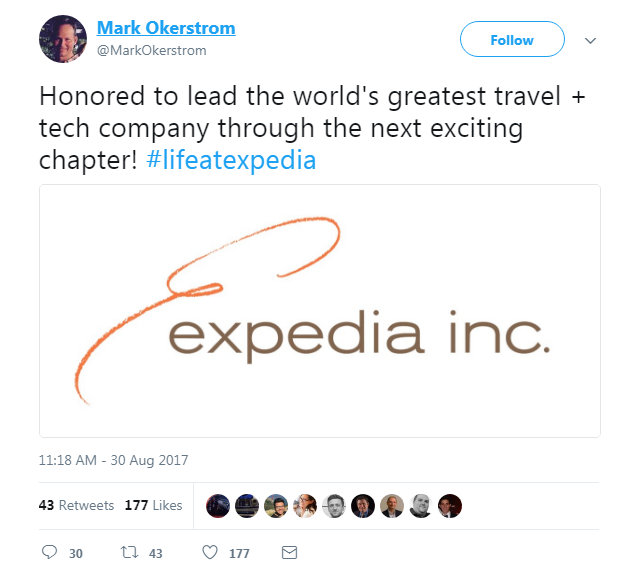 He has also worked in the roles of Senior Director, Corporate Development and Strategy, Vice President of Corporate Development and Strategy, and Senior Vice President of Corporate Development respectively, for Expedia since he joined the company in 2006.
Before joining Expedia, he was a consultant with Bain & Company in Boston and San Francisco, and worked with UBS Investment Bank in London. Prior to that, he was a practicing attorney in London. An MBA degree from A Harvard Business School MBA graduate, Okerstrom also holds a law degree from the University of British Columbia.