C-Suite
Niti Aayog announces Rajiv Kumar as vice-chairman
Rajiv Kumar, noted economist announced as the Vice-Chairman of Niti Aayog.
Noted economist Rajiv Kumar was announced as the Vice-Chairman of Government's think tank - Niti Aayog.  Before him Arvind Panagariya , an Indian-American economist was the vice – chairman at Niti Aayog who left the organization to return to academia. 
Rajiv Kumar retweeted the news from NITI Aayog affirming his new appointment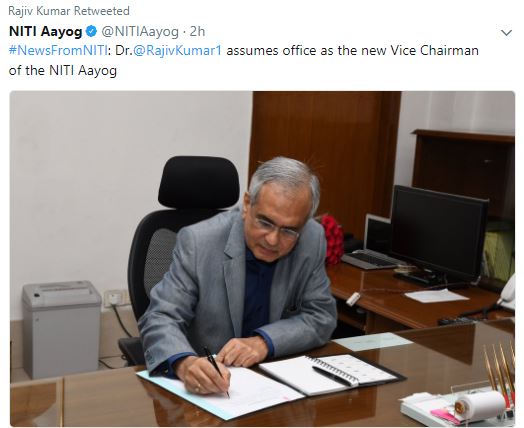 NITI Aayog provides relevant technical advice to the Centre and States while the formation of strategic and long term policies of the government. It is a government's premier policy 'Think Tank' providing both directional and policy inputs.  Recently reported by People Matters, In the three-year action agenda for 2017-18 to 2019-20, Niti Aayog, asserted that "Unemployment is the lesser of India's problems. The more serious problem is underemployment."
Prior to the current position at Niti Aayog , Rajiv Kumar held the position of senior fellow at the Centre for Policy Research or CPR. Before working with Centre for Policy Research, he worked with Indian Chambers of Commerce and Industry as Secretary General. Also, he served as Director & Chief Executive of the Indian Council for Research on International Economic Relations (ICRIER) and as a chief economist with Confederation of Indian Industries (CII).
Rajiv Kumar has a PhD from Lucknow University and had done DPhil in economics from Oxford. He has worked as the chief economist of the Confederation of Indian Industries (CII) and held senior positions in the Ministry of Finance and Asian Development Bank. 
He has written several books on the Indian economy and India's national security. Between 2006 to 2008, he was member of the National Security Advisory Board.