C-Suite
Reliance Jio tops the list of Fortune's 2018 'Change the World' list
Jio is ranked ahead of companies like Merck, Bank of America, Alibaba.
Reliance Jio has achieved the top spot on the Fortune's 'Change the World' list that ranks companies using the profit motive to help the planet and tackle social problems.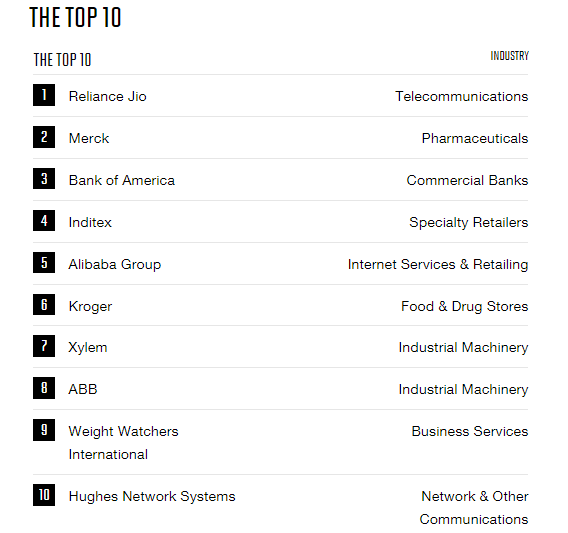 Source: Fortune
Fortune prioritizes companies with annual revenues of $1 billion or more. The initial solicitation and assessment of nominees are conducted in partnership with FSG, a nonprofit social-impact consulting firm; the Shared Value Initiative, a global platform for organizations seeking business solutions to social challenges; and Professor Michael E. Porter of Harvard Business School. Fortune writers and editors then evaluate and rank the companies by the following four factors:
Reach, nature, and durability of the company's impact on one or more specific societal problems


Consider the benefit the socially impactful work brings to the company. Profitability and contribution to shareholder value outweigh the benefits to the company's' reputation


How innovative the company's effort is relative to that of others in its industry and whether other companies have followed its example


How integral the initiative is to a company's overall strategy, and how well that strategy is communicated through the ranks and elsewhere
On Reliance Jio occupying the top spot, Fortune says, "The resulting Jio-fiction has been nothing short of revolutionary; with data use surging and Jio's competitors scrambling to match its offerings, the development has jump-started India's digital economy. The biggest winners are those in rural areas or of modest means—the farmers, students, and entrepreneurs who finally have in their hands the tool they need to participate in the modern economy."
Jio attacked the sector with free calls and data forcing rival companies to merge or exit from the market in September 2016 and has amassed 215 million subscribers since then.