C-Suite
To start his own venture, Snapdeal CPO Anand Chandrasekaran quits
Chief Product Officer of Snapdeal, Anand Chandrasekaran, quits after one year.
Anand Chandrasekaran, Snapdeal's CPO, has quit the e-commerce giant to start his own entrepreneurial venture. He had been brought on board one year ago to refurbish the company's platform, especially mobile. That definitely took place, judging from the early morning appreciative tweet of Snapdeal co-founder Rohit Bansal: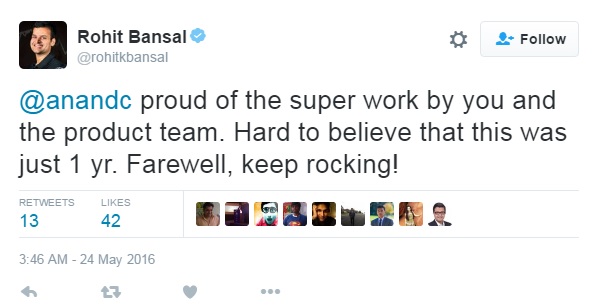 To which Chandrasekaran replied: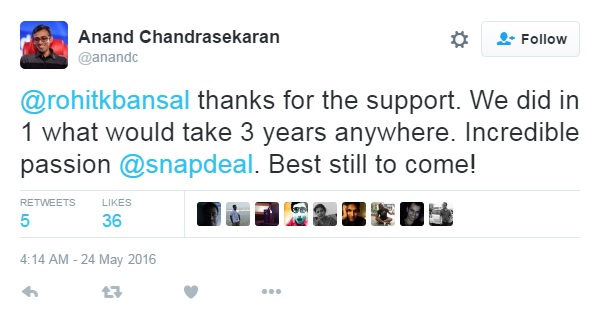 A Snapdeal spokesperson echoed the same in his statement: "Anand has done some stellar work on the product side at Snapdeal. His insights and attention to detail have helped us traverse quickly towards launching and improving products at Snapdeal. We wish Anand the very best for his entrepreneurial journey ahead".
Given the tweeted good wishes, the departure only seems like a transition to the next, more exciting step in talented Chandrasekaran's journey. Prior to joining Snapdeal in June 2015, he had been the CPO at Bharti Airtel. He has also worked previously with Yahoo as a senior director on its search and mobile products and has been an entrepreneur. Chandrasekaran co-founded Aeroprise, a personalized mobile applications software company, which was acquired by BMC Software Inc. in 2011. He has also been a venture advisor and producer to a multiple award-winning documentary.