C-Suite
Suryakant Pandey joins Cipla as HR Director
After a long stint with Shell India , Suryakant Pandey joins Cipla as HR Director
Suryakant Pandey has joined one of the leading global pharmaceutical companies, Cipla as HR Director.
Prior to this, he was working with Shell as HR Manager India in retail, sales and marketing. He was also part of lubricants supply chain India leadership team and a core member of strategic retail India group. He had closely worked with a diverse set of stakeholders to deliver employee engagement and talent development objectives; leading & driving global/regional projects in the business.
People Matters have approached Suryakant Pandey to know about his current roles and responsibilities and his response is still awaited.
He has expressed his excitement through a Linkedin Post, where he acknowledges his former colleagues for the long association and portrays his keenness after meeting Prabir Jha, Global Chief People Officer, Cipla.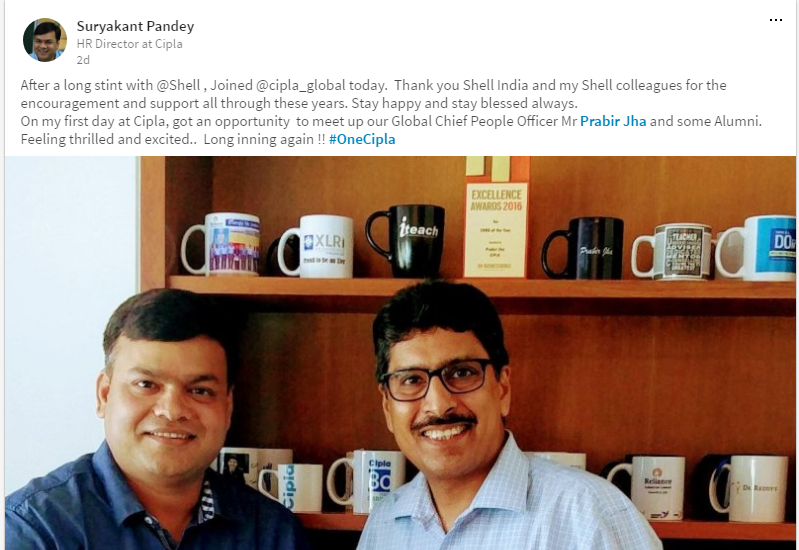 In September last year, Cipla roped in Ashwani Dahiya as the company's Chief Talent Officer Head of Human Resources for all Corporate Functions & Lead Centers of Excellence for Talent Acquisition, Talent Management, Leadership, Learning & Development etc., as per the LinkedIn profile. Also, another significant addition was made in October when Cipla appointed Abhay Srivastava as Head HR-TechOps to lead Cipla's entire manufacturing and quality unit as HR.