C-Suite
Twitter CTO Adam Messinger quits
Twitters chief technology officer, Adam Messinger announced his departure from the company.
Adam Messinger, Twitter's chief technology officer has decided to exit from the company. He made this announcement on twitter, where he averred that, after 5 years, he has decided to leave the company and take some time off.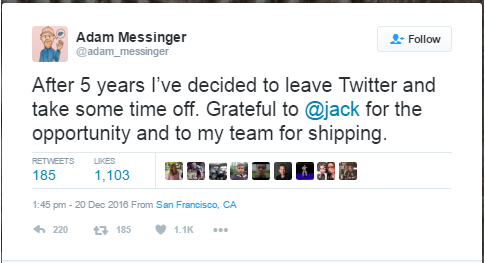 A graduate from Willamette University, Messinger has been with Twitter for five years and has been at the post of CTO since 2013.
His exit is seen as a follow-up act, as recently, Twitter's Vice President of product Josh McFarland resigned. Before him, last month, Adam Bain, Chief Operating Officer, also resigned and quitted from his post. In a span of almost 3 months, several top executives of twitter have left the company.
In October, recently, Twitter had laid off a significant portion of its workforce, roughly around 9 percent of its staff.