Compensation & Benefits Consulting
The list of world's best (and worst) pension systems released
Pension systems around the world are facing additional pressures in 2020. Here is a look at where the countries stands in the Global Pension Index as calculated by the Mercer CFA Institute.
The Netherlands and Denmark have cemented their positions as having the best pension systems in the world, even as other countries falter during the COVID-19 pandemic, according to an annual global survey.
The countries again took the top two slots in the Mercer CFA Institute Global Pension Index published Tuesday, drawing praise for holding their nerve and not allowing citizens to drain their accounts during the crisis.
The scores of over half of the countries (20) slipped this year as the world battles to limit the economic fallout from the COVID-19 crisis. The global recession has led to reduced pension contributions, lower investment returns and higher government debt in most countries.
"Inevitably, this will impact future pensions, meaning some people will have to work longer while others will have to settle for a lower standard of living in retirement," said David Knox, the report's author and senior partner at Mercer. Stretched public finances mean public benefits in particular are under pressure, he said.
Mercer CFA Institute examined 39 retirement income systems covering almost two-thirds of the world's population using a combination of responses gathered from May to July and publicly available data. Here are the complete rankings: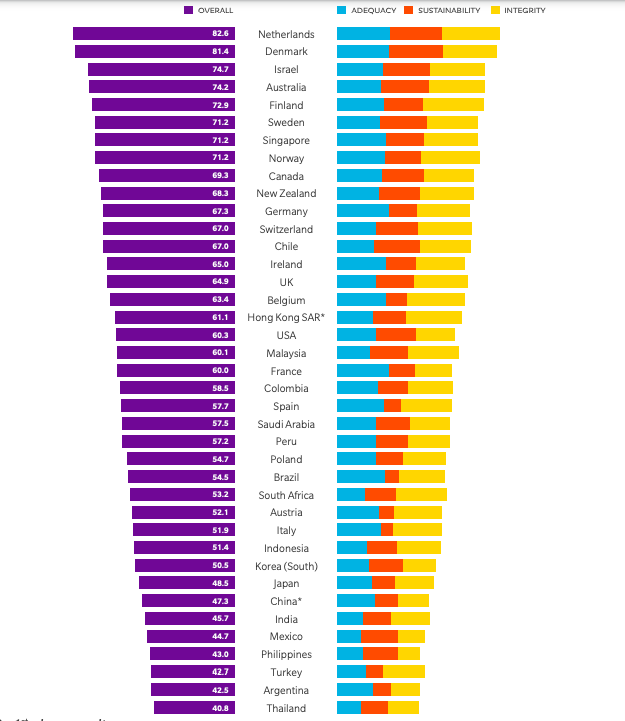 The report also highlighted some steps towards a better pension system including:
Increase coverage of employees and the self-employed in the private sector
Increase the state pension age/or retirement age overtime
Promote higher labor force participation at older age
Encourage higher level of private savings to reduce dependence on public pensions
Reduce the leakage from retirement saving systems prior to retirement, etc.
Download the full report here.