Compensation & Benefits
Manufacturing sector lowest paid: Monster Salary Index
Manufacturing sector lowest paid with Rs 211.7 median hourly gross salary, reports Monster Salary Index
At a time when concentrated efforts are being made to make India a manufacturing hub, latest Monster Salary Index reports that manufacturing is the lowest paid sector with a median gross salary of Rs 211.7. The report mentions that despite economic growth, the median hourly salary decreased by 16.0%, going from Rs 251.9 in 2014 to Rs 252.1 in 2015 and Rs 211.7 in 2016. The rate is alarming in the sense if the salaries keep decreasing in the sector it will pose great challenge to attract new talent in the market.
Talking about the report, Prof. Biju Varkkey, IIM-Ahmedabad says, "The insights across sectors give a clear view of the dynamics of job sector in India. The insights across sectors may be effectively leveraged by the industry to address the various issues and challenges in the area of salary, enabling them to look for solutions that would subsequently benefit one and all."
The report covers eight different sectors - Legal and market consultancy, banking, financial services, insurance; manufacturing; Information Technology , education and research; caring services, , business activities; health care, social work; transport, logistics, communication; construction and technical consultancy.
"Manufacturing sector is the backbone for a mature economy as it fuels growth, productivity, employment and strengthens agriculture and service sectors. In India, the manufacturing output contributes about 16% to the overall Gross Domestic Product (GDP) and employs nearly 12%-13% of the labour force. Despite being significant for the Indian economy, the sector remains amongst lowest paid at Rs 211.7. Additionally, there is an ambitious target of increasing the GDP contribution of manufacturing sector to 25 per cent of by 2025. In a bid to achieve this, there have been a slew of initiatives such as ease of doing business, relaxed FDI investments rules and infrastructural developments. However, there is a wide gap between opportunities and the potential that is yet to be realized," explained Sanjay Modi, Managing Director, Monster.com (APAC and Middle East).
Gender parity in labor force participation and managing the wave of automation could be a critical step in this direction. Employees in the Manufacturing sector with only secondary education earn Rs 101.4 which is 62.6% less than master graduates at Rs 270.8, the report highlights. Male employees in the sector earn 256.6 on an average and female employees earn Rs 179.8, constituting a 29.9% gender pay gap.

Further elaborating, Modi says, "Manufacturing typically is a labor intensive sector. However, owing to automation and technological disruption, availability of relevant skills and capabilities will be the key focus, going forward. Taking a hint from this overall structural transformation, there is an immediate need for India to marry human skills with automation in order to fulfill its ambition of becoming a manufacturing powerhouse. The focus should now be on re-skilling, upskilling, building relevant capabilities and creating jobs for the 10 million young people who enter the job market every year."
Employees in the manufacturing sector at a supervisory position, on an average, earn 34.7% more than their subordinates.
Among other job sectors, Banking, Financial Services, and Insurance highest paid sector with Rs 433 median hourly gross salary followed by IT at Rs 386.8 Healthcare, Caring services and Social Work sector paid with Rs 242.5 and Education sector with Rs 204.1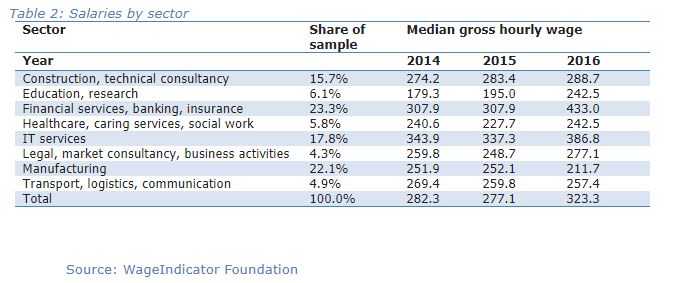 Monster Salary Index (MSI) is an initiative by Monster India that has successfully enabled job seekers to benchmark themselves. Also, empowers them to compare their salaries with other anonymous profiles across a broad scale of industry domains, experience, functional groups both in India and other global markets. Monster India is an online career and recruitment solutions providers in the country.