Employee Relations
11.5 lakh jobs will be added in first half of FY'20: Team Lease Report
Retail, Logistic, Educational Services and Fast Moving Consumer Goods and Durables alone will add around 1.66 lakh, 1.49 lakh, 1.17 lakh and 1.10 lakh respectively
A report by staffing firm TeamLease services on the employment outlook predicts a three percent rise in net employment outlook and a net addition of 11.5 lakh jobs between April- September 2019. 
Sectors that are expected to lead the growth in the job market include Travel & Hospital and BPO/ITes, both these sectors are expected to witness a job growth of 4 percent. And of the 19 sectors analyzed by the report, 11 of them projected an increase in net employment outlook and 8 of them anticipate a decrease in outlook.  
According to the report, "The positive outlook in the job market is attributed to the increase in investments, the revised FDI regulations and the new governance policies across sectors."
Ms. Rituparna Chakraborty, Co-Founder & Executive Vice President TeamLease Services, said, "The positive business outlook created by the stock market rally and increased investments seems to be having a corresponding impact on the employment outlook. It has revived the net employment outlook which had witnessed a drop of 2 percent in the last half year to a 3 percent rise in the current half year. The buoyancy witnessed is also expected to translate positively on the job creation front as well.  In fact, around 11.5 lakh new jobs will be created in the formal sector. Retail, Logistic, Educational Services and Fast Moving Consumer Goods and Durables alone will add around 1.66 lakh, 1.49 lakh, 1.17 lakh and 1.10 lakh respectively.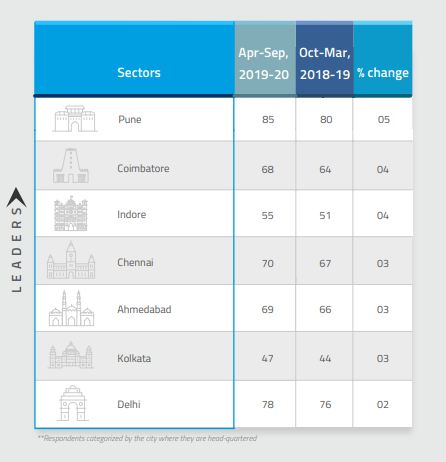 The report estimates a 5 percent jump in hiring across medium sized businesses. Large and small enterprises are also expected to report a growth of 2 percent and 1 percent respectively.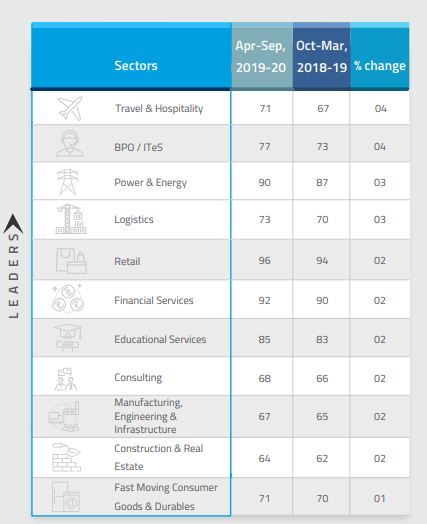 A large majority of these roles will be based in Mumbai[1,67,585], Delhi[1,59, 051] and Bangalore[1,50,120], with sectors like Retail[1,66,000], Logistics [1,49,000] and Educational Services [1,17,000] creating maximum opportunities. 17 percent of these new jobs created will be focused towards hiring fresh graduates. An analysis of the attrition trends shows that the following sectors witnessed significant attrition:  Agriculture and agrochemicals, Educational services, FMCG and Financial services and Retail.