Employee Relations
PwC India freezes hikes but says no to job cuts
PwC India is deferring promotions, increments and bonuses for all its employees in India on account of the Covid-19 impact.
As the impact of the Covid-19 continues to affect businesses, many have announced hiring freezes and salary cuts. The latest one of them is PwC India which on Friday told its employees that they are deferring promotions, increments, and bonuses for all its employees in India due to the impact on their cash flows resulting from Covid-19.
In a LinkedIn post, PwC India head Shyamal Mukherjee stated that the Big4 firm is taking 'out some interim measures which include deferment of promotions, increments, and bonus till a point in time one gets certainty around the business.'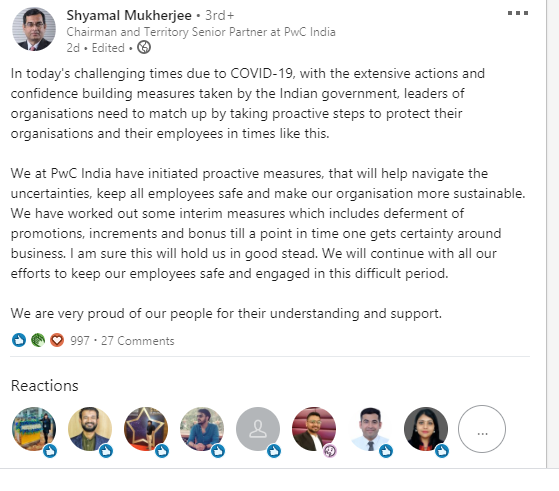 According to an email sent to employees, the March salary would be paid on time while firm partners and executive directors will take a 25% pay cut. However, no decision has been taken on the pay cuts of the rest of the employees.
In addition, the health policy meanwhile would cover Covid-19 hospitalization for all employees.
The decision comes as payments owed to the firm are stuck as clients are unable to make payments on time, even though the firm is profitable. It is keeping in line with other firms that have started initiating salary cuts in order to tide through the pandemic. Last week, MakeMyTrip also announced that the leadership team has agreed to take a 50% pay cut and co-founders Deep Kalra and Rajesh Magow have announced that they will be taking zero salaries from April.