Employment Landscape
Blue-collar workers wants fair pay, but only 18% get it: Indeed
Among blue-collar job seekers, 54% take a close look at the perks and benefits provided by a company before deciding to join. Notably, a substantial 81% within this category express a specific preference for comprehensive leave policies that encompass holidays.
Income disparity in blue-collar jobs is not only an economic issue but also a social one, which can lead to financial instability, limited access to education and healthcare, and hinder social mobility. 
A recent survey by Indeed revealed while fair compensation holds paramount importance for those seeking blue-collar employment, but only a meager 18% succeed in attaining such financial stability.
Indeed's survey, titled The Job Search Process: A Look from the Inside Out, aimed to delve deep into the sentiments of jobseekers as the future of work continued to evolve. The report highlighted various elements that blue-collar employees looked out for in their job hunt and the different barriers they faced.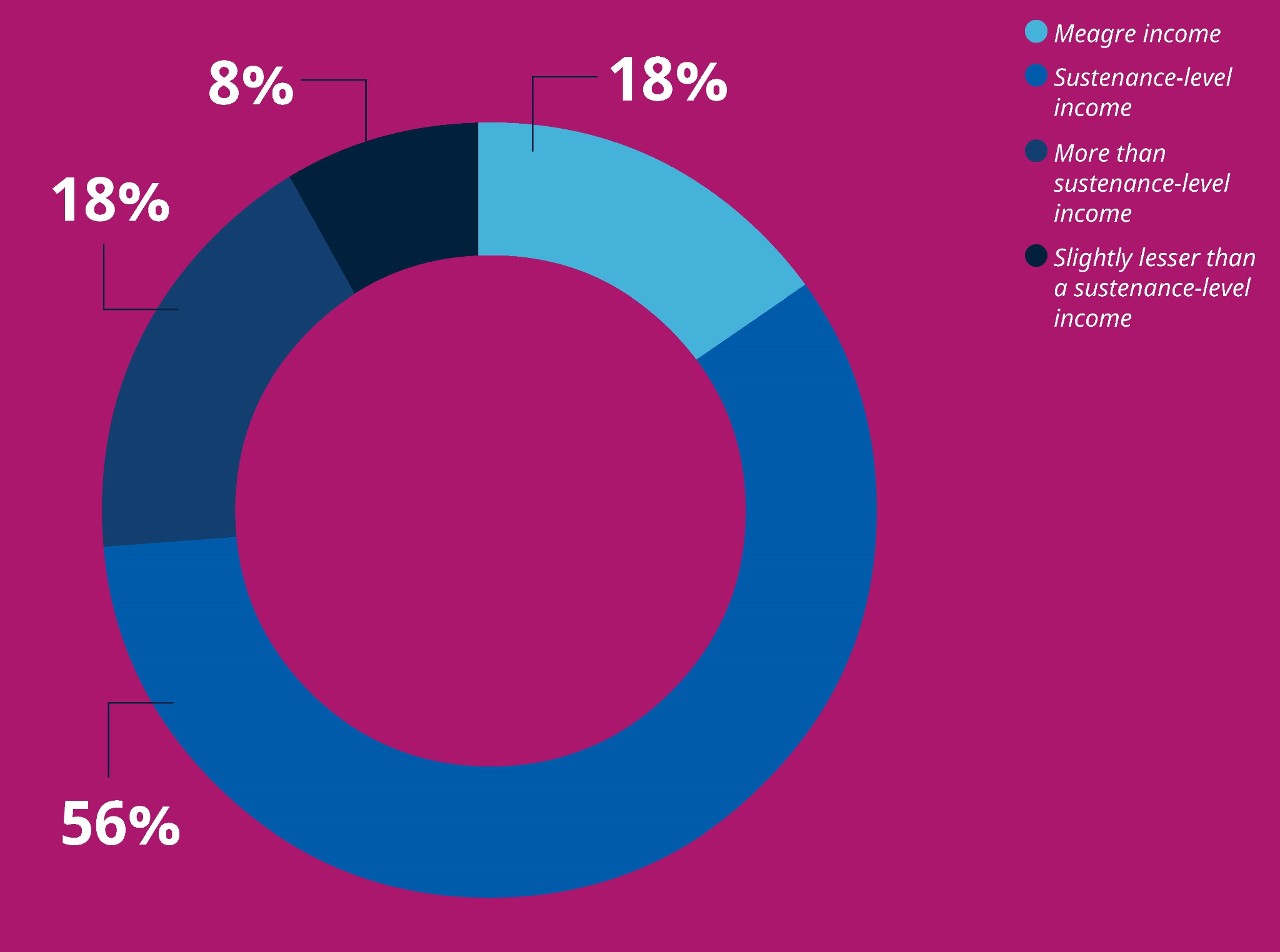 Here are factors that matter to blue-collar talents when looking for employment:
Sustenance level salary
Ensuring equitable compensation is a primary concern for individuals seeking employment in blue-collar roles. According to survey results, a substantial 82% of blue-collar job seekers actively seek positions that offer them disposable incomes above and beyond the bare essentials required for sustenance. 
However, only a mere 18% manage to secure such levels of income. Furthermore, a significant proportion, approximately 56% of blue-collar workers, currently earn wages that just meet their fundamental living expenses. Additionally, an alarming 39% of Generation Z blue-collar workers find their incomes insufficient to cover their basic necessities.
Physical safety
A significant 73% of job seekers prioritise workplace safety because of the nature of their occupations. Ensuring a safe work environment is crucial to preventing accidents and injuries, making it a top concern for these individuals. Furthermore, 49% of respondents are also looking for jobs that reduce both physical and psychological stress in the workplace. 
Blue-collar workers often encounter physical stress due to the manual labour involved in their jobs, which can lead to strain, fatigue, and other physical health issues. Additionally, considering the potential for psychological stress in high-pressure work environments, having an employer who addresses these concerns and fosters a positive and supportive atmosphere becomes essential for overall well-being and job satisfaction.
Learning and Development
Among the surveyed blue-collar workers, a substantial 78% indicated their interest in their organisations offering professional certification programs, including online courses. However, the survey revealed that only a mere 22% of the surveyed employers currently provide such programs.
Job security
Job security ranks high on the list of priorities for 71% of job applicants. This is particularly noteworthy in the context of blue-collar jobs, where many positions are informal and lack the same level of job security seen in formal employment. Informal sector workers often contend with lower wages, absence of benefits like health insurance or retirement plans, and a lack of protection under labour laws. Furthermore, they are more susceptible to layoffs or job losses resulting from economic fluctuations or industry changes. Job security plays a vital role in ensuring that employees can consistently receive their salaries, even during uncertain economic conditions.
Perks and benefits
When it comes to job seekers, 54% of them carefully consider the perks and benefits offered by a company before making their employment decisions. Within this group, a significant 81% specifically desire comprehensive leave policies that include holidays. Additionally, 75% are on the lookout for performance bonuses, while 71% are interested in having their equipment or supply expenses reimbursed. Moreover, 67% of job seekers value performance recognition as an essential component of their desired employment package.
"Blue-collar workers are the backbone of the economy. The survey findings show that blue-collar workers are looking for jobs that offer more than just a paycheck. They want jobs that provide them with a sense of security, a chance to grow, and the opportunity to make a difference in the world," said Sashi Kumar, Head of Sales, Indeed India.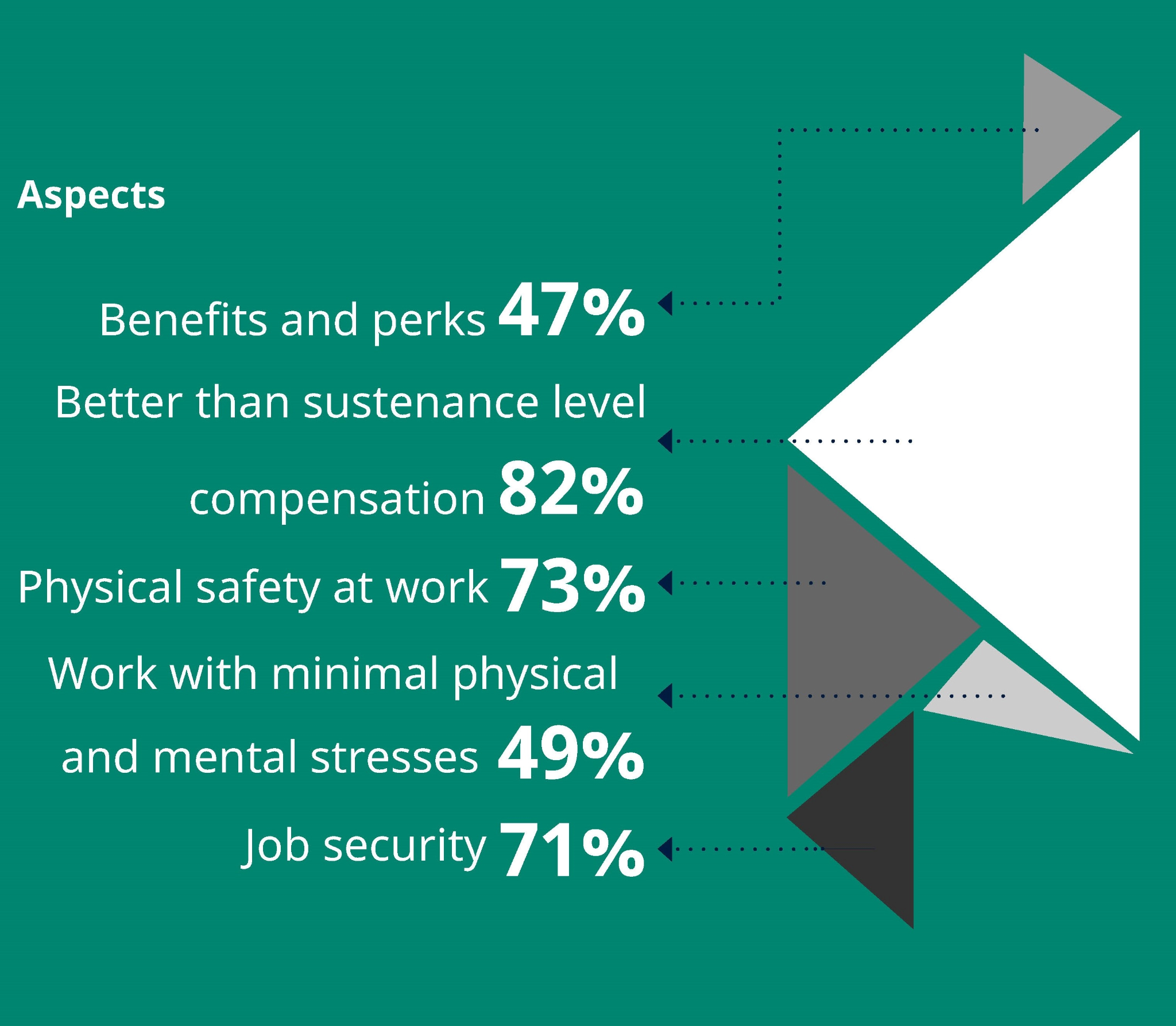 Job seekers prefer simpler application processes during job hunt
One of the major challenges for blue-collar employees that prevent them from having a seamless job search experience, is having to deal with confusing and complex application processes. As per 72% blue-collar employees, use of simple language during job description, significantly impacts their experience. In addition, absence of diverse communication channels and uncertain application outcomes play a significant role.
Job sentiment of white-collar workers:
Work flexibility takes precedence for 71% of employees, whereas 67% lean towards salary and compensation.
When it comes to employment considerations, 70% take into account the mode of work, including hybrid or remote work arrangements.
For 69% of individuals, job location serves as a significant factor in their job selection process.
A noticeable disparity exists in the priorities between knowledge workers and blue-collar employees. For blue-collar workers, monetary compensation and safety, encompassing both physical and psychological aspects, hold significant importance.