Funding & Investment
India's unicorns drop by 50% amid funding winter
Already held back by the lowest rates of funding across five regions, India's unicorn boom has now been brought to a halt by a funding winter.
Investments in India have seen a dip of 33%. They stood at $53.7 Bn in 2021 but spiralled down to $35.6 Bn in 2022. This plunge has resulted in a huge drop in the number of unicorns. India produced 42 unicorns in 2021, the highest ever for any year, but in 2022 there were only 23 unicorns.
The funding winter has not just fallen upon India but has been experienced globally. In 2022, China's funding dipped by 54%, US's by 28.8%, Europe's by 24.6%, EMEA's by 21.1% and UK's by 18.8%. With the hawkishness of the Federal Reserve on the rise and the possibility of a new COVID wave, investors have been particularly cautious about ploughing money into business ventures.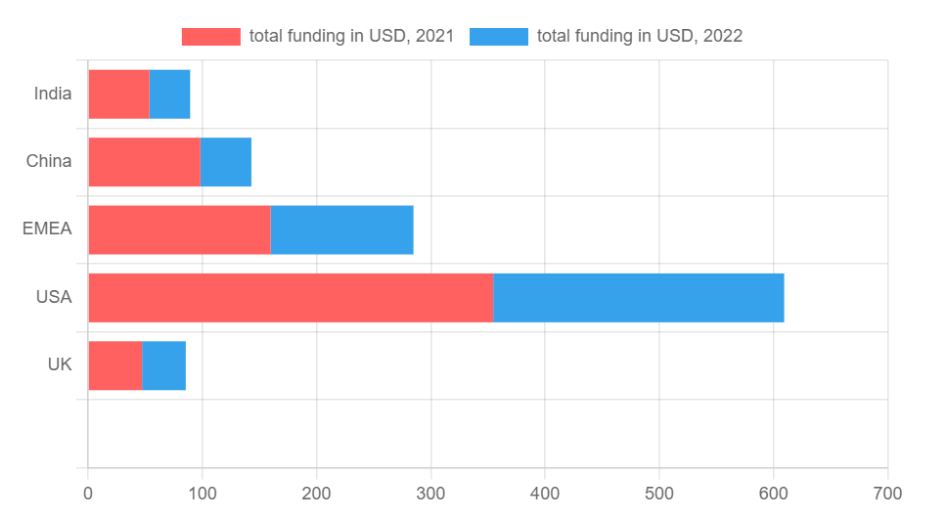 Funding winter experienced globally as total fundings see a dip when compared to the previous year.
According to data from startup tracking platform Tracxn, the most preferred sectors for investors in India were Consumer, Enterprise Applications, FinTech, Retail and Transportation and Logistics Tech. These are the top five profitable unicorns with their latest valuation:
Molbio Diagnostics, 1600 Mn USD
Physics Wallah, 1100 Mn USD
Oxyzo, 1000 Mn USD
Amagi, 1400 Mn USD
Coin Switch, 1910 Mn USD
When looking at the practice area split in India, investments made in the consumer sector account for the most standing at $11.0 Bn. Being the third largest economy in terms of purchasing power parity and a per capita income surpassing $2,000, India's consumption-driven economy is likely to witness improvement in domestic consumption. This will continue to make investments in consumer staples rewarding in the following years.