Funding & Investment
iPhone supplier Foxconn to create 50,000+ jobs in India by 2025
By increasing the number of manufacturing units and job opportunities, Foxconn aims to strengthen its presence in the Indian market in the next two years.
Foxconn, the global supplier of Apple's iPhone, is targeting expansion in the Indian market by doubling its number of employees and increasing investments over the next 24 months, according to V Lee, Associate VP and the company representative for India.
Currently, Foxconn employs over 40,000 people at its iPhone factory in Tamil Nadu. The company aims to bolster its presence in India by creating more than 50,000 jobs and doubling its investments, which is reportedly part of its strategy to reduce reliance on China.
Earlier this year, the company signed an investment deal with the Telangana state government, focusing on electronics manufacturing and creating over 100,000 employment opportunities in India.
During the 2023 G20 summit hosted by India last week, Lee posted on LinkedIn, "Foxconn continues to expand its presence in India in response to customer needs. Chairman Liu said that, if there are no major changes in the future, India will become a new manufacturing centre in the world. While transferring the supply chain ecosystem that took more than 30 years to build in China to India will take time, fortunately, we already have experience in this area, and it is expected that the transition will be relatively shorter. There are significant opportunities for the local electronics industry to develop."
In another post celebrating Indian PM Narendra Modi's birthday, Lee shared, "Foxconn has grown smoothly and rapidly in India. We will work even harder to present you with a greater birthday gift next year, aiming for another doubling of employment, FDI, and business size in India."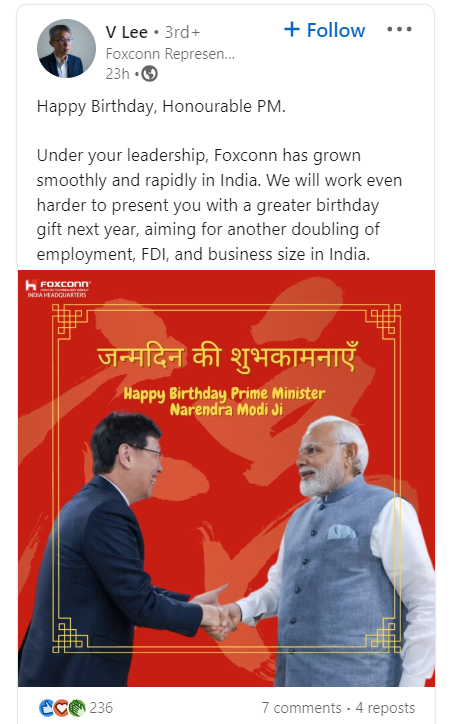 In August, the company began the production of Apple's iPhone 15 in India and announced investments of $600 million in two projects in Karnataka to manufacture casing components for iPhones and chip-making equipment.