Funding & Investment
Y Combinator funded HR Tech startup Leena AI raises $2 Mn seed funding
The HR tech startup will use the proceeds to scale and acquire more customers.
Gurugram based HR tech startup Leena AI, focusing on HR chatbots to resolve employee queries has raised $2 Mn in a seed round from a bevy of investors including renowned investor Elad Gil, Snapdeal co-founders Kunal Bahl and Rohit Bansal, FundersClub Fund, Quiet Capital (Lee Linden, Matt Humphrey, and Ray Bradford), and Cathexis Ventures along with a few other angel investors.
The round follows the recent investment by the American seed accelerator, Y Combinator in July this year. Leena AI had been a part of summer class 2018 of Y Combinator.
The HR tech startup will use the proceeds to scale the company and acquire more customers. It is hoping to gain 50 enterprise customers within the next 12-18 months, up from the current 16. These include Coca-Cola Vietnam, Pearson, Marico, RPG among others.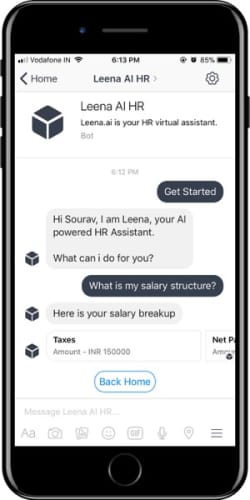 Founded by Adit Jain, Mayank Goyal and Anand Prajapati in 2015, Leena AI is an AI-powered HR Assistant providing instant responses to employee queries and improving the employee experience. Employees can access the Leena chatbot in Slack, Workplace by Facebook, Outlook, Skype for Business, Microsoft Teams and Cisco Spark. They also offer web and mobile access to their service independent of these other tools.
Leena AI was also a participant of last year's TechHR Startup Program. The HR tech startup is also looking to move beyond HR and expand into other verticals like IT, Admin, Finance, Procurement, Sales and MIS.