HR Consulting
Gartner acquires CEB to move into HR
Expansion of research and advisory capability in enterprise functions is the main reason for Gartners acquisition of CEB.
Tech-consulting and research company Gartner has acquired the talent management insights firm, CEB for $2.6 billion in cash and stock. The announcement of the acquisition came through on Thursday.
Our highly complementary business models will create the leading global research and advisory company for all major functions in the enterprise," said Gartner CEO Gene Hall in an official press release.
The combination of Gartner's research and advisory services in IT, marketing, and supply chain along with CEB's "talent management insights" in fields of human resources, along with other enterprise function such as sales, finance and legal will provide an end-to-end offering to the combined 20,000+ client list.
CEB had doubled their sales between 2006 and 2016, with revenues hitting $950 million this year, but the firm has not been as successful scaling their margins. GAAP operating margins ranged from 15-20% in the period 2006-2011 but have fallen towards 10-15% in recent years.
Gartner believes it can bring profitability into the combined entity and make it a long-term success. The company expected savings is between $25 to $50 million starting in 2018, as well as producing double-digit growth in revenue post the acquisition.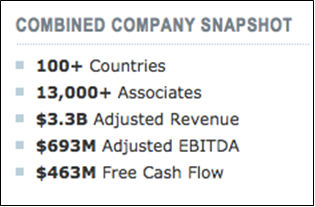 The market response was mixed. Shares of CEB rose 16% in light premarket trading while Gartner fell 11% after the announcement. Analysts commented that Gartner's stock drop suggests that investors believe that Gartner overpaid for the acquisition.
Gartner and CEB combined employ more than 13,000 associates, have over 80,000 members combined, and over 20,000 enterprise clients. The combined revenue of the two entities today is $3.3 billion and its combined earnings $693 million.