Leadership Development
Hailing awardees and their contribution: A glimpse at Nobel Prize 2022 winners
The Nobel Prize winners are being announced this week (October 3 to October 13). Svante Pääbo, Alain Aspect, John F. Clauser, Anton Zeilinger and others were conferred with the honour for making an impact in the field of medicine, physics, chemistry, economic science, literature and peace work.
All your wait is over. October is here and Nobel Prize season has kicked off! Each year, committees in Sweden and Norway name laureates for a variety of prizes in the sciences, literature and economics as well as peace work. A total of six prizes are awarded, recognising contribution of individuals or organisations for their ground-breaking works in respective fields.
The pandemic time allowed only digital ceremonies this year. Laureates will receive their Nobel Prize medals and diplomas in Stockholm in December. Alongside, winners from the previous two years will also be invited. In 2022, the committee began announcing the winners' names from October 3. The full list will be disclosed by October 13. Each prize is due to be announced each day between 5 a.m. and 7 a.m. Eastern time.
Nobel Prize 2022 winners 
Physiology or medicine
On October 3, Svante Pääbo was conferred with the year's first Nobel Prize in physiology & medicine. The Swedish geneticist has been honoured for his discoveries concerning the genomes of extinct hominins and human evolution. He had retrieved genetic material from 40,000-year-old bones, producing a complete Neanderthal genome and initiating the field of ancient DNA studies.
Svante Pääbo once dreamt of becoming an Egyptologist and dedicated his early years of research to extracting genetic material from mummies, only for that research. Within about two decades, in 2006, he had launched an unlikely effort to decipher a Neanderthal genome. He was credited with designing so-called clean rooms dedicated to handling ancient DNA, which protected his fossils from the genetic material of living humans.
Pääbo's research work earned praise from an expert like Dr. Nils-Göran Larsson. "It was certainly considered to be impossible to recover DNA from 40,000-year-old bones," said the chairman of the Nobel Committee for Physiology or Medicine and a professor of medical biochemistry at the Karolinska Institute in Stockholm.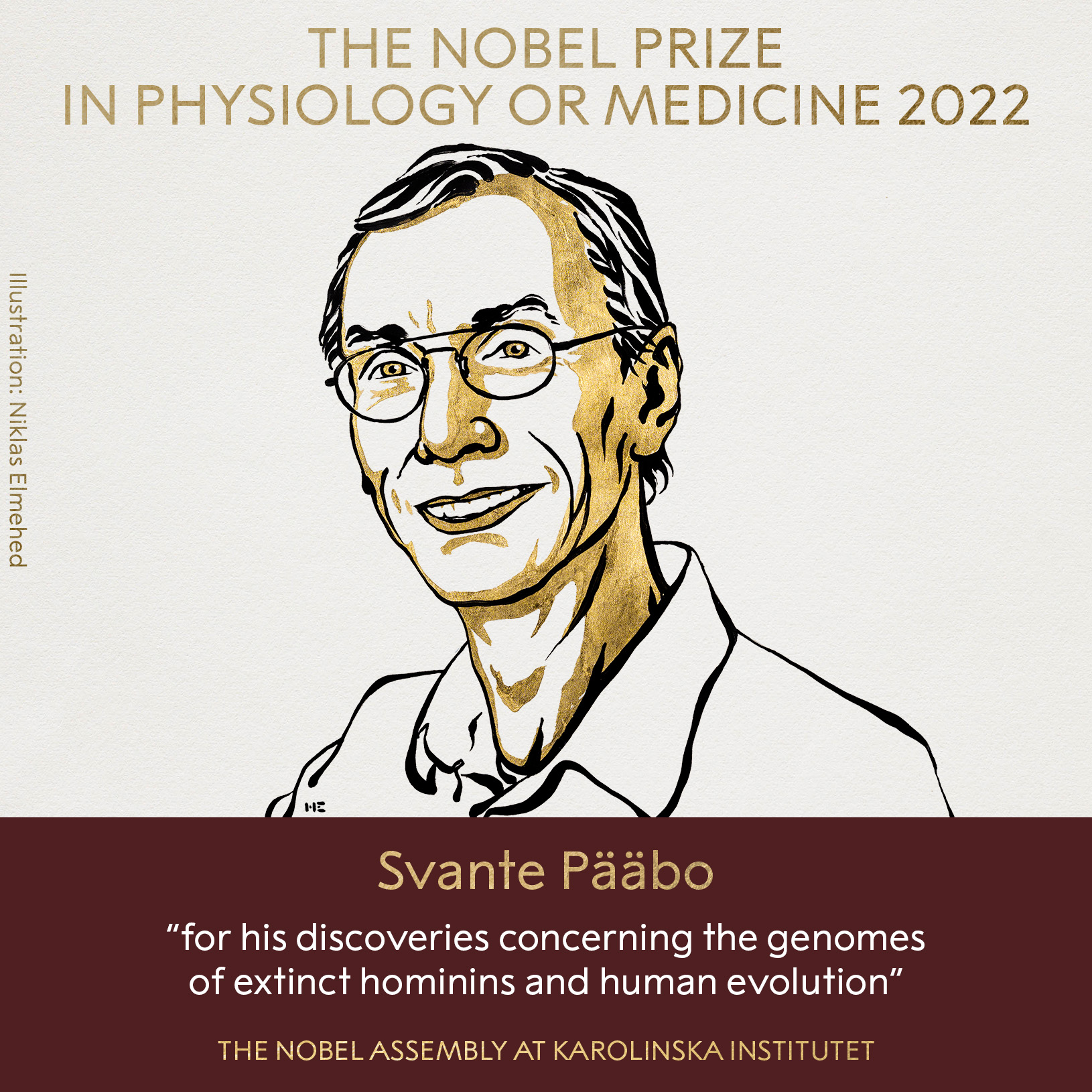 Physics
On October 4, Alain Aspect, John F. Clauser and Anton Zeilinger won the Nobel Prize for their contribution in quantum technology. The trio won the coveted prize for their landmark experiments with what's known as entanglement, a mind-boggling phenomenon when two particles behave as one and can affect each other--even though they can be at a vast distance to one another— on opposite sides of the planet or even the solar system.
For the uninitiated, entanglement has been one of the most talked about elements of quantum mechanics. Physicist Albert Einstein had defined the particle as "spooky action at a distance." Now, decades after Einstein's death, experiments by this trio showed that quantum entanglement was real, not just theoretical, said the Royal Swedish Academy of Sciences.
Chemistry
On October 5, Carolyn R Bertozzi, Morten Meldal and K Barry Sharpless won the Nobel Prize in Chemistry for the development of bio-orthogonal chemistry and click chemistry. It's a branch of science that explores the assembly of molecules. In simple terms, click chemistry is a functional field where molecules snap together quickly and efficiently—literally like a click.
In fact, Dr Sharpless was the first scientist to work in this domain. This is also not his first Nobel Prize in Chemistry; he previously won the award in 2001. Soon after, both Dr Meldal and Dr Sharpless separately presented the copper-catalysed azide-alkyne cycloaddition (CuAAC), a reaction that is now widely used in fields like medicinal chemistry.
You must be wondering about the need for click chemistry. Well, replicating reactions that involve bonds between carbon atoms turns out to be rather expensive and often leads to side reactions and loss of material. Instead, the Nobel Prize winners' research focuses on using smaller molecules that already have a complete carbon frame, resulting in less loss of material as well as side reactions.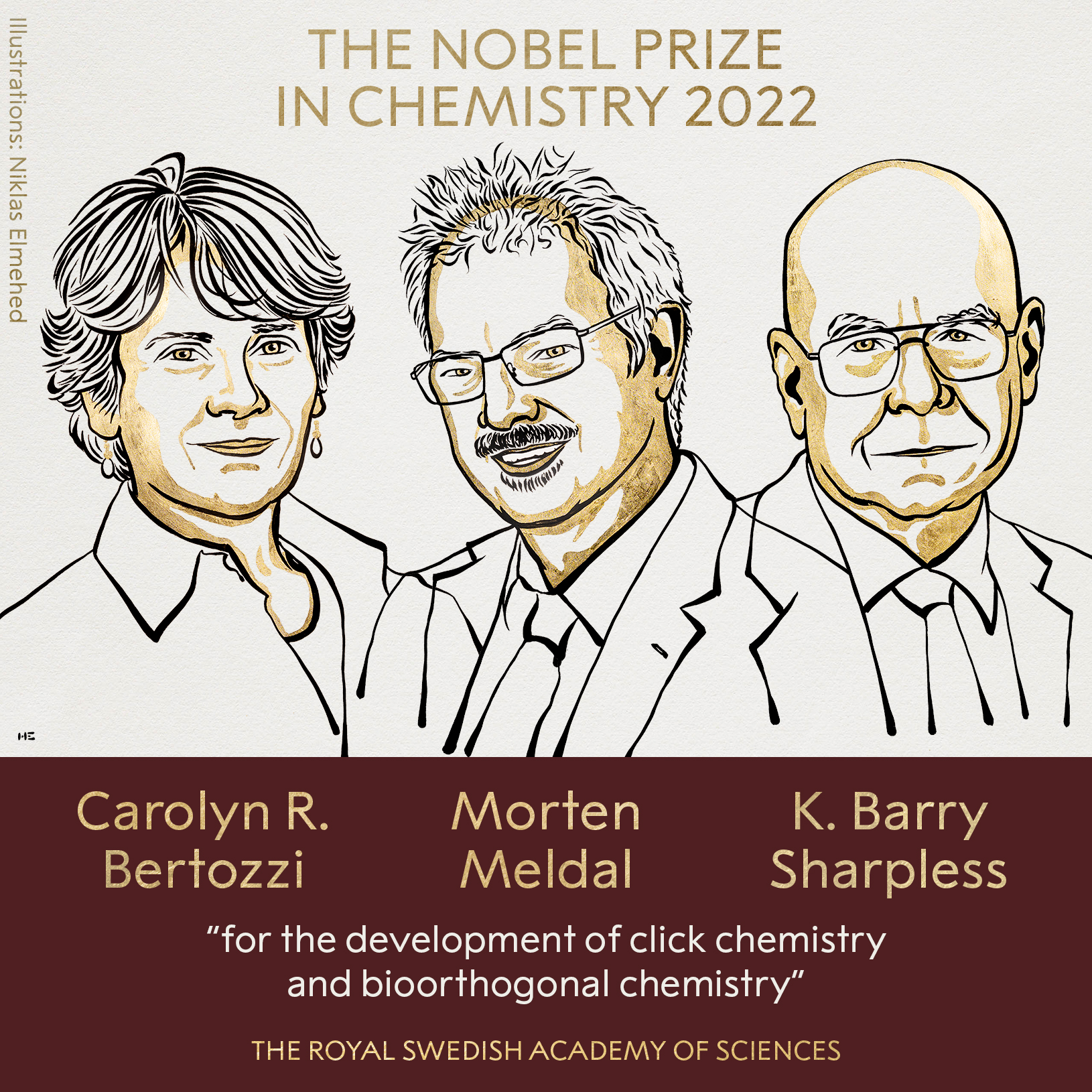 Literature 
On October 7, the Nobel Prize for Literature was awarded to French author Annie Ernaux. She has been conferred with the honour for the courage and clinical insight with which she uncovered the roots, estrangements and collective restraints of personal memory. She witnessed a sharp increase in popularity in the English-speaking world since 2019 after her seminal work The Years was shortlisted for the Man Booker international prize.
Earlier, her book on her illegal abortion in the 1960s, Happening, was in the limelight after abortion rights were curtailed in the US. Prior to winning the Nobel Prize, Ernaux won other awards and honours, too. As per her website, "Her works overall have received the French language prize and the Marguerite Yourcenar prize, as well as publication of her almost complete works to date in the Quarto edition by Gallimard in 2011. In 2014, she was awarded an honorary doctorate by the University of Cergy-Pontoise."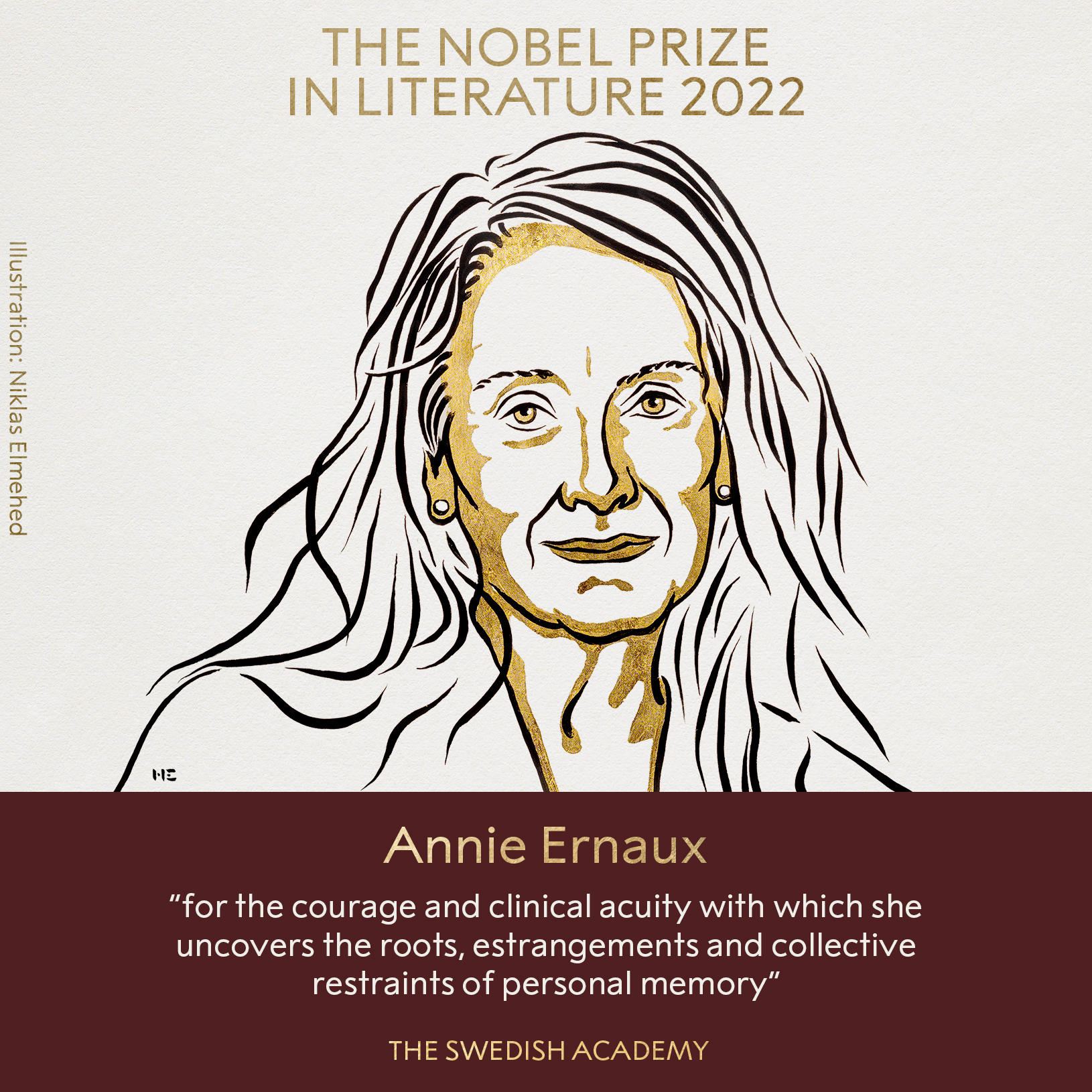 Peace 
On October 7, the 2022 Nobel Peace Prize has been awarded to one individual and two organisations - human rights advocate Ales Bialiatski from Belarus, the Russian human rights organisation Memorial and the Ukrainian human rights organisation Center for Civil Liberties.
The Peace Prize laureates represent civil society in their home countries. They have for many years promoted the right to criticise power and protect the fundamental rights of citizens. They have made an outstanding effort to document war crimes, human right abuses and the abuse of power. Together they demonstrate the significance of civil society for peace and democracy.
By awarding the Nobel Peace Prize for 2022 to Ales Bialiatski, Memorial and the Center for Civil Liberties, the Norwegian Nobel Committee wishes to honour three outstanding champions of human rights, democracy and peaceful co-existence in the neighbour countries Belarus, Russia and Ukraine. Through their consistent efforts in favour of humanist values, anti-militarism and principles of law, this year's laureates have revitalised and honoured Alfred Nobel's vision of peace and fraternity between nations – a vision most needed in the world today.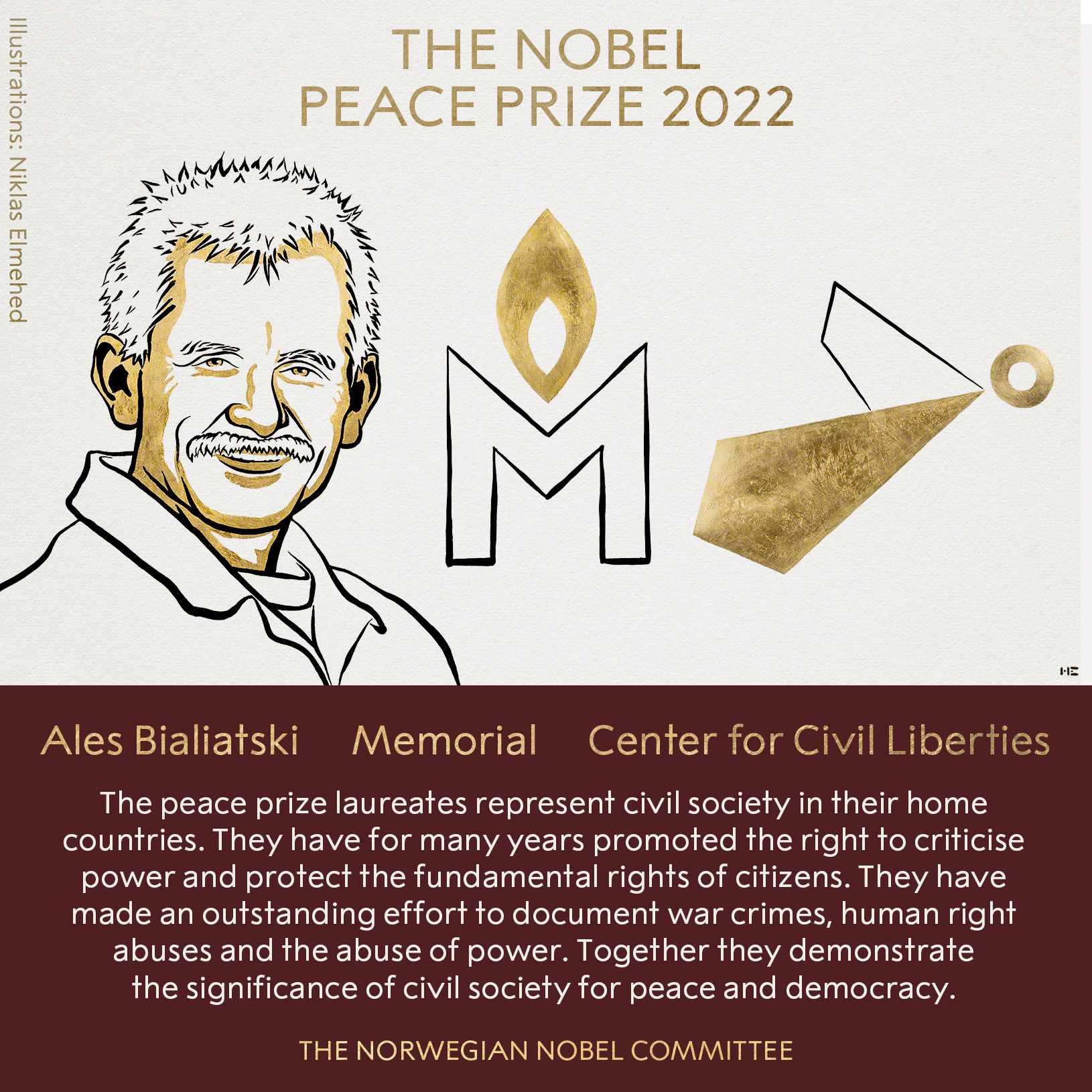 Economics 
On October 10, the Nobel prize for economics was awarded to Ben S Bernanke, Douglas W Diamond and Philip H Dybvig. The prestigious award has been given to the researchers for their work on banks and financial crisis. 
Diamond demonstrated how banks perform another societally important function. As intermediaries between many savers and borrowers, banks are better suited to assessing borrowers' creditworthiness and ensuring that loans are used for good investments. 
Ben Bernanke analysed the Great Depression of the 1930s, the worst economic crisis in modern history. Among other things, he showed how bank runs were a decisive factor in the crisis becoming so deep and prolonged. When the banks collapsed, valuable information about borrowers was lost and could not be recreated quickly. Society's ability to channel savings to productive investments was thus severely diminished.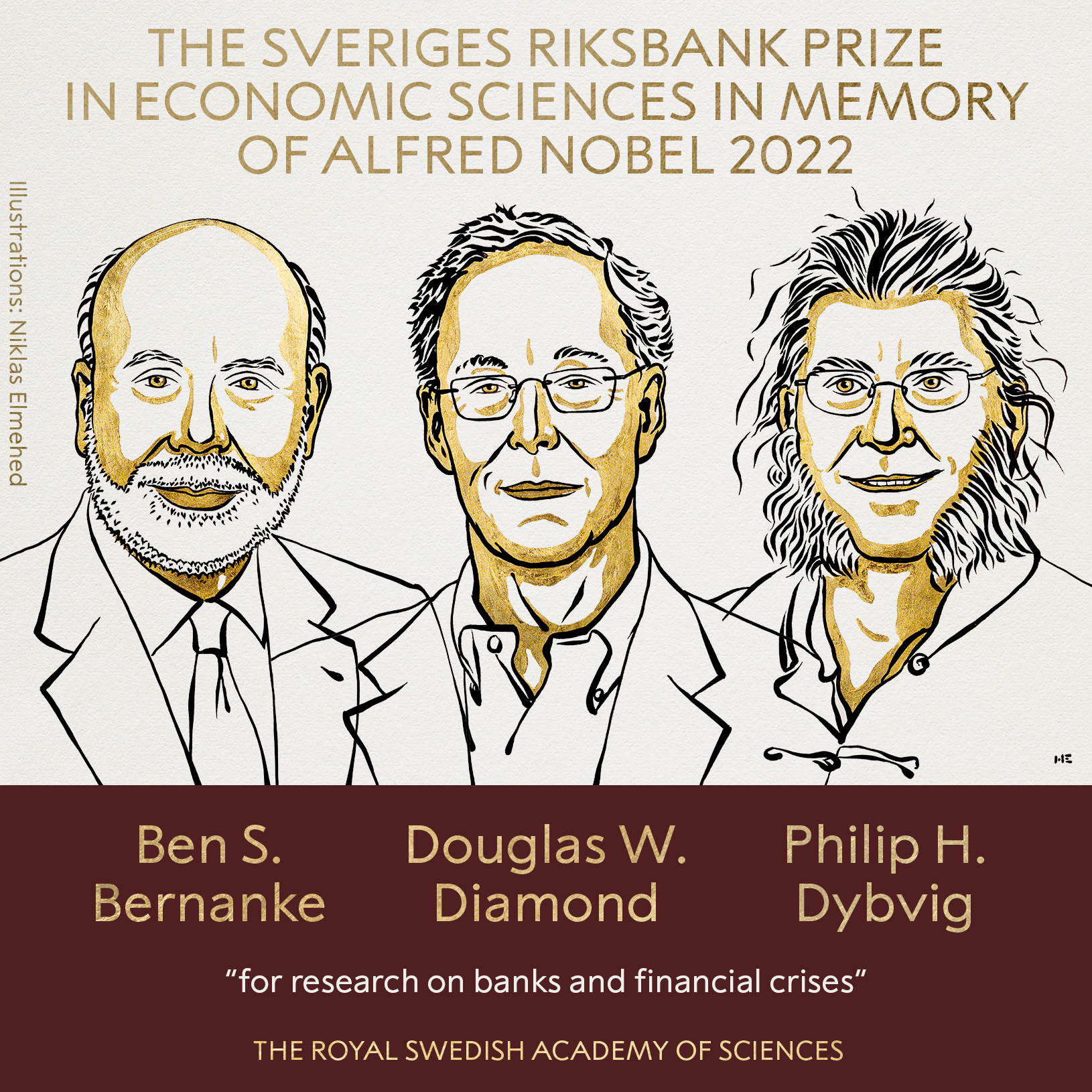 What do the winners receive?
Laureates will receive a Nobel Prize diploma, a Nobel Prize medal and a document detailing the Nobel Prize amount. This year the prize money is 10 million Swedish krona.