Leadership
Arvind Subramanian finishes his term as Chief Economic Adviser
He has decided to return to US and practice researching and writing again.
Arvind Subramanian after serving the country as the Chief Economic Adviser for nearly four years has stepped down from the role due to personal reasons. After completing his term, he now wants to go back to the United States on account of pressing family commitments.
"A few days ago Chief Economic Adviser Arvind Subramanian met me over video conferencing. He informed me that he would like to go back to the United States on account of pressing family commitments. His reasons were personal but extremely important to him. He left me with no option but to agree with him," wrote Arun Jaitley on Facebook.
Arvind had joined as the Chief Economic Adviser on 16th October 2014 for a three-year term, which was later extended by a year. He was chosen by Prime Minister Narendra Modi for the post after former International Monetary Fund (IMF) Chief Economist Raghuram Rajan took over the reins of India's central bank.
Finance Minister Arun Jaitley praised the contribution made by Arvind and shared how his early diagnosis of the twin balance-sheet problem led the government to adopt the strategy of increasing public spending to support India's economic growth. As per report, he also helped the Finance Minister in the implementation of Goods and Services Tax (GST) last July.
"Arvind elevated the quality of the analysis and the presentation of ideas for public deliberation in his four "Economic Surveys". His documents for four years was treated by several independent critics as one of the best ever produced. The latest survey had about 15 million visitors from 117 countries," Arun further added.
As Arun praised the dynamism, energy and intellectual ability of Arvind, the former Chief Economic Adviser also thanked Arun for his generous words through twitter. In his tweet, Arvind mentioned that the role of CEA had been exciting and rewarding.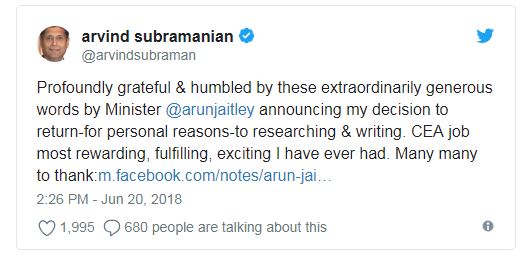 After his resignation, Arvind will now go back to practice researching and writing. As per report, he has been on leave from the Peterson Institute for International Economics, where he is expected to return soon.
Image Credits: PIIE