Leadership
CEO sends 'no friends at work' memo, earns 'toxic boss' label on social media
A memo enforcing a new work policy that prohibited non-work-related activities during work hours was shared by an employee on social media. The photo of the memo on A4 paper quickly went viral, eliciting criticism and shock from users.
Developing personal resilience is essential in the current evolving work landscape. Having friends at work is a significant aspect that can offer a dependable confidant to share success and communicate effectively.
Due to the considerable amount of working hours, having someone who understands the office dynamics and culture can assist in mitigating regular stress and serve as a reminder that others have faced similar situations.
But what if workplace guidelines oppose this notion? 
An employee shared a photo of a memo from Reddit that implemented a new work policy stating "no fun." The memo was printed on A4 paper, and this message quickly spread across social media, leading to widespread shock and condemnation.
The memo read, "Attention employees of [blank]. Work is not meant to be fun. This is your job. Do not dedicate work time to discussion of non-work topics. Do not facilitate friendships during work hours. Exchange phone numbers and hang out after work is complete. Reach me at [blank] if a co-worker is having non-work discussions on company time.
As per reports, the memo was posted by an unidentified employee from a company that had introduced a recent policy. This policy urged employees to refrain from participating in non-work-related activities during work hours, such as socialising with coworkers.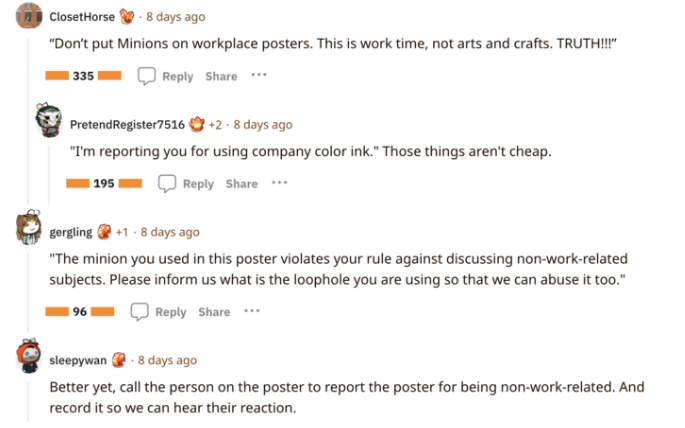 One person noted that permitting employees to enjoy their work could boost efficiency, while another recommended a humorous reply to the memo, like "Don't include Minion graphics in this poster, you seem to be having too much fun creating it, and we're not allowed to have that."
Several individuals also shared their encounters with comparable managers and conveyed their annoyance with these types of leadership methods.
The event emphasises the significance of establishing a conducive workplace atmosphere that nurtures collaboration, innovation, and employee contentment, which ultimately results in enhanced productivity and outcomes.