Leadership
Did Twitter's new CEO just unveil Elon Musk-inspired plans for Twitter 2.0?
Yaccarino believes that Twitter has a special chance to unite, collaborate, and empower marginalised voices, forging a powerful global influence.
Twitter's got a brand new captain, Linda Yaccarino, as its CEO! After settling into her role, she sent an email to employees revealing her grand vision for Twitter 2.0. But hold up! Is it just us, or does her plan bear a striking resemblance to Elon Musk's dreams? Let's dig deeper!
Yaccarino's email to Twitter employees on Monday unveiled her ambitious mission: to transform Twitter into the ultimate destination for real-time and precise information.
Backing up her words with action, she reassured, "That's not an empty promise," and went on to share the email publicly on Twitter, making a few minor adjustments. " That's OUR reality," she emphasised.
Yaccarino echoed the aspirations of Elon Musk, emphasising the need for Twitter to revolutionise the "global town square." She emphasised the platform's role in propelling society forward through unfiltered information exchange and fostering open dialogues about the most important topics to us.
"Have you ever been talking with someone particularly insightful and thought, you should have the freedom to speak your mind? We all should," she wrote on Twitter.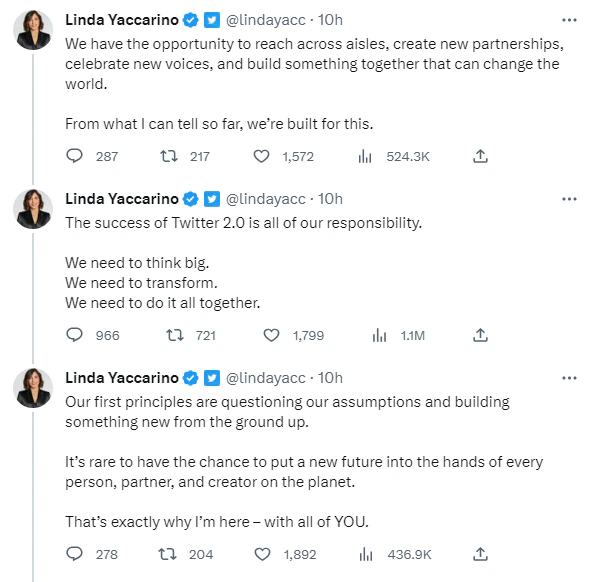 According to Yaccarino, the social-media platform possesses a unique opportunity to bridge divides, forge new alliances, amplify underrepresented voices, and collectively create a transformative force capable of making a global impact.
Yaccarino assumed the reins from Musk, stepping in to lead the social-media platform following his tumultuous tenure. While Musk initially proclaimed himself a staunch advocate of free speech upon acquiring Twitter, his tenure as CEO was marked by his involvement in platform disputes and abrupt strategic shifts. 
Musk's engagement with right-wing provocateurs and his frequent sharing of posts featuring anti-transgender, anti-vaccine, and conspiracy-theory content have drawn attention. Recently, he shared a video on gender identity from a right-wing commentator, urging "every parent should watch this," despite the platform flagging it for violating rules on hateful content.
Under Musk's leadership, his actions to reinstate controversial accounts and relax moderation policies have caused advertisers to distance themselves from the platform. Some advertisers reportedly utilized Twitter's own tools to prevent their brands from appearing alongside his tweets. 
Within his first 25 days as CEO of Twitter, half of the platform's top 100 users abandoned it. By December 2022, revenue had purportedly declined by 40% compared to the previous year. Despite Musk's claims of advertiser return, leaked internal documents obtained by The New York Times revealed a 59% year-over-year drop in Twitter's ad revenue, with the platform consistently failing to meet sales projections in the US. 
Musk's decision to monetize verification by removing blue checkmarks from established accounts unless a monthly fee is paid received widespread criticism. Celebrities, in particular, discovered that their checkmarks remained on Twitter even though they opted not to pay Musk's fee, leading to widespread mockery.
Now Yaccarino faces the challenging task of resolving a significant predicament. As a seasoned professional in the advertising industry, she successfully guided NBCUniversal's $13 billion global ad business and spearheaded their foray into the streaming realm, showcasing her proficiency in selling digital-video ads. 
However, the ultimate test lies in whether she can transform Musk's ambitious vision into a financially viable endeavour. Only time will reveal if she can turn his dream into a lucrative reality.