Leadership
Elon Musk announces resignation as Twitter CEO, eyes Linda Yaccarino as successor
Sources disclosed that Linda Yaccarino has been in talks with Mr Musk for several weeks about the possibility of assuming the role.
Elon Musk, the billionaire entrepreneur, revealed his intention to resign as Twitter's CEO in approximately six weeks during a recent announcement. Furthermore, sources familiar with the situation disclosed that Musk is currently engaged in discussions to name Linda Yaccarino, NBCUniversal's executive overseeing global advertising and partnerships, as the new CEO of Twitter.
Several months after Musk promised in December to resign as the leader of Twitter once he could find someone "silly enough" to accept the position, the announcement has been made.
According to anonymous sources familiar with the matter, discussions between Linda Yaccarino and Mr Musk have been ongoing for weeks regarding her potentially taking on the role. The sources emphasised that the talks were confidential, but noted that Yaccarino recently conducted an interview with Musk at an advertising event in Miami.
Earlier on Thursday, in a tweet, Musk stated that the new CEO would begin their role in approximately six weeks, and he would continue to be involved as both CEO and "CTO," typically meaning Chief Technology Officer, overseeing the company's product and software.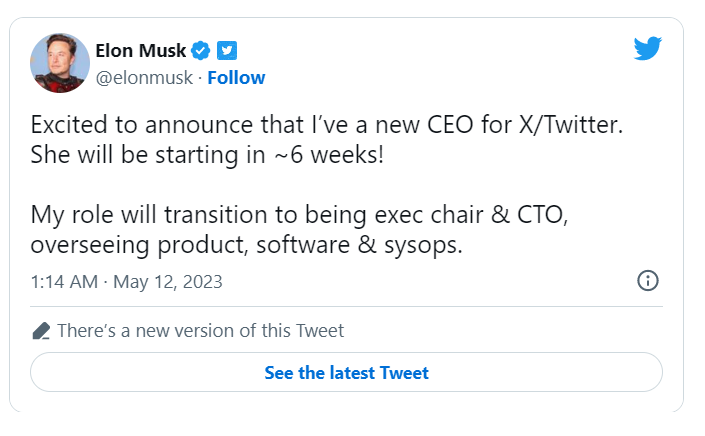 After a Twitter poll initiated by Musk in which 57.5% of respondents voted in favour of him stepping down from his position as leader of the company, Musk's resignation was expected towards the end of last year.
Following the acquisition of Twitter in October, Musk implemented significant changes to both the company and its platform. As part of an effort to significantly reduce expenses, the company has downsized its workforce by approximately 75%, leaving questions about Twitter's ability to sustain its platform.
In February, Twitter experienced a user outage that lasted several hours and necessitated an emergency resolution, resulting in an apology from the company.
In an effort to augment its advertising revenue, Musk has also focused on revitalising Twitter's subscription model. The new subscription service allows users to acquire the platform's trademark blue checkmark, indicating account verification, for a monthly charge of $8, totaling $96 per year.
In the past, Twitter would verify the identities of celebrities, politicians, journalists, and other notable individuals on a case-by-case basis to confirm their authenticity and prevent impersonation.
Last month, Twitter partially reversed its subscription policy by re-verifying certain legacy accounts, such as those associated with basketball player LeBron James and author Stephen King.
In a Twitter Spaces interview in December, Musk justified his actions at Twitter as a forceful attempt to save the company from financial jeopardy, referring to it as an "emergency fire drill."