Leadership
Here are 2016's HR Most Influential professionals
In an attempt to identify the most influential practitioners and intellectuals in the global HR space, HR magazine has come out with a list of ranking called HR Most Influential 2016. We take a look at some on top influencers in the field.
HR magazine, a UK based HR content creator, recently unveiled 2016s most influential people within the global HR space. In the list named the "HR Most Influential rankings' various professionals were ranked their ability to create change as influencers.
The HR Most Influential ranking, which was supported by SD Worx and Open University Business School, recognized the top HR practitioners and thinkers in the field of HR who have helped redefine the people management processes by pushing the limits forward. The list was broken into two categories, namely HR most influential practitioner, and HRs most influential intellectual.
Standard Life chief people officer Sandy Begbie took the top spot this year when it came to being the most influential practitioner within the HR fraternity. As well as being responsible for people he has also run operations, IT procurement, and comms, alongside Asia and emerging markets.
Talking on HR's role, he added "I know it's a cliche that HR needs to be more influential within business but that's more relevant now than ever. I think there's a real role for HR; I think individuals need to grasp that opportunity and realise they're equal to all other business partners."
He was closely followed by Valerie Hughes D'Aeth, HR director of the BBC, on the second spot. She was recognised as being able to execute people management processes in a complex organization while finding time to give back to the profession. Jacky Simmonds, group director of people at Easyjet, came in third place, scoring highly for her contribution to boards beyond her own organization.
On the side of most influential HR intellectual, Rob Briner, professor of organisational psychology at the University of Bath's School of Management topped the Most Influential Thinkers list. Referring to his tireless work advocating evidence-based practice, he added "I hope I've suggested that this can be useful in any profession and HR needs it. They have tonnes of answers but what they don't have is very good questions, or always think about whether what HR does works or not."
Stephen Bevan, head of HR research development at the Institute for Employment Studies, came second. He was rated highly for his contribution to the profession on the subject of health and wellbeing. The third spot was taken by Herminia Ibarra, Cora Chaired professor of leadership and learning, and professor of organisational behaviour at INSEAD, and author of Act Like a Leader, Think Like a Leader.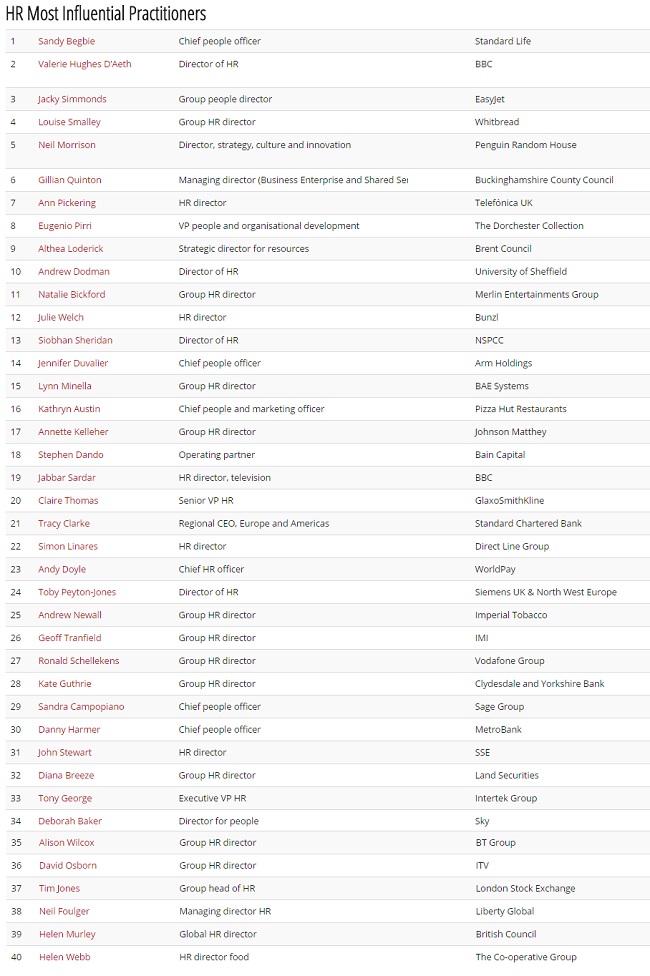 You can view the full 2016 HR Most Influential lists here