Leadership
Indian-origin Vasant Narasimhan appointed as the new CEO of Novartis
Narasimhan will become the third Indian-origin leader after Satya Nadella and Sundar Pichai to take up a global CEO role in a multinational company
Swiss pharma giant Novartis has named Indian-origin doctor Vasant Narasimhan as its new chief executive officer after Joseph Jimenez, the current CEO informed the board of directors that he would like to step down from the role in 2018. Jimenez will step down from the CEO position effectively from January 31, 2018 and will retire from the company on August 2018. Dr. Narasimhan, who is already a member of the executive committee, will take charge as CEO from February 1, 2018.
The appointment makes him the third leader from Indian origin after Sundar Pichai and Satya Nadella, to don the CEO hat for a large MNC. While the former two came from engineering backgrounds to eventually head the tech behemoths, Narasimhan is a Harvard-educated doctor, and is currently working as the global head of drug development and chief medical officer at Novartis.
Expressing confidence in Vasant's abilities, Joerg Reinhardt, the chairman of the Novartis board of directors, commented, "The strength of Novartis is our ability to drive science-based innovation. Vas is deeply anchored in medical science, has significant experience in managing the interfaces between Research and Development and commercial units and has strong business acumen with a track record of outstanding achievements. As a physician, he has a strong patient focus and a genuine humane perspective and care for the mission and values of Novartis. As a result, the Board of Directors is confident that Vas is the right choice to lead Novartis on our expected next growth phase, driving innovation and further strengthening our competitive position."
Echoing Reinhardt's optimism, Jimenez said, "Both from a professional and a personal perspective, this is the right moment to hand the leadership reins of the company to Vas. I'm confident that Vas will be an excellent successor."
On his part, Dr. Narasimhan said that he was honored to be asked to lead Novartis, and that the company will continue its legacy of bringing leading innovations to patients around the world.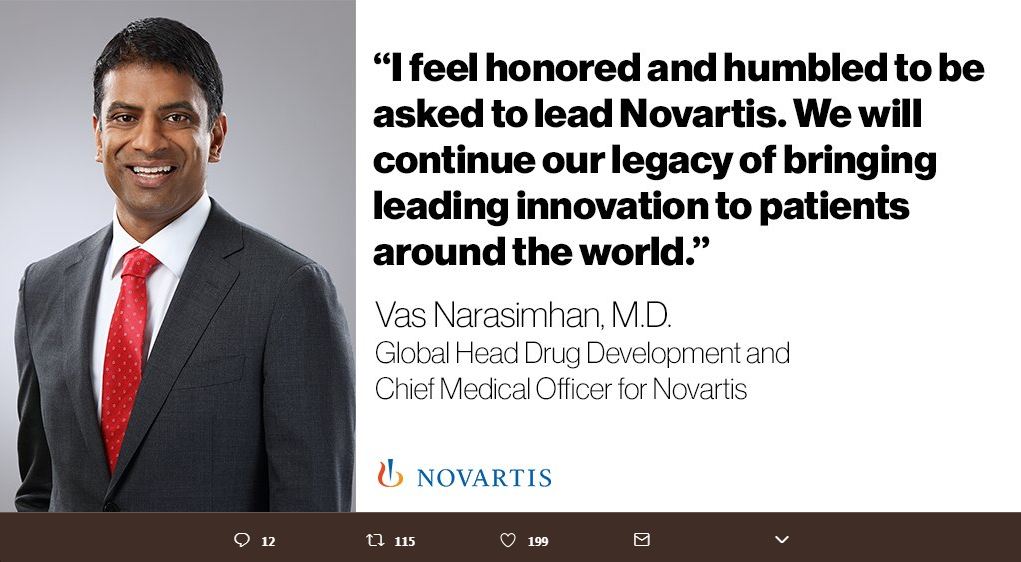 Dr. Narasimhan has held several leadership positions within Novartis in drug development, commercial and strategy roles. Previously, he served as the head of development for Novartis Pharmaceuticals. Prior to joining Novartis in 2005, Narasimhan worked as a consultant at McKinsey & Company. He attained his medical degree from Harvard Medical School in the US, and also has a master's degree in public policy from Harvard's John F. Kennedy School of Government.