Leadership
Mahindra & Mahindra's CMO Vivek Nayer steps down
After working with the organization for 15 years Vivek Nayer has now decided to move on, although where he is headed next remains unknown.
Vivek Nayer, Chief Marketing Officer – Corporate Brand at Mahindra & Mahindra took it to Twitter to announce that he would be stepping down from his role. 
He said, "When a journey begins, it also has to end one day! After almost 15 years, I bid adieu to the Mahindra Group today. It has been such a fantastic ride - some great experiences, huge learnings, several awesome memories & so many great friends made."
Nayer had joined Mahindra & Mahindra in 2005 as Senior Vice President – Marketing. He has also worked with firms like Reckitt Benckiser and Voltas.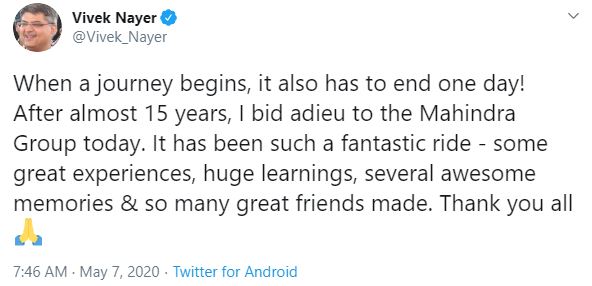 As the CMO of Group Corporate Brand, Nayer was responsible for managing & steering the Masterbrand Mahindra, marketing of Mahindra's Racing properties and Mahindra's properties in the cultural sphere.
Nayer was also a member of Mahindra Group's Marketing Council, CSR Council and the Sustainability Council as well as the Chairman of the Mahindra Sales & Marketing Academy. 
Where is Nayer headed next and who will replace him as Mahindra & Mahindra's next CMO remains unknown. Although in another tweet Nayer did mention that the immediate plan after the lockdown lifts, is to spend a few months with his mother in Delhi. "If there is one learning from the recent crisis, it is to prioritize things well. After that who knows where the next journey will take me," he wrote. Nayer also updated his bio on Twitter and shared that he has hit a pause button for now. 

Image credits: DailyHunt