Leadership
M&M Chairman Anand Mahindra to offer 100% salary to fight coronavirus
The Chairman of the $20.7 Bn Mahindra Group has also set up a fund to assist the hardest hit in the value chain including small businesses and the self-employed.
Anand Mahindra, the Chairman of Mahindra & Mahindra has decided to offer his 100% salary to deal with the impact of the Coronavirus epidemic.
Mahindra on Sunday tweeted that going by various reports from epidemiologists, it is highly probable that India is already in stage 3 of transmission which could lead to a rise in cases exponentially, putting a huge strain on medical infrastructure. Towards this, the Mahindra Foundation will create a fund to assist the hardest hit in the value chain namely small businesses and the self-employed.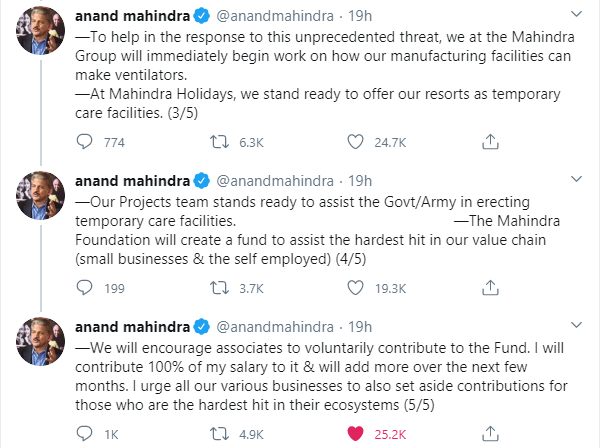 In addition, he has also directed his group to immediately begin work on the manufacturing of ventilators at its own factories as Covid-19.  
"A lock-down over the next few weeks will help flatten the curve and moderate the peak pressure on medical care. However, we need to create scores of temporary hospitals and we have a scarcity of ventilators. To help in the response to this unprecedented threat, we at Mahindra Group will immediately begin work on our manufacturing facilities can make ventilators," added Mahindra.
The chairman of the $20.7 Bn group also stated that Mahindra Holidays will offer resorts as temporary care facilities and the group's project team stands ready to assist the Govt/Army in erecting the temporary care facilities. In addition, the Mahindra Group will immediately begin work to explore how its factories could make ventilators.
The Mahindra Chairman added that the group would encourage associates to voluntarily contribute to the fund. In addition to contributing 100% of my salary to it, he will also be adding more over the next few months.
The economic impact of Covid-19 is businesses and individuals is going to be very dampening and it is the need of the hour for corporate India to rise up to the occasion and pitch in wherever it can. In a similar initiative, Vedanta Resources Ltd chairman Anil Agarwal announced that he would Rs 100 crore towards fighting the pandemic. As part of other measures, Vedanta will not cut salaries or fire any staff, including temporary workers during this crisis period and has also decided to provide special, one-time insurance to cover Vedanta's employees and their families against Covid-19.