Leadership
Rajesh Nair moves out from Tata Motors after 28 years; joins Polycab India
Polycab India appoints ex-Tata Motors, Rajesh Nair as the Executive President and CHRO.
Polycab India has appointed Rajesh Nair as the Executive President and CHRO. Nair resigned from Tata Motors after spending 28 years with the company where he worked in various roles.
Announcing his decision on LinkedIn, Nair shared, "It has been a tremendous pleasure working with the wonderful and committed teams that have joined me on this journey over these last 28 years, so much that I have learnt from them, am eternally grateful. I believe together we have meaningfully contributed to the organization, and I wish them all the best for the future."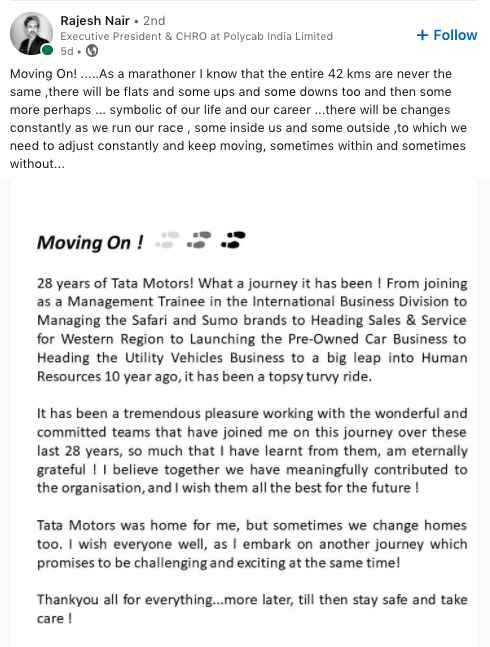 Nair has extensive leadership experience in various roles like Sales, Marketing, New Business Development in the Passenger Vehicle Business. He led the Utility Vehicles Business Division responsible for revenue and profits; created and built the Pre-Owned Car Business; managed the Sumo and Safari Brands and Headed Sales and Customer Care for Western Region after starting his career in international business.
In 2011, he took the role of Head - HR, Talent Acquisition, Corporate & Administration and for almost seven years, he headed Business HR for the Corporate functions, while also leading efforts to integrate, leverage, and optimize HR Shared Services and Admin functions.
In 2018, he took the role of Head - HR, Commercial Vehicles, Sales & Customer Care which he served for till May 2021.