Life @ Work
Workplace stress: 60% of employees plan to quit jobs, a study
The study reveals 80 percent of employees believe there are no programs to relieve stress at work, to the extent that nearly 60 percent want to quit their jobs because of strenuous scenario at work.
What does the report say?
A recent study by TimesJobs states, while 90% employees are interested in participating in corporate stress management programs, it is revealing that 80% of them report that there are no such programs offered by their organizations. It also reported that 60 percent of employees find workplace stress so high that they want to quit their jobs which is indeed an alarming situation for many organizations. Every working professional- regardless of age, experience, gender and profile has felt the pressure of work-related stress at some point in their career, says the study.
What is Workplace stress?
Workplace stress is a harmful physical and emotional response that can happen when there is a conflict between job demands on the employee and the amount of control an employee has over meeting these demands. Surprisingly, stress to some extent is not a bad thing as it can stimulate creativity and productivity. The natural pattern of human behavior is to experience a stress-causing event or situation, react to it with increased tension and then return to a normal, relaxed state. The problem occurs when stress is so overwhelming or constant that this pattern is broken leading to mental and physical illness.
Workplace stress can eventually be termed as a "Global epidemic" as it is spreading its tentacles slowly in many organizations.
Workplace stress: A costly epidemic
While the physical effects of this epidemic are often emphasized, the economic consequences also are alarming. Workplace stress leads to absenteeism, lower productivity, staff turnover, workers' compensation, medical insurance and other stress-related expenses. The study reveals that employees belonging to small-size organizations report comparatively higher level of stress at work than employees from large organizations. About 50 percent employees from small organizations said they face high level of stress at work while 30 per cent employees from large organizations say so.
As stated above, the study reveals 80 percent of employees complain of stress at work, to the extent that nearly 60 percent want to quit their jobs because of high-stress levels.
Nilanjan Roy, Head of Strategy, Times Business Solutions, says,
'This is not a healthy sign".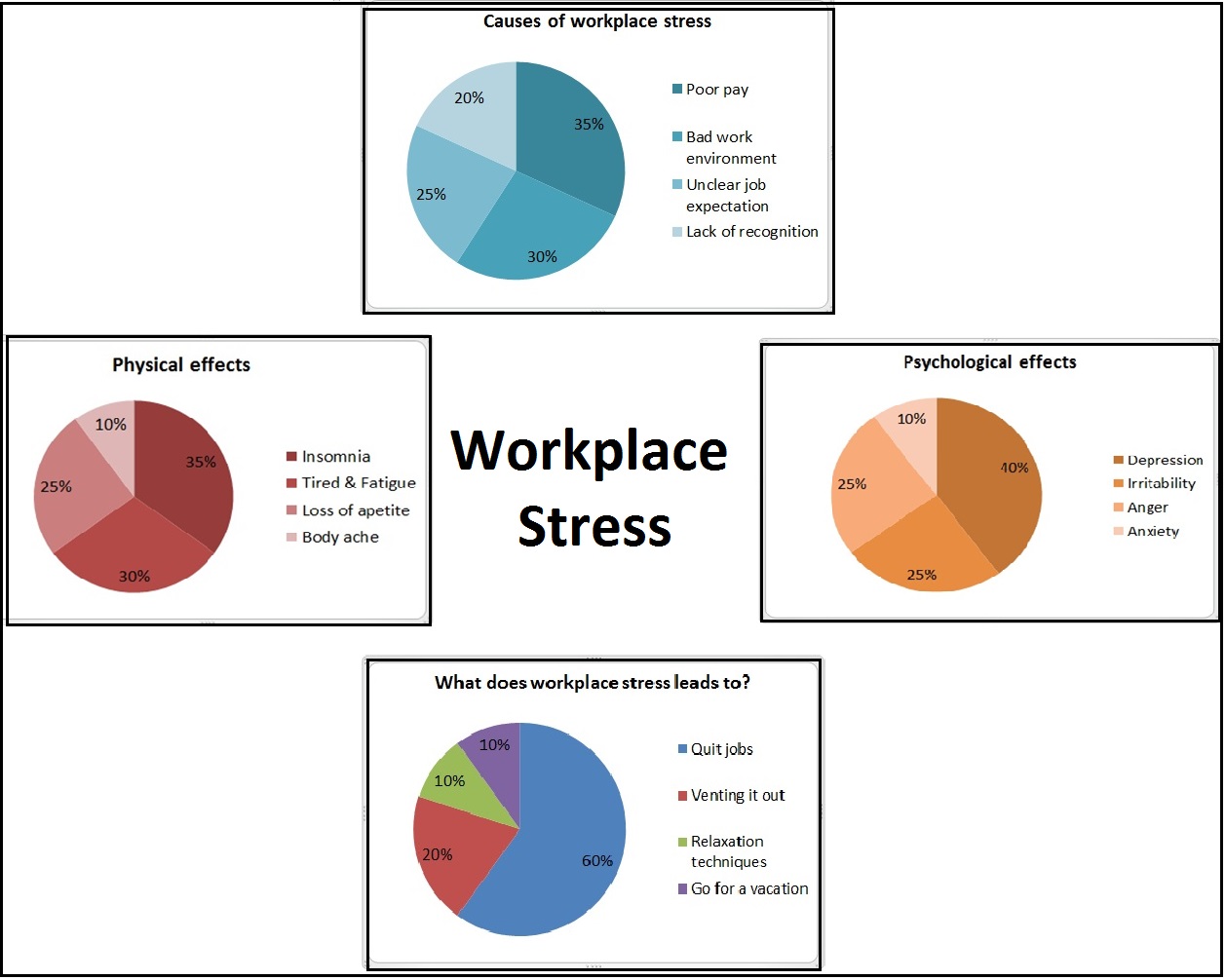 In order to combat stress at work, employers must work with employees to diagnose and find a solution. Some of the steps that can be taken are employee-friendly culture, a flexible work environment, feedback and recognition programs, stress management sessions and power nap at work culture.
So are you feeling stressed at work?