Performance Management
TCS to rebuild its appraisal system
Scraping the bell curve model, Tata Consultancy Service is planning to redesign its appraisal system
Tata Consultancy Service plans to introduce new appraisal system by scrapping the old bell curve model. The move will affect over 3,70,000 employees working in TCS.
Its appraisal system will be redesigned from the very beginning .To build a flawless model; the company would be assessing some of its employees after a project is completed instead of half yearly.
"The appraisal system will be separate for IT and BPO employees. Along with that, we would be looking at how senior executives are be appraised. All is in the testing phase .Nothing has been decided as of now," said a TCS executive.
Basically, TCS wants to adopt a model where continuous feedback will be given to the employees instead of assessing on half yearly basis.
Recently, several other companies have abandoned bell curve model, including Deloitte, KPMG, Microsoft and Accenture.
What is bell curve model?
The concept of bell curve was given by German mathematician Johann Carl Friedrich Gauss in 1809. Also called as Gaussian distributions and normal distributions; the curve resembles a bell that's why bell curve. As per the model, if you asses employees performance, they will usually fall into a specific range. It represents standard distribution of a rating or a result.
Example : If you measure 'value delivered' by more than 40 people performing the same job, placing them under 5 categories (shown below) indicating its range of performance, the chart or graph will end up looking like a bell curve .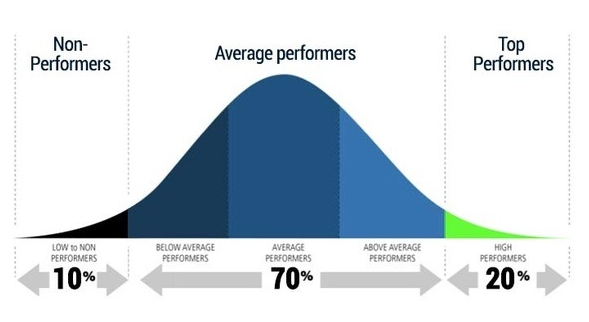 Source : quora.com
Critical analysis of bell curve
The bell curve analysis is usually seen as a rigid framework that in a way compels the manager to slot some of its team mates under poor performance bucket. So, looking at the assessment, there is a strong feeling of dissent within the group and they feel threatened that they might be fired soon by their company.
Some of the companies even feel that the relative ranking process is not in line with their business and employee needs. Some of the major big techs who have also done away with the model in the past include Google, Microsoft, Adobe and Accenture .
Source : http://economictimes.indiatimes.com/tech/ites/tcs-plans-to-straighten-out-the-bell-curve-with-new-appraisal-system/articleshow/55611676.cms
https://www.quora.com/What-is-meaning-of-a-bell-curve-in-a-performance-appraisal