Recruitment
E-commerce to create 1.45 million jobs in India by 2021
By 2021, E-commerce platform in India will create around 1.45 million jobs, report by Snapdeal & KPMG.
As per the joint report by Snapdeal and KPMG, India's e-retail and other allied sectors such as warehousing , logistics, and IT/ITes will create will create about 1.45 million jobs. The report projected that e-commerce sector will empower employment generation
The largest contributor in creating direct employment of about 1 million would be logistics and warehousing sector, while e-tailing would generate 0.4 million high-skilled jobs by 2021
Logistics and warehousing sector are estimated to be the largest contributor of direct employment opportunities for about 1 million, while e-tailing is expected to add 0.4 million high-skilled jobs by 2021.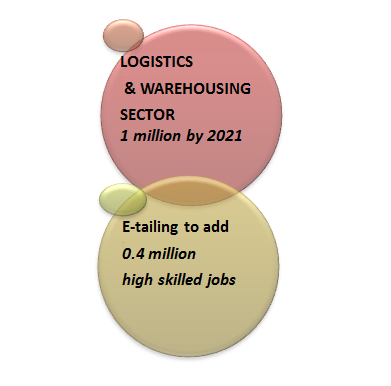 Kunal Bahl, Snapdeal co-founder and CEO said, "We aim to highlight, through this report, how the industry is generating direct and indirect jobs. Also, generating entrepreneurship opportunities, thereby, influencing the socio-economic fabric of the country for a more balanced development."
The study is titled as 'Impact of e- commerce on employment in India' which examines the macro-impact of the e-tail industry and the associated ecosystem.
Souce :http://economictimes.indiatimes.com/jobs/e-retail-allied-sectors-to-create-1-45-mn-jobs-by-2021-report/articleshow/55835089.cms