Recruitment
Hiring activity in November marks a 15% increase
As per the Naukri JobSpeak Index, overall hiring activity for the month of November 2019 was positive, with demand for professionals from the IT - Hardware industry growing by 29%.
The Naukri JobSpeak Index for November 2019 at (2,400), marked a 15% rise in hiring activity as compared to November 2018 (2,084). As per the JobSpeak report, overall hiring activity for the month of November 2019 was positive. 
The major contributors to this positive trend were industries like IT- Hardware (29%), BPO (25%) and IT- Software (25%). Demand for the job roles in ITES/ BPO (31%), Marketing/ Advertising (27%), Accounts (23%), and Sales/ BD (21%) also led to this uptick in the hiring trends overall. Metropolitan cities like Kolkata (36%), Delhi (20%) and Mumbai (14%) picked up growth in hiring largely. The demand for entry-level jobs (24%) and mid-level executives (20%) also contributed to the rise.
Commenting on the report, Pawan Goyal, Chief Business Officer, Naukri.com. said, "Due to the festive period in November'18, there is an 8% cumulative year on year growth in October'19 & November'19 versus last year same time. BPO and IT-Software industries are fuelling the increase in overall hiring. However, the Auto sector continues to witness a YoY decline. We expect the hiring activity to be stable in the coming months."
Key Highlights of Naukri Jobspeak for November 2019
Demand for professionals from the IT - Hardware industry grew with 29%, followed by industries like IT - Software and BPO with an upsurge of 25% each. Other industries that showed growth in hiring activity in the month of November 2019 were - BFSI (19%), Media & Entertainment (14%), FMCG (13%), Pharma (9%), Telecom (8%), and  Construction (3%). However, Auto & Ancillary and Hotels saw a dip of 9% & 2% respectively.
Meanwhile, demand for entry-level jobseekers (0-3 yrs. exp.) grew by 24% whereas demand for mid-level executives (4-7 yrs. exp.) and middle - management roles (8-12 yrs. exp.) grew by 20% and 13% respectively. Hiring for both senior management roles (13-16 yrs. exp.) and leadership roles (16+ yrs. exp.) saw a rise of 5% each.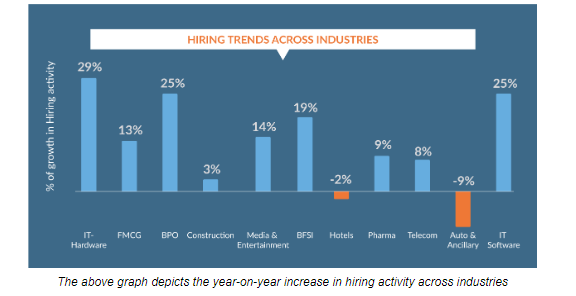 Citywise Hiring Trends  
Recruitments across cities were largely positive during the month of November'19 with Kolkata witnessing a significant increase of 36% YoY, followed by Pune with an increase of 25%. Hiring activity in the capital city Delhi witnessed an increase of 20%.
Meanwhile, in Mumbai hiring increased by 14% in November 2019 as compared to November 2018, buoyed by demand for hiring in the IT - Software industry. In Chennai, overall hiring grew by 11%. Industries that dominated the hiring space for the city were BPO with 66% and IT- Hardware with 55% year on year. In Hyderabad, hiring increased by 17% while in Bengaluru, overall hiring activity grew by 9%. 
The report clearly points out that the auto industry is still in the throes of a slowdown, with almost close to one lakh temporary workers in the auto components sector losing their jobs between October 2018 and July 2019 due to the slump in the auto industry.