Recruitment
HR function witnessed a growth of 20% in hiring from last year: Report
While HR function saw an increase in hiring in February on year on year basis, IT – Software industry clocked a growth of 38 percent in hiring, as per latest data by Naukri.
The Naukri JobSpeak Index for February 2019 showed a 16 percent increase in hiring activity from February 2018 (2,087).
Sharing the report, Sumeet Singh, CMO, Infoedge India Ltd. commented, "Naukri's latest Hiring outlook survey with over 3300 recruiters across the country had anticipated increased hiring, wherein 84 percent recruiters surveyed said that new jobs would be created. It is good to see this growth led by core sectors viz. IT, Construction, Engineering & FMCG."
IT – Software: One of the fastest growing industries
The IT - Software industry seems to have been on a hiring spree in the last one year. The industry clocked in a growth of 38 percent in hiring, making it one of the fastest growing industries. Followed by, Construction and Engineering industry which saw an increase in hiring with a growth rate of 16 percent and IT - Hardware (22 percent), and BPO (12 percent). 
Some of the other industries that reported positive hiring trends include, FMCG (7 percent), Auto & Auto Ancillary (6 percent), Pharma (5 percent), Telecom (8 percent) and Education (10 percent). 
However, industries like Banking and Financial Services, Oil and Gas, and Industrial Products saw a dip of 12 percent, 6 percent, and 4 percent in hiring activity, respectively. 
IT and HR professionals in high demand
Hiring in HR functional area witnessed a positive growth of 20 percent, although the demand for IT – Software professionals remains highest with a rise of 29 percent hiring.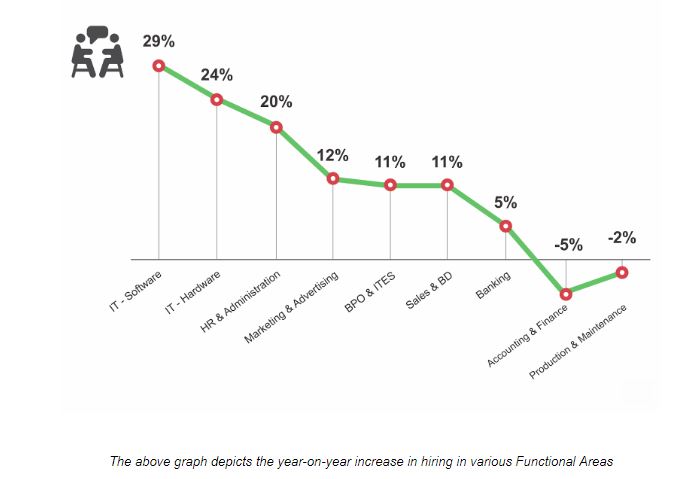 Other verticals that witnessed a year-on-year increase in hiring activity were Marketing (12 percent), Banking & Insurance (5 percent), ITES (11 percent), and Site Engineering (11 percent).  On the other hand, the hiring of Accounts & Finance and Production/Maintenance decreased by 5% and 2%.
Hiring for senior leadership roles largely flat
While the demand for mid-level executives, between the ages of 4-7 years grew by 18 percent, leadership roles with experience band of 16+ years remained largely flat with a slight increase of 3 percent in recruitment activity. 
Hiring for entry-level jobs, with an experience band of 0-3 years, also witnessed a rise of 17 percent and for mid-management roles of 8-12 years of experience, it grew by 12 percent. 
Hiring most active in Chennai, Pune, and Mumbai
Recruitment grew across metropolitan cities, with Chennai and Mumbai clocking in a rise of 30 percent and 26 percent respectively. Even Pune was not far behind as hiring activity for the city increased by 25 percent with maximum growth in hiring in FMCG (38 percent). 
For Delhi, the hiring increased by 10 percent and for Bangalore 19 percent. 
While the report highlights an overall positive trend in hiring, a majority of the workforce still remain unemployed and struggle to find a job. The popular opinion is that the gap between the demand and the supply of skills contributes to the unemployment scenario in India. The challenge has been identified for a long time now but a full proof solution is still not in place. On one hand, the government is working on skilling and making the talent job ready, on the other even corporates are now increasingly investing in hiring and building talent. As more corporates hire candidates based on their learning agility and then work on skilling them as per the requirement, the gap may get narrower.