Recruitment
India's ecommerce sector can create over 1 Mn jobs by 2023: Report
As per the recent report by PwC India and NASSCOM, the current Indian ecommerce market of $35 Bn is expected to grow at 25% in the next five years.
The Indian e-commerce market of $35 Bn is expected to grow at 25 percent in the next five years and exceed $100 Bn by 2022, according to a recent report by PwC India and the National Association of Software & Services Companies (NASSCOM). The report also states that ecommerce can potentially create 1 million+ jobs by 2023. Ecommerce is expected to not just create regular corporate jobs but also increase employment in allied industries like logistics and warehousing.
The report titled 'Propelling India towards global leadership in e-commerce' further states that e-tail and e-travel will continue to hold over 90 percent share of e-commerce, while online financial services will witness the fastest growth.
The report says three out of four online customers are expected to come from tier II markets and beyond. A vast majority of them will be relatively less tech-savvy, seek greater transparency from brand and prefer consuming content in local languages. Additionally, the report stresses on the need for harmonization in the e-commerce policy framework that enables the growth of the sector.
Debjani Ghosh, President NASSCOM said, "The e-commerce sector has been contributing towards various macroeconomic growth parameters, evangelizing local businesses and customers. In the next five years, the sector has the potential to create a million jobs in allied industries such as logistics, warehousing, etc. In addition, the FDI attracted enhances the country's positioning significantly on the global stage. Ecommerce companies have to focus on building loyalty which will translate into repeat sales."
Meanwhile among the jobs which will be created, 0.65 million core jobs, retail-oriented jobs (such as category management, merchandising) will be key.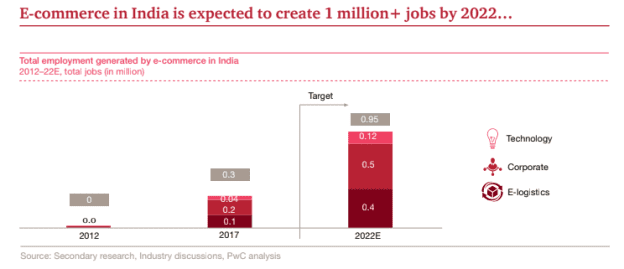 Around 0.1 million core jobs will focus on ecommerce technology, such as algorithms and the development of interfaces.
These technology-oriented core jobs will also include the need for digital (social, mobile, analytics and cloud [SMAC]) skills.
The share of these skills is expected to increase further by 2022.
Support functions, such as customer care, HR and finance are expected to grow as well; however, their growth may not be on par with other segments due to advances in AI and the scaling up/consolidation of businesses.
Within ancillary jobs, e-logistics is expected to be the largest segment, creating more than 0.3 million jobs. Delivery / last mile delivery will contribute to approximately two-thirds of the jobs as e-commerce grows beyond Indian metros.