Recruitment
Job postings for content managers witness a 72% surge in one year
Job postings for content manager and editor roles have gone up by 27% from January 2016 to January 2019.
There has been a significant surge in job openings for content managers and content editors, as per a report by Indeed. In the last year alone from January 2018 to January 2019, job postings for 'content manager' and 'content editor' roles have seen a 72% increase. 
Job postings for these roles have gone up by 27% in the last three years from January 2016 to January 2019. Similarly, job searches for the same have seen an increase of 58% during the same period, as job seekers tap into available opportunities.
Bengaluru is the leading city for job openings for content editor or content manager roles, with over 17% of all job postings in India. It is followed by Mumbai and New Delhi, which host over 10% of related job postings each.
Meanwhile, the average salary for a Content Manager is ₹3,69,424 per year in India, as per Indeed's estimates. These salary estimates are based on salaries submitted anonymously to Indeed by Content Manager employees, users, and collected from past and present job advertisements on Indeed in the past 36 months.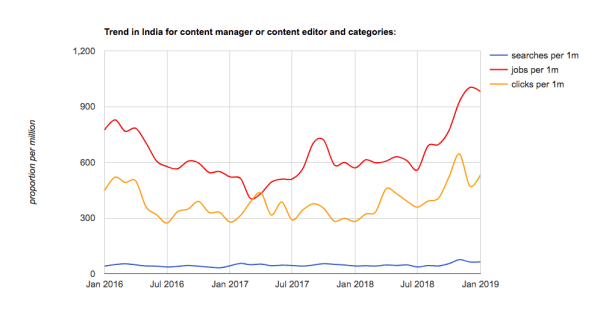 However, the typical tenure for a Content Manager is less than 1 year.
Shedding more light on this trend, Sashi Kumar, Managing Director, Indeed India stated, "As more and more organizations are creating an online presence, it becomes essential to review and create any conversations around their interests. In an increasingly crowded marketplace, it is important to take ownership of one's messaging. Content managers or content editors thus become custodians of an organization's image."
While it is heartening to note the surge in jobs for content managers, yet the shorter tenure time also points out to a high churn in these jobs, something which organizations need to pay heed to.