Recruitment
Monster Employment Index: 13 percent y-o-y growth in hiring in July'17
The Monster Employment Index for July captured an uptrend of 13 percent y-o-y growth in hiring, the highest recorded this year
According to the Monster Employment Index India, online recruitment activities have registered 13 percent year-on-year growth in the month of July 2017, which is the highest growth recorded this year.
The top growth sectors- Banking, Financial Services and Insurance continued to exhibit 43 percent growth year-on-year, BFSI sector moved up by marginal one percent in July 2017, followed by Consumer Goods/ FMCG, Food & Packaged Food which witnessed a surge of 34 percent in July 2017 from 33 percent in June 2017.
Sanjay Modi, Managing Director, Monster.com, APAC & Middle-East, commented on the trend and said, "India is on the verge of transformation due to digital disruption and implementation of GST as a major economic reform. This has led to a positive trend in online recruitment activity. The Monster Employment Index for July has captured this sentiment and reported an uptrend of 13 percent y-o-y growth in hiring, the highest recorded this year."
He adds, "Banking, Financial Services and Insurance sector has moved to a higher growth trajectory owing to digital disruption. However, e-recruitment in manufacturing has continued to be significantly below the corresponding period a year-ago. This necessitates strong policy impetus to develop manufacturing sector."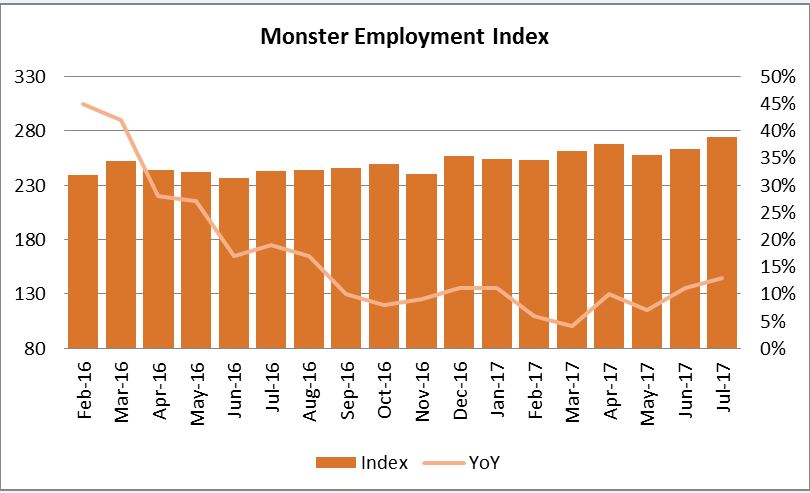 Hiring Trends in Cities
City-wise data depicted that amongst metros- Kolkata lead long-term growth by 45 percent, Mumbai showed double-digit growth of 12 percent, followed by Hyderabad which exhibited 6 percent growth, Chennai was down by 2 percent, while Bangalore reported 3 percent growth, and Baroda was up by 33 percent, followed by Ahmedabad 16 percent growth recorded. Amongst all, surprising was annual growth trend in Delhi-NCR (down 4 percent) exhibited the steepest decline.
Industry Year-over-year Trends
The index monitored a total of 27 industry sectors and 19 sectors saw increased demand on-the-year. Home Appliance sector led all monitored industry groups charting a 49 percent growth on the year. Banking/ Financial Services, Insurance witnessed second highest growth of 43 percent, Engineering, Cement, Construction, Iron/ Steel saw 14 percent rise , Real Estate sector continued to remain low on the year; Advertising, Market Research, Public Relations exhibited growth on the year following low levels since April 2017; up by six percent. In Production and Manufacturing, the rate of decline eased from -22 percent in June 2017 to -14 percent in July 2017. BPO/ITES (down 14 percent) sector witnessed a steep decline in hiring demand, year-on-year.
Occupation Year-over-year Trends
Online demand exceeded the year-ago level in twelve of the 13 occupation groups monitored by the Index. Sales & Business Development saw an increase of 29 percent, HR & Admin was up by three percent and Marketing & Communications was up by eight percent, Engineering /Production saw an increase of 24 percent and Finance & Accounts (up 16 percent) continued to register a progressive increase in demand.