Recruitment
Online hiring up by 12% in March: Report
Finance and accounts, and healthcare professionals saw highest growth in year-on-year demand in the month of March as per Monster.
As per a Monster Report, online recruitment activity increased by 12% in March as demand for finance and healthcare professionals witnessing a significant growth.
Abhijeet Mukherjee, CEO, Monster.com- APAC & Gulf stated, "The economic reforms by the government seem to have started impacting the economy in a positive manner and the online recruitment activity around key sectors such as production and manufacturing can possibly be attributed to it."
The Monster Employment Index India stood at 292 in March as compared to 261 in the year-ago month.
The report stated that finance and accounts, and healthcare professionals saw highest growth year-on-year at 32% and 31%, respectively. This could be the result of the massive opportunity created by GST reforms for people with the know-how of the new tax regime as per Mukherjee. Meanwhile, sales and business development continued to be amongst the most demanded job roles despite a significant dip in the growth rate from 37% y-o-y in February 2018 to 27% y-o-y in March 2018.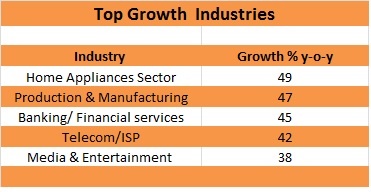 Sector-wise, the home appliances sector continued to lead the long-term growth chart with 49% y-o-y growth, though it reduced by 10 points from the 59% growth posted in February 2018. The home appliances sector was followed by production and manufacturing which posted a 47% y-o-y growth while online demand in retail during the month matched that of February 2018 at 13% y-o-y.
Meanwhile, government/PSU sector was amongst the lowest growth industries.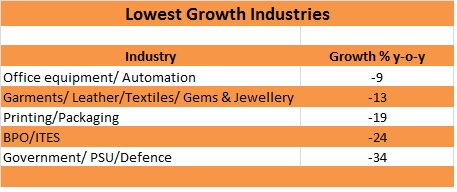 Kolkota tops in e-recruitment activity
City wise, in 11 of the 13 cities monitored by the Index, Kolkata topped the charts in e-recruitment activity, up 33% followed by Chandigarh which was up 29%, while Jaipur came third at 24%. The report noted that for Delhi-NCR, the e-recruitment activity dipped below the year-ago level by 2%, while Chennai saw a growth of 2% in March 2018 down from 5% in February 2018.
In conclusion, Chennai, Bangalore, Kochi and Jaipur were the most active cities on a month-on-month basis, with each one of them posting an increase of 3% between February and March 2018.