Recruitment
Snapdeal leads in hiring among Indian unicorns
Recent data by Indeed shows that Indian Unicorns are on hiring spree with Snapdeal leading the pack with a share of 53% job posts among all.
While Indian job market has seen a slump in Job creation and Employability in 2017, Indian Unicorns seem to be fiercely hiring as per a data shared by Indeed. And Snapdeal seems to be leading in job posting by making up more than half of the total jobs posted by the top Indian start-ups.
Who are Unicorns? 
Unicorns are start-up companies which are valued at over $1 billion.
Here's a look at these companies and their percentage share of total job postings, according to data shared by Indeed: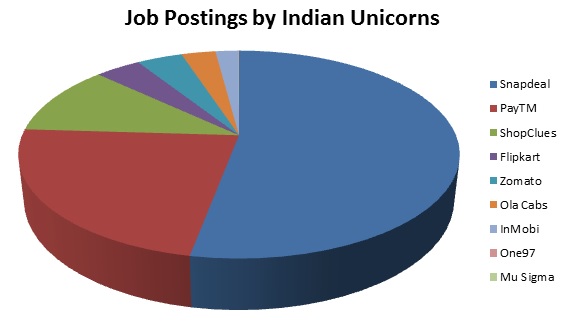 1. Snapdeal: 53%

2. PayTM: 23%

3. ShopClues: 11%

4. Flipkart: 4%

5. Zomato: 4%

6. Ola Cabs: 3%

7. InMobi: 2%

8. One97 Communications Ltd: 0.03%

9. Mu Sigma: 0.03
In February this year, according to news, layoffs by Snapdeal was estimated to be around 30% of the workforce. This included full-time and contractual workers. In July, it was reported in ET that Snapdeal was planning to cut down 80 percent of its employee strength. 
After these massive layoffs, Snapdeal is now focusing on hiring freshers aggressively. In fact, it is not just Snapdeal, but other unicorn companies including Flipkart, PayTM and Zomato are also in search of fresh talent in the market.
As revealed by Indeed's study more than half (57%) of all job postings by unicorns are for fresh graduates. 
Sashi Kumar, Managing Director, Indeed India, said, "This is encouraging for millions of young freshers looking to jumpstart their careers with young companies, and being a part of the exciting start-up ecosystem. Further, our earlier study on job flexibility also indicates a trend towards contractual hiring in these firms, which reaffirms the growing affinity among today's new-age job seekers, who look at striking a balance in work-life integration." 
This is good news for fresh graduates following a year that saw a slowdown of jobs.
The study included an analysis of job postings from Flipkart, Hike Messenger, InMobi, Mu Sigma, Ola Cabs, PayTM, ShopClues, Snapdeal, RenewPower and Zomato, which were identified as the top Indian start-ups valued at over $1 billion. All job queries posted within the timeframe of October 31, 2016 to October 31, 2017, were considered for this study.