Employee Engagement
Tech firms in 8 key APAC markets to increase hiring: Report
As per Radford Global Technology Survey Quarterly Workforce Trends Report, the percentage of technology companies in Singapore that plan to hire aggressively increased by 29.4 percent in Q2 2018, compared to Q1 2018.
According to new data from Radford (a division of Aon plc), technology companies across Asia-Pacific are reporting more optimistic hiring plans in Q2 2018 as compared to Q1 2018.
While in Singapore, the percentage of technology companies that plan to hire aggressively in Q2 increased to 4.4 percent compared to 3.4 percent in the previous quarter, Australia reported the highest aggressive hiring plan across the region at 6.9 percent.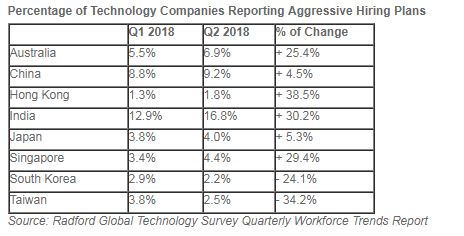 The reports also provided insights about the voluntary employee turnover, another key metric on the health of the overall technology sector. The voluntary employee turnover was highest in Australia at 12.8 percent followed by India (12.7 percent), China (12.4 percent) and Singapore (12 percent).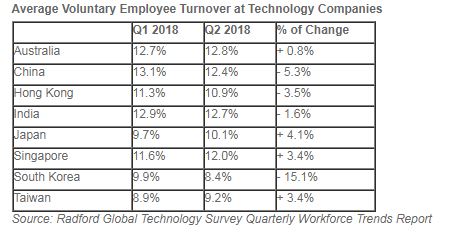 The report highlights the need focus on talent retention strategy. Companies should probably identify the types of rewards that are most important to their employees, particularly those that are seen as differentiating and reinforcing company culture.
Alexander Krasavin, Partner and Radford Leader for the Asia Pacific, Middle East, and Africa said, "The technology market across Asia-Pacific is strong as we head into the second half of the year. To support rapid hiring plans, companies must leverage both pay and non-monetary rewards. These can include perks that promote greater work/life balance, peer-to-peer recognition awards and internal mobility programs."