Skilling
Essential soft skills for hiring: TimesJobs survey
According to a recent survey by TimesJobs, 60% employers feel soft skills are essential for hiring candidates.
Job-related expertise is essential in any profession and in many other careers. Whether or not you are successful in your career may depend on how you relate to other people and to work: the so-called soft skills or the people skills. Over the last twenty to thirty years, understanding has grown that perhaps the soft skills may ultimately be more important in determining levels of success. TimesJobs survey came up with some surprising data on how significant soft skills are while hiring an employee.
What is the study?
The survey was conducted by TimesJobs on 750 respondents and revealed the level of importance of soft skills and the difficulty in tracing the desired soft skills. The study also found the top ten soft skills which are imperative for hiring.
What are the outcomes?
In terms of significance of soft skills, 60% of employers say it is very significant, while 30% and 10% of them feels it is somewhat and not significant respectively.


Soft skills came out to be most important for the middle level hiring (40%), followed by junior (35%) and senior level (25%).


Coming to the percentage of difficulty in finding the desired soft skills; a whopping 70% says it is very difficult and 25% agrees with somewhat difficult. Only a minimal of 5% says it is not difficult to find the candidate with desired soft skill.


Some of the top 10 soft skills essential for hiring are listening, communication, confidence, team-work, positive attitude, creativity, persuasion, flexibility, activeness/alertness and accountability.
Top 10 soft skills essential for hiring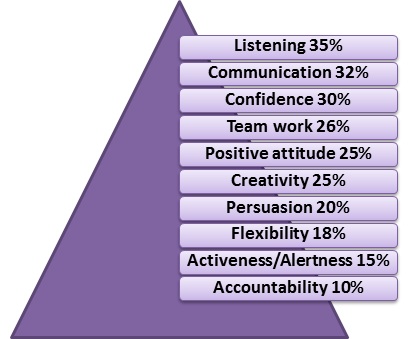 Conclusion
In a nutshell, soft skills training has to be made compulsory in every educational institution from degree level onwards to equip employability skills when they complete their academic curriculum. The industry should also provide training program from time to time to enhance the effectiveness of their employees.