Staffing Recruitment
Indian Staffing industry expected to grow 10% in 2017-18
As per Staffing Industry Analysts report, Indian Staffing Federation is likely to grow 10% in 2017 -18
Indian Staffing Federation, an apex body of flexi staffing industry is projected to grow 10% next year, as per the recent report published by Staffing Industry Analysts.
The report also indicates that the Indian staffing industry is estimated worth INR 270 billion in 2015 and it forecasts growth of 12% this year.
"The Indian Staffing Federation has predicted that the 2.1 million temporary workers presently in the organised sector will increase to 2.9 million workers by 2018, making India the third largest market in world" says Adam Pode, Director of International Research at Staffing Industry Analysts. Also , he adds , "The major international staffing firms represented in our list have come to India because they recognize the huge potential of the market."
The release stated that, ISF has topped the list of India staffing firms occupying the first 5 positions. Top three firms including two home grown firms TeamLease and Quess and Swiss headquartered Adecco together have accounted for 20% of the total market share in India.
Ms. Rituparna Chakraborty, President, Indian Staffing Federation, said, "In India the Staffing Industry clearly does not have a challenge of addressable market and its gratifying to witness the rapid growth being shown by each of the organised Staffing Firms to tap into this opportunity on one hand and enabling rapid job creation on the other. Demonetization and implementation of GST in recent times shall definitely be a force multiplier to the growth of Staffing in India."
As per the report by the leading global advisor on contingent work, the five largest staffing companies in India, based on 2015 revenue in million rupees are :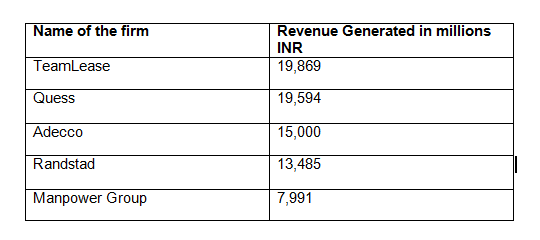 Indian Staffing Federation (ISF) was set up by India's leading staffing companies to recognize employment, work choice, even compensation, annual benefits and health benefits for the temporary workforce that constitutes a sizeable segment of India's total workforce.