Strategic HR
OLX's global layoff: 800 workers to face job losses due to auto business challenges
Several individuals employed at OLX Auto Mexico have taken to LinkedIn to share information regarding their termination from the organisation.
Following the closure of its automotive business unit, Olx Autos, in certain regions, OLX Group, the company responsible for the online marketplace OLX, has revealed its intention to lay off 800 employees worldwide. 
This decision comes about six months after OLX's plan to reduce its global workforce by 1,500 employees in 2023, as part of a broader restructuring effort due to unfavorable macroeconomic conditions. Meanwhile, some individuals from OLX Auto Mexico have begun sharing their experiences of leaving the company on LinkedIn. It is worth noting that OLX Auto is also active in India. 
As reported by TechCrunch, OLX Group has revealed that it strategically opted to withdraw Olx Autos from certain countries after conducting a thorough exploration of potential buyers and investors. 
A spokesperson from the company stated, "As a result of this process, it became clear that pursuing individual country sales was the best option, given the significant value that exists within local markets. This includes Chile, the financing business in Latin America, and both the Olx classifieds platforms and the Autos transaction businesses in India, Indonesia and Turkey." 
In light of the absence of viable investors, the company has made the decision to cease operations of Autos in Argentina, Mexico, and Colombia. The OLX Argentina website currently states:
"OLX Autos will cease its purchasing operations in Argentina/Colombia/Mexico. We want to express our most sincere gratitude for the trust and support you have given us throughout these years, and we deeply regret that we cannot continue to provide you with this service in the future. All existing purchase contracts will be honoured, but as of June 14, 2023, new transactions will no longer be made."
Furthermore, the website mentions that the company will proceed with the sale of its existing vehicle inventory. Notably, the OLX Auto India website is still operational. OLX has assured its commitment to providing assistance to all individuals affected by this transition. 
However, it remains uncertain whether the layoffs within the OLX Group will affect any executives at the senior level.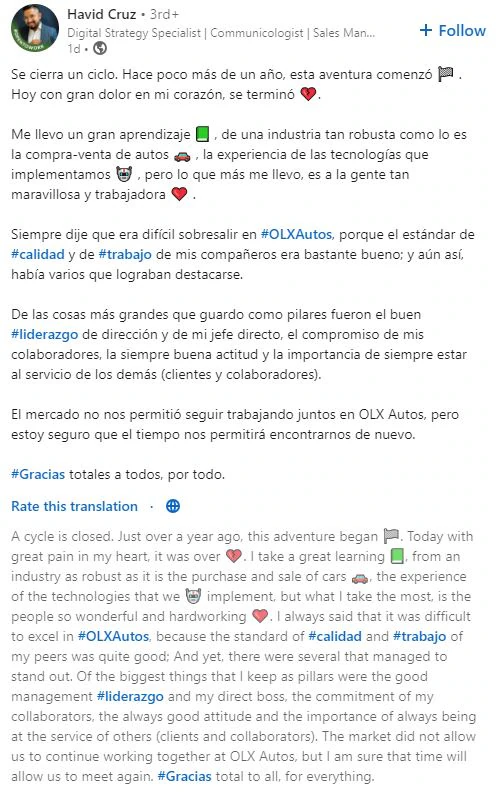 As previously mentioned, several employees from the OLX Auto Mexico division have taken to LinkedIn to share their experiences of being laid off. One of them is Havid Cruz, who held the position of an SAP project manager. Cruz expressed his sentiments, stating, "A chapter has come to an end. Just over a year ago, this adventure began. Today, with great sadness, it has concluded." 
Another colleague of Cruz, Jonathan Estrada Galindo, also confirmed his layoff and mentioned his search for new job opportunities. According to the annual report of Prosus, the parent company of OLX Group, for the fiscal year ending on March 31, 2022, the total number of employees worldwide was 11,375. 
The parent company reported in November 2022 that OLX Auto achieved an impressive revenue growth of 84 per cent. However, due to the lack of profitability, the company had to make the decision to shut down certain divisions.