Strategic HR
The future of India Inc is hybrid: Microsoft study
2021 Work Trend Index reveals that 57% of Indian employees feel overworked, yet 74% of Indian workers are keen on flexible remote work options. So what does India Inc have to focus on and fix as the hybrid future of work unfolds? Let's find out.
In its first annual Work Trend Index, Microsoft has revealed country-specific insights, challenges, expectations, and motivations that will shape the future of work in India. In addition to WTI, the tech giant also launched The Hybrid Work Playbook which includes data, research, and best practices designed to help organizations navigate these evolving work norms, underscoring that the future of work is hybrid.
The 2021 Work Trend Index outlines findings from a study of more than 30,000 people in 31 countries and analyzes trillions of aggregate productivity and labor signals across Microsoft 365 and LinkedIn. It also includes perspectives from experts who have studied collaboration, social capital, and space design at work for decades.
Given how 2020 fundamentally changed the world of work, India Inc, along with the rest of the world, is at the cusp of workplace disruption - leaning towards a hybrid future. Creating a hybrid work plan for any organization requires a flexible operating model spanning people, places, and processes. To help people thrive, organizations need to rethink the entire employee experience—from creating culture to attracting and retaining talent and building privacy-backed listening systems.
 "If we have learnt one thing in the last year, it's that we are no longer bound to traditional notions of space and time when it comes to how, when, and where we work. The Work Trend Index findings attest that remote work has created new opportunities but there are challenges ahead as well," said Rajiv Sodhi, Chief Operating Officer, Microsoft India. "We believe hybrid work is the future, and a successful hybrid strategy will require extreme flexibility. As every organization fundamentally reimagines itself for the hybrid work era, we are collectively learning and innovating on how we will shape the future of work in India. It's time to embrace work as a frame of mind, not a place you go."
Reflecting on the current state of affairs and what to prepare for as the future unfolds, here are some trends revealed by Microsoft's 2021 Work Trend Index:
Flexible work is here to stay
Illustrating the hybrid work paradox in India, nearly three-fourths (74%) of Indian employees say they want more flexible remote work options, while at the same time, 73% of them are also craving more in-person time with their teams. Following through on these findings, 73% of business decision makers are considering redesigning physical spaces to better accommodate hybrid work environments.
The shift to remote work in 2020 boosted feelings of inclusion for workers because everyone was in the same virtual room. But the move to hybrid will need to ensure employees are given the flexibility to work when and where they want, as well as the tools they need to equally contribute from wherever they happen to be.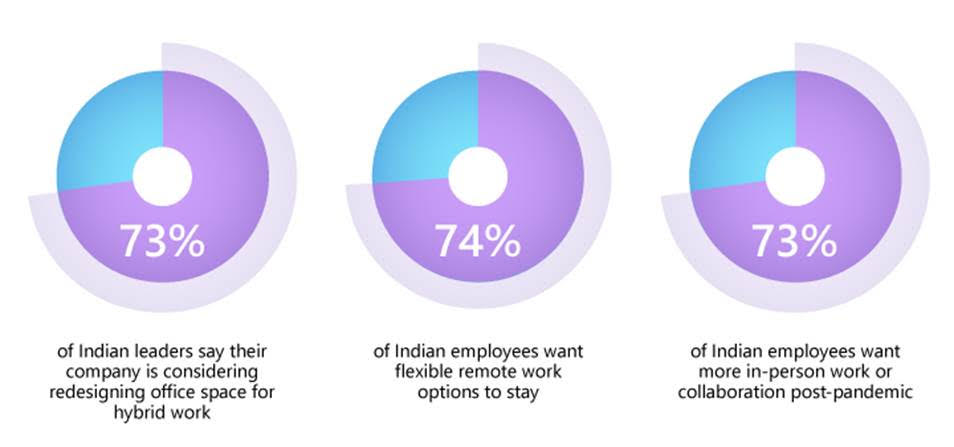 Work has become more human and authentic
Interpersonal dynamics at the workplace shifted for the better as an outcome of the circumstances of the last twelve months.
WTI findings revealed that one among four (24%) Indian employees has cried with a colleague.
Additionally, 35% of employees are less likely to feel embarrassed now when their home lives show up at work, with 37% people having met their coworkers' families. 
People who interacted with their coworkers more closely than before experienced stronger work relationships, reported higher productivity and better overall well-being. The genuine interactions with colleagues is contributing to a more inclusive workplace with 63% of Indian workers stating they are more likely to be their full, authentic selves at work.
Digital overload is real and rising
Despite the pros, there are certain cons accompanying flexible work. Self-assessed productivity has remained the same or higher for many employees over the past year, but at a human cost: 
62% of the Indian workforce says their companies are asking too much of them at a time like this 
13% say their employer doesn't care about their work-life balance
More than half (57%) of Indian employees feel overworked and 32% feel exhausted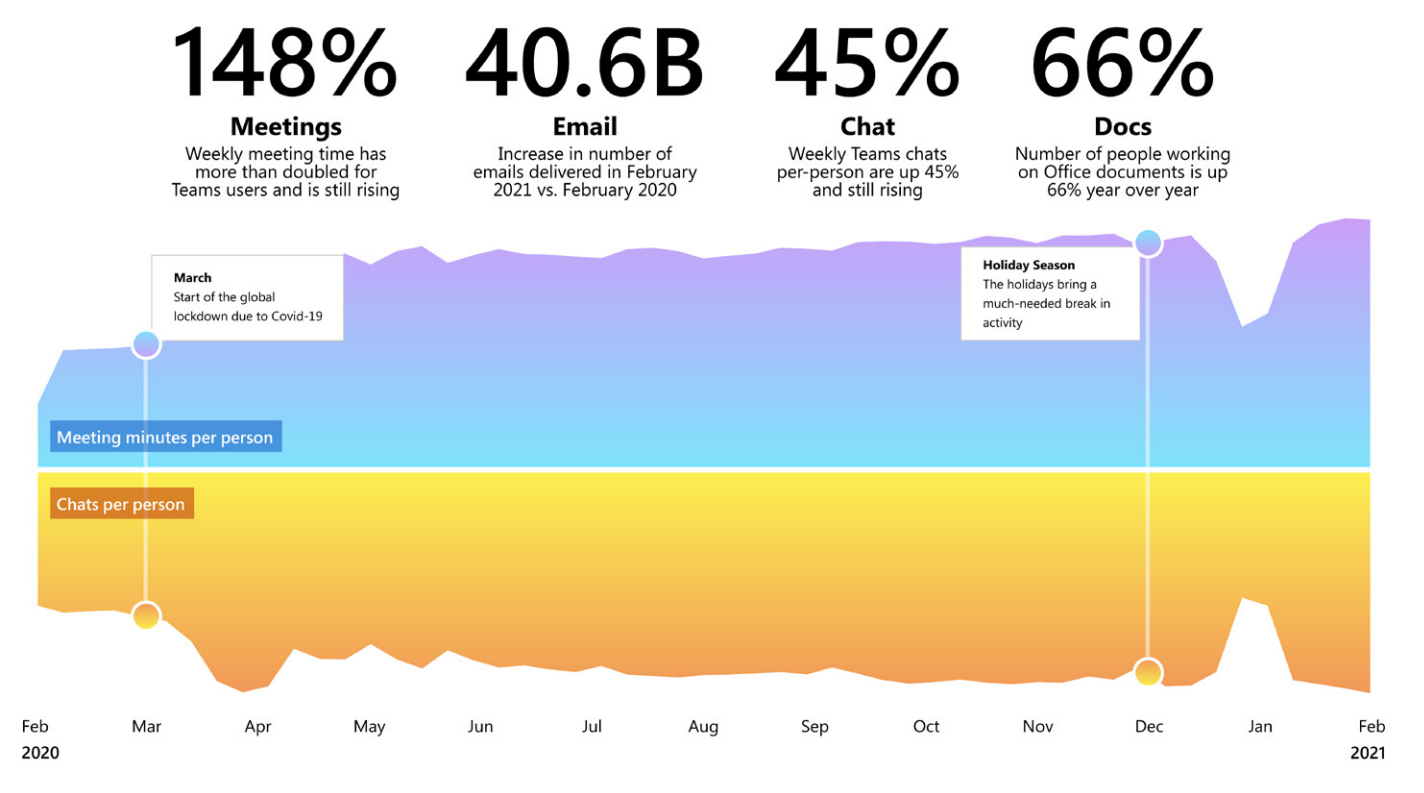 The digital intensity of workers' days has increased substantially in the last year.
The time spent in Microsoft Teams meetings has more than doubled (2.5X) globally, 62% of Teams calls and meetings are unscheduled or conducted ad hoc.
The average Teams meeting is 10 minutes longer, up from 35 to 45 minutes year-over-year. The average Teams user is sending 45% more chats per week and 42% more chats per person after hours. And despite meeting and chat overload, 50% of people respond to Teams chats within five minutes or less. 
The human cost of the shift to hybrid is one of significant concern, given the likelihood of hybrid remaining in place in the long-term.
Gen Z is struggling more than other generations
India's first generation of digital natives, or Gen Z, appears to be suffering and needs to be re-energized. According to the data, nearly 71% of Gen Z (aged between 18 and 25) admitted that they are merely surviving or flat-out struggling. 
Survey respondents reported that they were more likely to struggle balancing work with life and to feel exhausted after a typical day of work when compared to older generations.
Gen Z also reported more difficulty feeling engaged or excited about work, getting a word in during meetings, and bringing new ideas to the table when compared to other generations. 
Clearly, the sense of inclusion is not the same for all. Employers will need to develop targeted engagement strategies that cater to all segments of the workforce.
Workplace networks are shrinking
Anonymized collaboration trends between billions of Outlook emails and Microsoft Teams meetings reveal that the shift to remote work has shrunk our networks. Between April 2020 and February 2021, the number of people sending chats posted in a Teams channel — designed to include the whole team — have decreased by 5%. In contrast, the number of people sending small group or one-on-one chats have increased by 87%.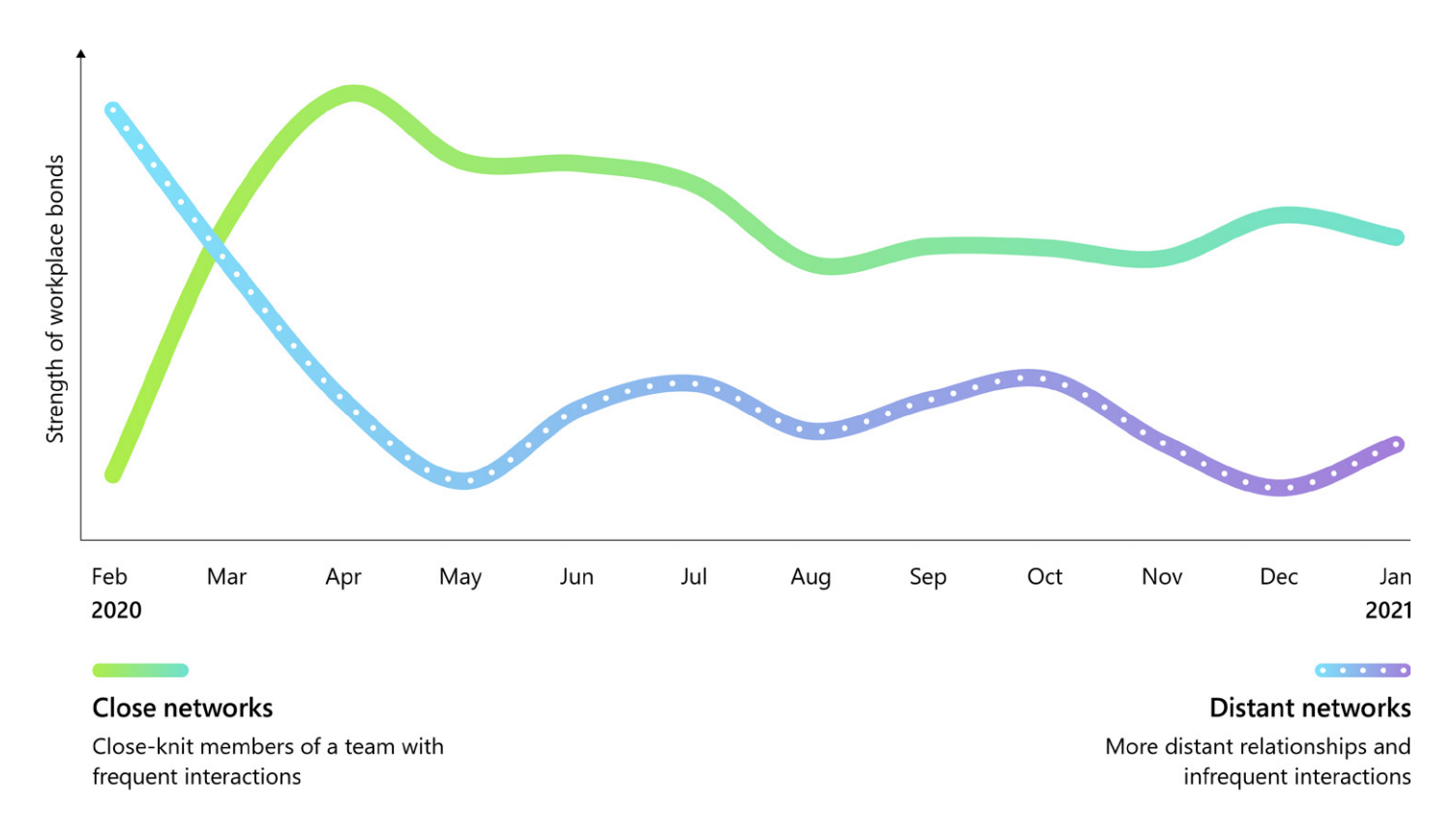 It is no news that strong workplace networks impact innovation and productivity. In fact, dat found that respondents who reported weaker workplace relationships were less likely to report thriving at activities that lead to innovation, like thinking strategically, collaborating or brainstorming with others, and proposing new ideas.
Among the Indian workforce, 29% have experienced decreased interaction with coworkers.
Despite numbers suggesting more authentic workplace relationships, there is a segment of the workforce experiencing a disconnect with their coworkers. This only makes conducting regular pulse checks imperative to identify not just the gaps in communication, but also the cohort of employees who require greater focus and interaction.
Talent is on the move in a hybrid world
A vast talent marketplace is one of the brightest outcomes from the shift to remote work. Remote job postings on LinkedIn increased more than five times in the last year, and people are taking notice. Almost 62% of India's workforce (including 51% of Gen Z) expressed their intention to switch jobs this year - significantly higher than the global sentiment (41%). 
Being able to work remotely now, nearly 68% of Indian workers are likely to move to a new location.
This fundamental shift expands economic opportunity for individuals and enables organizations to build high-performing, diverse teams from a near-limitless talent pool.
The future of work is here and it's hybrid
The shift to hybrid work is a strategic business opportunity for every organization – one that requires a new operating model. The Hybrid Work Playbook shares learnings about how to reimagine people, places and processes for a hybrid world:
People: Every organization needs a plan and policies that put us on the path to extreme flexibility and help us build digital empathy into every aspect of our culture – from global guidelines to team-level meeting norms that help everyone feel included and engaged. 
Places: Relying solely on shared physical location to collaborate, connect, or build social capital is no longer viable. But spaces and places are still important and reimagining them starts with prioritizing employee safety and maintaining consistent person, reference, and task spaces for all employees, whether they are on-site or remote. 
Processes: The shift to hybrid work presents a rare opportunity to transform key business processes in bold new ways. Cloud readiness, digitization of business processes, and a Zero Trust security architecture will be key enablers in adapting to the new hybrid reality.
As data suggests, flexibility and hybrid work will define the post-pandemic workplace. While the largest work from home experiment seems to be the preferred mode of work, it will be crucial for employers to fix what has not worked well with flexible working. To make hybrid working a more seamless experience for long-term success,  employers will need to invest time and effort in reimagining people, places and processes for the new world of work.