Talent Acquisition
Naukri.com's report on hiring activity in the IT industry
IT-Hardware sector has seen growth of 10% in Sept'20 when compared to the pre-COVID period of Feb'20. On the other hand, IT-Software still has to catch up to pre-COVID levels, down by 28% in Oct'20.
One of the relatively least affected sectors inthe aftermath of the pandemic is the IT sector. At a time when COVID induced layoffs, shut downs, pay cuts and furlough took several sectors for a spin, one sector that was able to stay more than afloat in terms of hiring, was the IT sector, owing majorly to the increased demand for technological capabilities on the business front as well as having had an experience of the remote working environment on the people front. 
From a growth perspective, as per Naukri.com's latest report, there is an upward M-O-M recovery for the IT sector, peaking in Sept'20 for hardware (63%) and software roles (20%).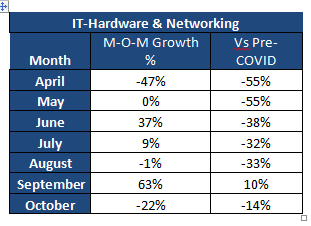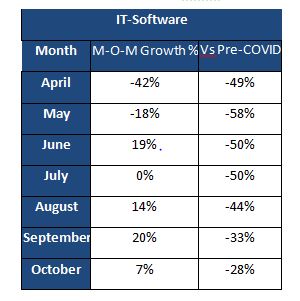 In the images above, pre-COVID numbers refer to numbers in Feb20. While M-O-M in Sep20 looked promising, the growth in comparison to pre-COVID times is still lagging. The software segment continues to lag at 28% in October, and the hardware segment saw a decline from 10% growth to -14% in comparison to pre-COVID levels.
Here are the key roles that continue to experience growing demand:
Software Developer 
Tech Lead 
Tech Architect
Testing Engineer
Technical Content Developer
Database Architect and Solution Architect
Interestingly, roles such as Technical Content Developer, Solution Architect and Database Architect have witnessed a 350%, 150% and 100% growth in demand year on year, with demand for Tech Architect roles growing over 50% year on year.
IT firms in the likes of Accenture, Tech Mahindra, TCS, IBM, Cognizant, Dell, MindTree, Xerox and Adobe are currently hiring for the roles mentioned above. In finding new opportunities, the most searched keywords by jobseekers on the Naukri.com portal are Java Developer, Manual Testing and Business Analyst, indicating not just a demand for candidates but a reciprocating demand for jobs as well in these much in-demand roles.
From a geography perspective, Bengaluru (22%), Delhi (13%), Hyderabad (9%), Pune (9%) and Chennai (7%) contribute to 60% of the jobs in the sector.
With a slow yet steady recovery in business and the gradual return to former paychecks accompanied by reasonable increments, the IT sector is demonstrating signs of a return to normal. However, how that impacts workforce planning and structure in the near future and how IT giants manage to upskill their workforce for the digital proficiency that the future demands will determine their ability to fasttrack progress.