Technology
LinkedIn launches 'Open for Business' feature globally for SMBs and freelancers
Following an initial roll-out in the US in July 2019, the feature is now live in India and rest of the world.
Professional networking platform LinkedIn  has announced the global launch of Open for Business, a feature that allows freelancers and small business owners to add their services to their LinkedIn profiles, making them discoverable from a LinkedIn search. Following an initial roll-out in the US in July 2019, the feature is now live in India and the rest of the world.
The new feature allows small businesses and freelancers to showcase the services they provide, directly on their profiles. This will help their profiles become more discoverable in the LinkedIn search engine through the 'service providers' filter. Once the "open to" providing services feature is turned on, a box-like card appears on the top of one's profile, which calls out the services they provide.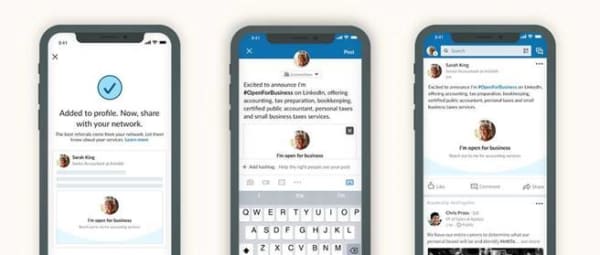 In addition, the feature also allows members looking for services to search and filter results on the platform. This helps them determine which service providers are available and best-suited to fulfill their professional needs. Members can also browse the full list of services offered and send a direct message to the service provider.
Commenting on the global launch of 'Open for Business' feature, Allen Blue, LinkedIn's co-founder and VP of product management stated, "With 660 million members and 30 million companies on the platform across the world, LinkedIn is uniquely positioned to help freelancers and small businesses be more productive and successful, whether they are based in Dubai or Dundee." 
As per research conducted by LinkedIn, small businesses are found to rely heavily on word of mouth, in order to bring in new customers. The feature thus aims to digitize this word of mouth concept by making it easy for members to find, message, and provide references to each other. The launch of this feature signifies LinkedIn's commitment to supporting SMBs and freelancers across the world. Given the rising tribe of freelancers and the surge in the gig economy, the move will enable LinkedIn to further tap into this growing section of the economy.