Technology
Walmart Labs India acqui-hires machine learning startup Int.AI
The Int.AI team will be part of the health and wellness portfolio under Customer Technology at Walmart Labs.
Walmart Labs has made its second acqui-hire in India with the machine learning startup called Int.AI. Int.ai's team including three engineers and the co-founders will be part of the health and wellness portfolio under customer technology at Walmart Labs.
The acqui-hire comes as it looks to strengthen its technology team in the country. 
Hari Vasudev, Country head and Vice President of technology, Walmart Labs India stated, "We are glad to welcome the Int.ai team to the big Walmart Labs family and believe that their expertise will be a great addition to our data analytics capabilities. We look forward to building awesome customer experiences with this team by creating opportunities and bringing value to our customers around the globe."
Founded in 2016 by Praneeth Babu Doguparthy and Vinay NP, Int.AI operates in the field of data analytics and machine learning and has built capabilities in analyzing data and sharing it with targeted users over email as well as collaborative tools like Slack among others. 
On its website, Int.AI stated that the entire team will be joining Walmart Labs, India.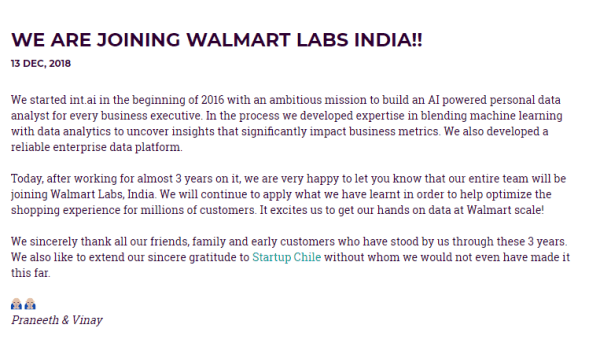 This makes it Walmart's second acqui-hire in India. In September, the world's largest retailer acqui-hired micro-app startup Appsfly, integrating the latter's six-member team with its customer experience engineering group. 
Acqui-hires have becomes a favorite route of large companies to get budding tech talent into their fold at low costs. For startups, it offers an opportunity to test their technologies and algorithms on large data sets and create real value. No wonder, Walmart had earlier stated that it is looking to make three to five startup acquisitions in a year in India.