Corporate Wellness Programs
2 out of 3 consider wellbeing programs an employee engagement activity: Report
In a latest survey by Roundglass, a majority (66%) of organizations consider wellbeing programs as an employee engagement activity. Fifty-six percent said these programs help improve employee performance and, as a result, the organization's bottom line.
RoundGlass in its third annual flagship report — the Wellbeing at Work Survey Report 2020-21 — looks at how HR leaders are designing and implementing effective workplace wellbeing programs. According to the report, more than 50 percent of organizations offer benefits such as health screenings and health awareness or meditation sessions to their employees — a big shift from the days of basic company health insurance and gym memberships. However, most companies focus on only one to two pillars of employee wellness. 
"Although most organizations are doing well at taking care of employees' physical and mental wellbeing, many are missing out on addressing the big picture — Wholistic Wellbeing, or wellbeing across the seven pillars including physical, emotional, financial, professional, social, community, and planetary. They also need to use technology more prolifically and creatively to democratize wellbeing and make it accessible to all," said Sunny (Gurpreet) Singh, Founder, RoundGlass, while releasing the report.
According to the survey, 66 percent companies view their wellbeing programs as an employee engagement activity but, ironically, 65 percent of these say engaging employees in these programs is the biggest challenge, with only 24 percent reporting an average employee participation rate (EPR) of more than 50 percent. Low awareness and buy-in among line managers about the wellbeing program is a factor contributing to low EPR.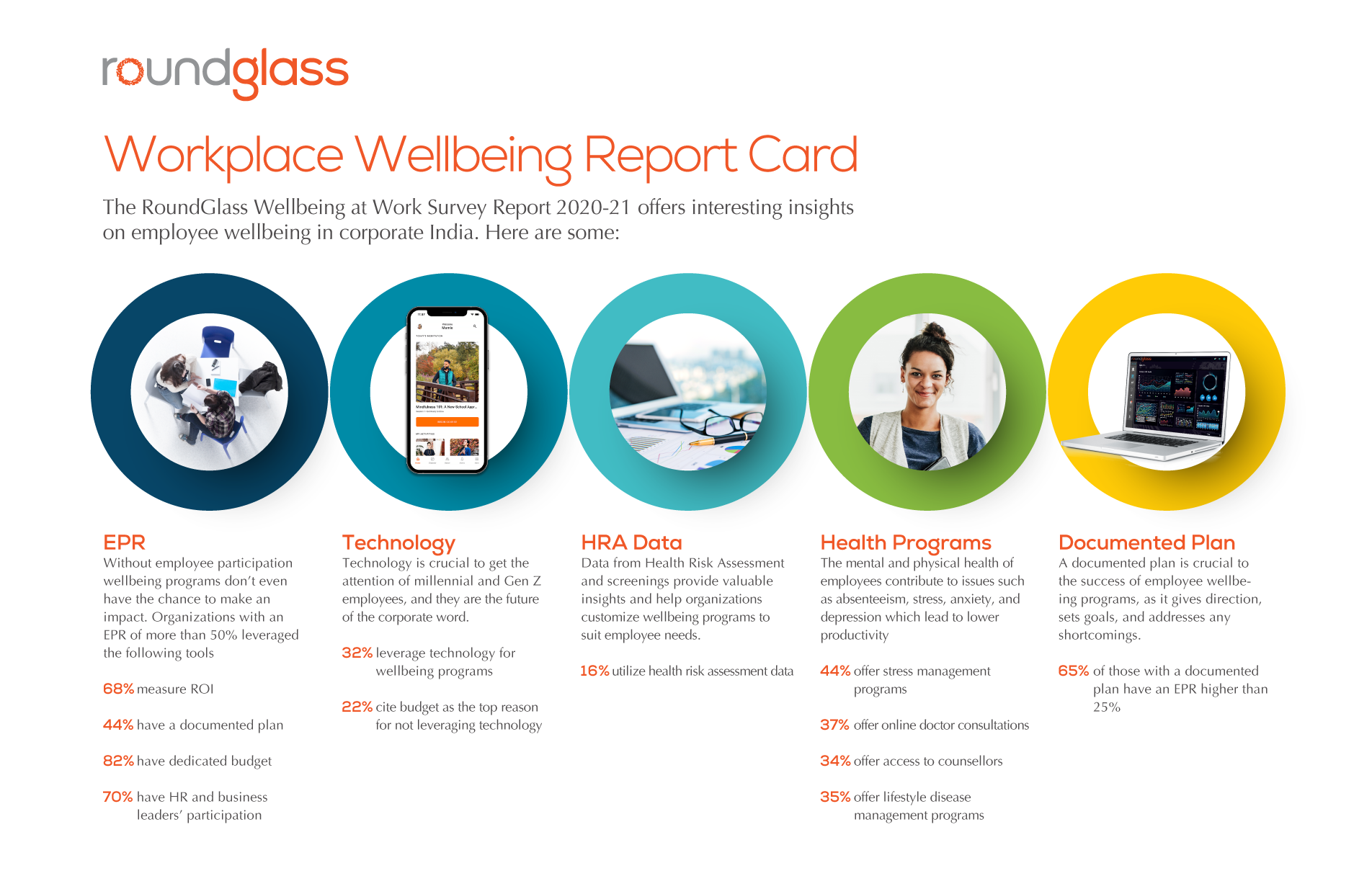 In the last one year, the focus on wellness has increased immensely. Employers realised the importance of taking care of people's healtha and how it has a direct impact of productivity and performance. However, most well-being initiatives for corporates are at a naescant stage. They have to be looked at beyond employee engagement activities and become a critical part of their culture. Further, how these wellness programs are being designed and delivered also needs to be relooked at. 

As Prakriti Poddar, Global Head of Mental Health and Meditation at RoundGlass said, "To optimize the potential impact of a wellbeing program and bring real benefits to employees and the company, organizations also need to foster a culture of wellbeing. This means looking beyond checking boxes and weaving wellbeing into the fabric of the leadership culture — people first. Leaders need to endorse and champion the program so employees are inspired to participate in it."
To begin with, the most important ask is are leaders allocating a dedicated budget for employee wellness?
How much are leaders willing to spend on employee wellness?
As per the report, an overwhelming 86% of organizations had a dedicated budget for workplace wellbeing, irrespective of size or industry. 40% of small organizations spend more than INR 500 per employee per year. Contrastingly, 55% of large organizations spend more than INR 500 per employee per year. The findings further revealed that more healthcare and pharmaceutical organizations have generous wellbeing budgets as compared to other industries: 40% healthcare and pharma companies invested more than INR 1,000 per employee per year, followed by BFSI (28%), software and IT organizations (27%), and engineering (25%).
Let's move on to the next question:
Do companies have dedicated teams for wellness?
Twenty-eight percent of large organizations have a dedicated team compared to a modest 14% of small organizations. Mid-sized organizations fall in between at 23%. The survey also found that healthcare and pharma have the highest numbers of wellbeing teams at 33% while only 20% of software and IT companies have a dedicated team in place. BFSI and engineering stand at 26% and 23% respectively.
As report reveals, effective programs that are well-documented and driven by a dedicated team add up to better employee participation —we saw more than 25% EPR in 66% of such organizations. It is time now that companies look at wellness not only as a tick in the box activity for employee engagement but approach it with more strategy and insights, employee wellness has a direct impact on the company's bottom line.