HR Technology
How to buy HR Tech - Payroll, Leave & Attendance System - Part 2
This is second story of a three-part series How to buy HR Tech from SMB. We have devised a working model for Payroll, Leave & Attendance system to help in decision making from SMBs perspective
The details
In the last article, we saw the parameters we considered for evaluation & we also noted the categories of about 3 dozen different companies identified in the Indian market via web research and other sources.
In this part of the article, we will now look at a detailed evaluation of some of the players on those parameters to give you a sense of how the evaluation was carried out.
Let me clarify that most of the evaluation done here is based on primary data available on the internet about the company & also using some approximation based on my own experience and understanding. This article aims to provide a list of players in this space and a detail evaluation of 3 of the players. The same model can be applied to others in this space for comparison.
The Overall Top Companies:
Basis the evaluation done on information available on the company website and any other web based source, this is the list of top companies who you should evaluate for Payroll & Leave & Attendance systems in SMB sector. Please note this is not a ranking but just an alphabetical order.
ADP
Eilisys
Excelity Global
Grey Tip
HR Mantra
HR Plug
My Adrenalin
Opportune
Oracle
PeopleStrong
PeopleWorks
Pocket HCM
Ramco
TCS iON
Zing HR


Disclaimer: This is not a comprehensive list, in case we missed any names please email us at editorial@peoplematters.in
ADP
ADP is truly the global big daddy of HCM solutions in general and Payroll solutions in particular. ADP started with payroll processing business back in 1949 in USA & hence it's no surprise that this remains their strongest point so far. That's the reason they feature as No 1 company in our analysis.
ADP India also has a very clear focus on the SMB sector with solutions defined & outlined by the size of companies. All the success stories across industries mentioned on the website are about payroll and hence if it's a simple single city or multi-country payroll we can easily trust ADP.
They have also been recognized by Nelson Hall & Gartner in various reports for their payroll capabilities as one of the leading & innovative players in the payroll processing business.
My evaluation of the company based on information available so far is as follows: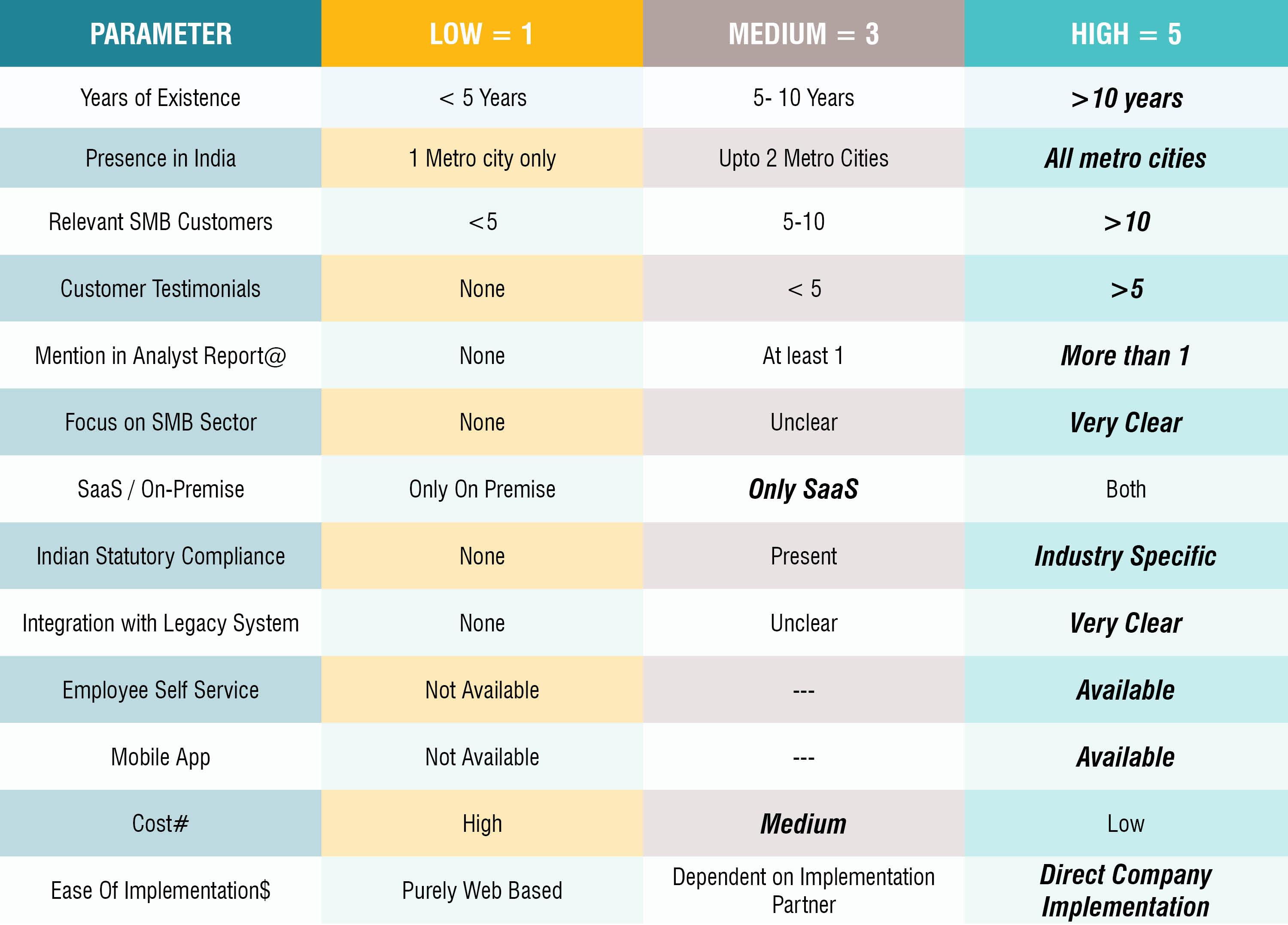 In my opinion, ADP is definitely a great choice for payroll related solutions, however, the SMB sector could be very cost sensitive and might hesitate to approach them.
PeopleStrong
Founded in 2006, PeopleStrong is a young company in mpHRO (Multi-Process HRO) space. However, they have an impressive record of growth over the last 10 years now. They have built capabilities to serve customers in South East Asia, UK, US apart from India.
The company was recently ranked in Nelson Hall's report on RPO in APAC. While the companies RPO capabilities are what you would mostly read about in the news, the ability to provide payroll solutions across multiple geographies is equally strong.
My evaluation of the company based on information available so far is as follows: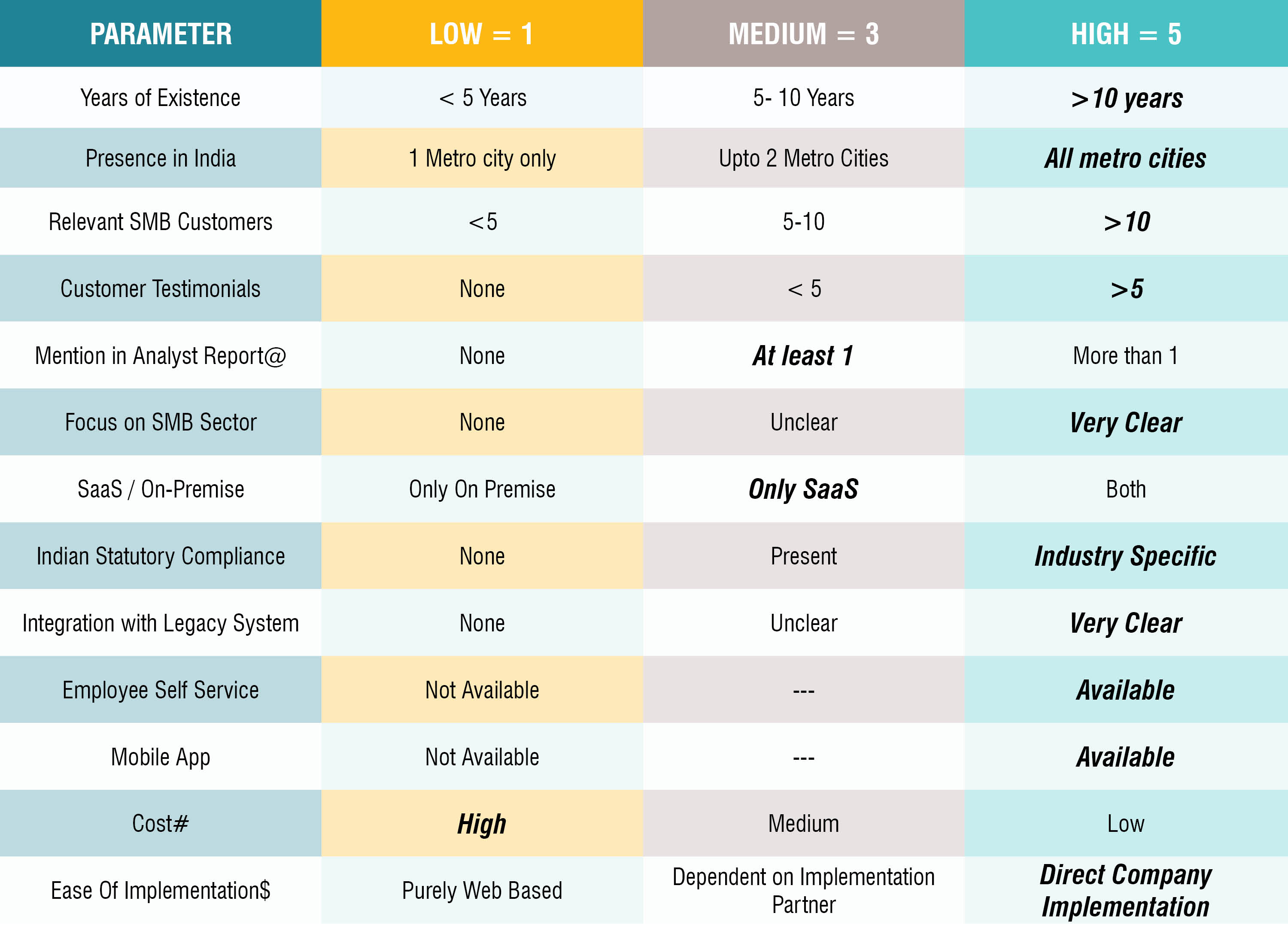 In my opinion, PeoplStrong is a strong contender in this space – from an overall HCM perspective and also from a Payroll perspective. The focus they show on SMB sector coupled with their own technology platform makes them a very likable choice.
My Adrenalin
A group company of Intellect design arena who is an established player in the financial services domain - this is a pure play company in the HCM space. They have 10+ years of experience in this space now & boast of an impressive customer list. They have been mentioned as a niche player in Gartner magic quadrant from an HCM perspective. With respect to their focus on SMB, we see a lot of SMB customers listed on their website.
My evaluation of the company based on information available so far is as follows:
In my opinion, My Adrenalin is underplaying its attractiveness to the SMB sector in the communications that its putting out there. They have featured in the Gartner report and from an SMB player perspective I would definitely consider them if I am evaluating an HCM solution or even a Payroll solution.
Ramco
Ramco is one company which consistently showed up on all search results and search strings I used for the purpose of this research. Ramco is also one of the few players in the Indian market which have consistently got multiple recognitions from leading analyst companies like Nelson Hall and Gartner.
Ramco has 20 years of history in delivering payroll software and services. It features as an Innovative Leading player in the Nelson Hall NEAT framework while competing with global players like ADP, NGA etc. Its majority of revenue is from India & Middle Eastern market thus signifying its deep understanding & expertise in these markets.
My evaluation of the company based on information available so far is as follows: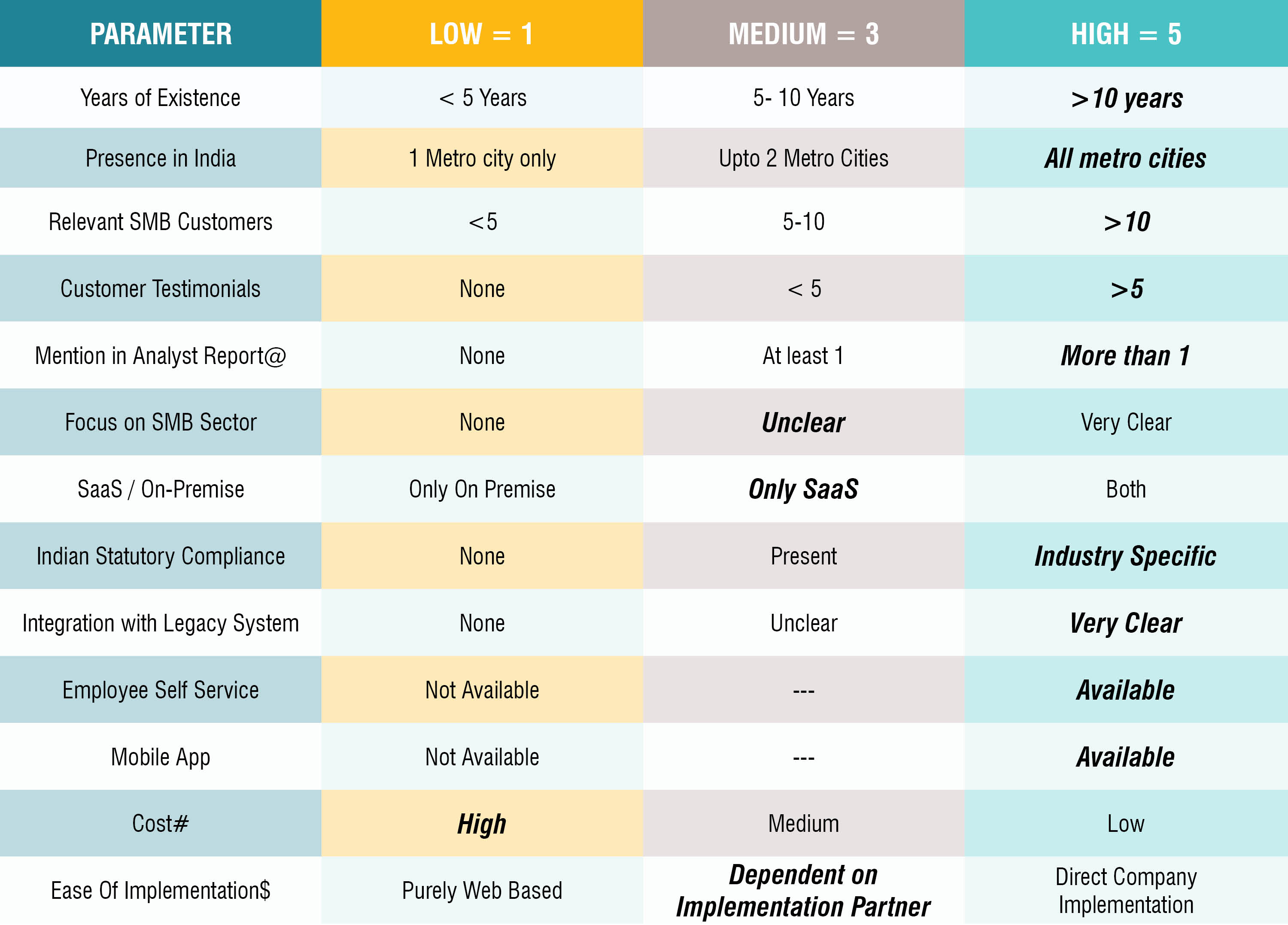 While there is no doubt in my mind about Ramco's superior offerings the only places where they need to focus on is an exclusive focus on SMB sector in India & carving out specific & affordable solutions for the space.
We will explore some of the pure-play Indian market focused players in our next article and do a deep dive on them to give you an understanding of how this list will look like if we look at only India-based players who focus only on the Indian market.
Also read:
How to buy HR Tech - Payroll, Leave & Attendance System - Part 1
How to buy HR Tech - Payroll, Leave & Attendance System - Part 3
Download the PDF
Price: Free
No. of pages: 0
File Size: 0 KB
Register to download. It's FREE and takes few seconds
Register