HR Technology
How to buy HR Tech - Payroll, Leave & Attendance System - Part 3
This is third and the last story of a three-part series How to buy HR Tech from SMB. We have devised a working model for Payroll, Leave & Attendance system to help in decision making from SMBs perspective
In the last article, we looked at companies providing Payroll services via Product and Product + Service model. We looked at some notable names like ADP, Ramco, MyAdrenalin & PeopleStrong in detail. At the end of the last article, we also provided you with a list of few other players in an alphabetical order.
In this article now we will focus on companies which are exclusively focused on the Indian market. While one can argue that companies like ADP, PeopleStrong mentioned above have equally capable India Payroll services, our objective here is to present you with views from different perspectives.
Hence in this article, we will largely talk about companies who provide Payroll Products or Products + Services in the Indian market only. By doing this we are not saying they have better capabilities than the larger, multi-country payroll service providers, but simply giving you another set of companies to consider in your evaluation process.
Like we mentioned earlier, while selecting any HR Tech in general, we strongly recommend you start with your business context & needs – current & future, to help you evaluate the available options in a more objective way.
The India Specific Payroll Product / Product + Service Market
The Indian payroll market is extremely crowded at this stage in terms of the number of players and options that are available to the buyer.
As seen in the case of the global payroll market – we see the same trends here in India too. There are companies which provide payroll as a service – wherein they could be using any product at the backend & the client does not really participate or dictate the product. These are typically accounting firms & many SMB players prefer this arrangement as it ensures that along with all accounting related activities the payroll processing is taken care by the same firm. Here the onus to provide accurate & timely attendance data along with addition & deletion of employee & their salary records are on the client company.
The other category of players – which have seen a rapid growth in last few years – are players who offer cloud-based Payroll services. Here the client company sets up their own payroll rules, integrates the attendance record system & thus can run payroll themselves. In our experience, if you are dealing with a cloud-based product company, you would be better off if you have some domain knowledge of the payroll aspects as it would help you evaluate & ascertain the solution / product features effectively.
The third category is where the product company also offers services & manages your payroll in a completely outsourced manner. Players mentioned in the earlier article like PeopleStrong, TCS iON, have an exclusive focus on SMB and are able to offer competitive deals via Platform –as –a –Service offerings.
SMB Dilemma
Since there are so many options and varieties available in the Indian market – the decision to select the right solution & provider is really a tough one. One could very easily get bogged down and frustrated with the plethora of options available and one's inability to evaluate them consistently & objectively. If one takes a decision based on other people's opinion or experience it may not work out as your needs & business context might be very different.
Hence we recommend to put in some simple criteria. We have considered following assumptions – which are based on our understanding of the SMB space & interactions with some sample SMB owners and HR folks in the SMB sector.
I need someone who is available in my city or at least should be available on phone during my working hours (irrespective of the city of their operation)
I need someone who is affordable to me
I need a simple solution
I would prefer to deal with someone who has an explicit focus on the sector
The company should have good product & understanding of the various intricacies of the payroll processing from an Indian context


Given these assumptions, we now present to you few players which we believe you should consider as an SMB owner/HR leader while evaluating a payroll solution for your business.
The Overall Top 10 Companies: SMB Perspective*
The evaluation is done based on the information available on the company website and any other web based source, this is the list of top companies who you should evaluate for Payroll & Leave & Attendance systems in SMB sector. Please note this is not a ranking but just an alphabetical order.
Eilisys
GreyTip
HR Mantra
HR Plug
K Serve HRMS
Opportune
PeopleWorks
Pocket HCM
Sensys India
Spine Technologies
Zing HR


Here again, typically you will find national & local players. So if you prefer a more local player than a national player even within this space then you would have to dig further. However, my recommendation for you would be to stick with national players as far as possible as it gives you more stability & more importantly scalability for your growing & changing needs.
Eilisys
I call this company the best-kept secret of the digital world as they do not show up on many of the search strings I tried & in some cases, they figure beyond page 2 thus clearly indicating the lack of focus or efforts on making their presence felt in the digital space. However when one looks at their customer base & their track record in the Indian payroll market especially from an SMB perspective one wonders why would they choose to keep themselves off the digital playground.
Eilisys seems to have an extremely comprehensive product – they focus only on this space & which is a big plus being a pure play payroll & attendance management player. They have a very good customer base who seems to have migrated to their solution from bigger/global names which is the testimony of the robustness of their product.
My evaluation of the company based on information available so far is as follows: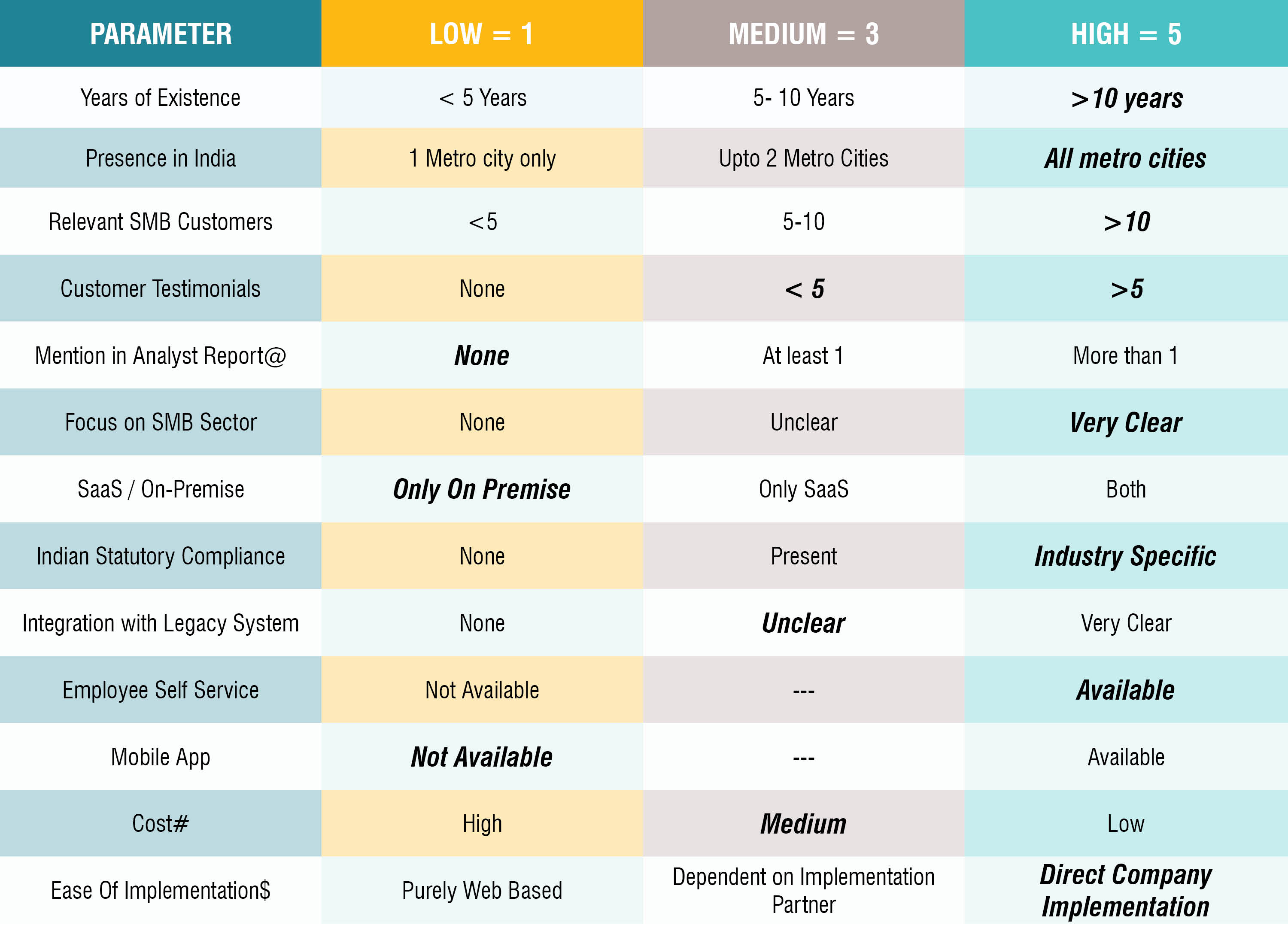 GreyTip
With a long standing record in payroll processing for about 20+ years in the country, GreyTip definitely stands out as a competent player in the payroll & attendance product/service market.
Unlike Eilisys – Grey Tip offers the SaaS along with Mobile App. Grey Tip also boasts of good customer base and very impressive product features at a very very competitive price point. The fact that I can see the pricing on their website is a big plus from an SMB perspective.
They do a fair job of being found on the digital marketplace & hence I am sure you would encounter them if you were doing a web search of your own.
My evaluation of the company based on information available so far is as follows: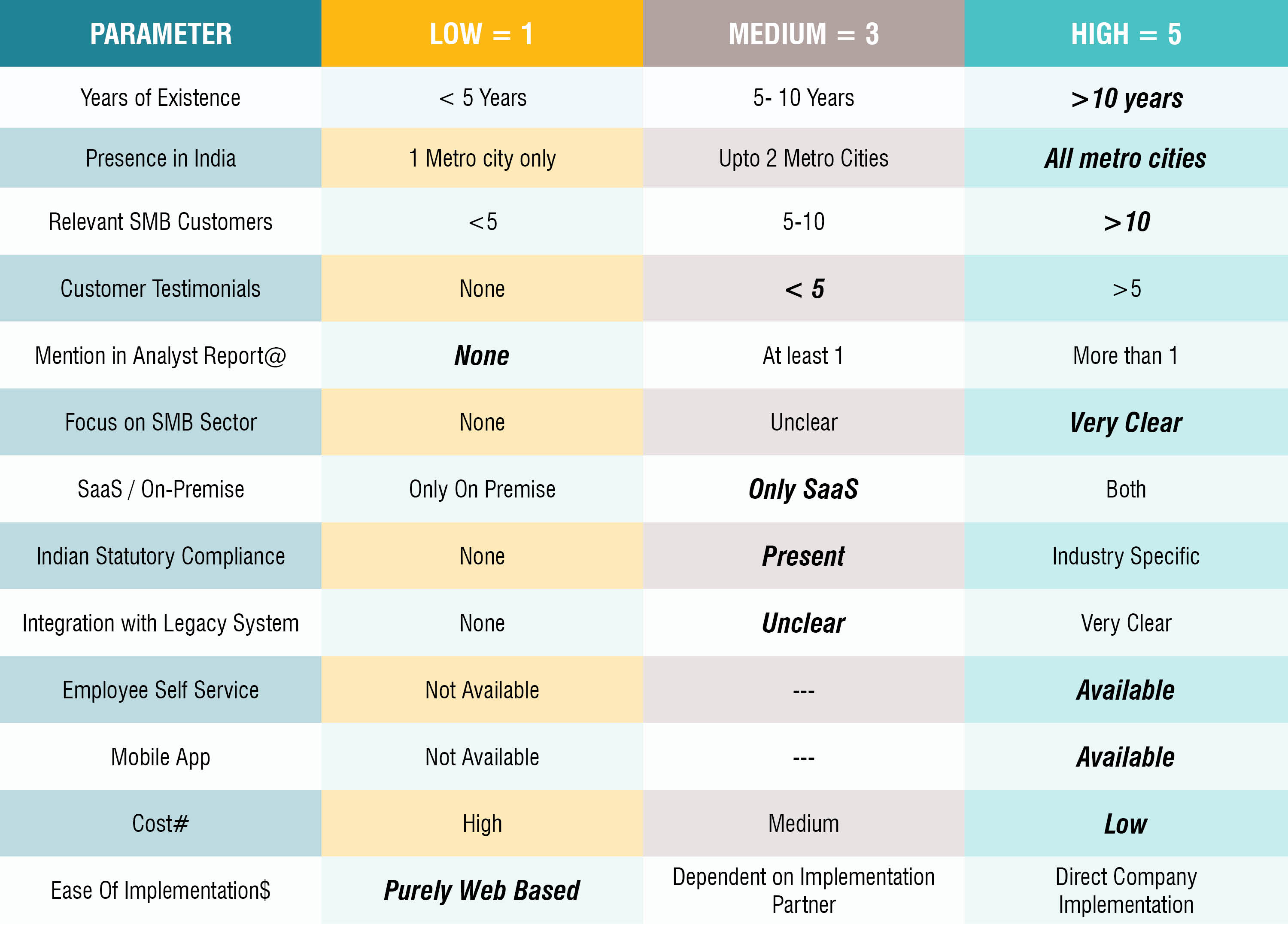 As an SMB player since this is pure SaaS I would want to evaluate in much more detail about "assumptions" of capabilities at my end being made in the software implementation. I would have to ensure that person in my team understands all aspects and is being supported to ensure I get the full value from the investment, however, small it may seem at first.
HR Mantra
This is again a full scale HCM product which has payroll as one of the modules. While for the purpose of the comparison we are only focusing on their payroll related capabilities.
Founded in 1996 thus giving us the confidence of an established player, this company does figure in most of the web searches you would do on payroll. Their product from a payroll point of view seems to cover all the basics that one would expect from such a product.
My evaluation of the company based on information available so far is as follows: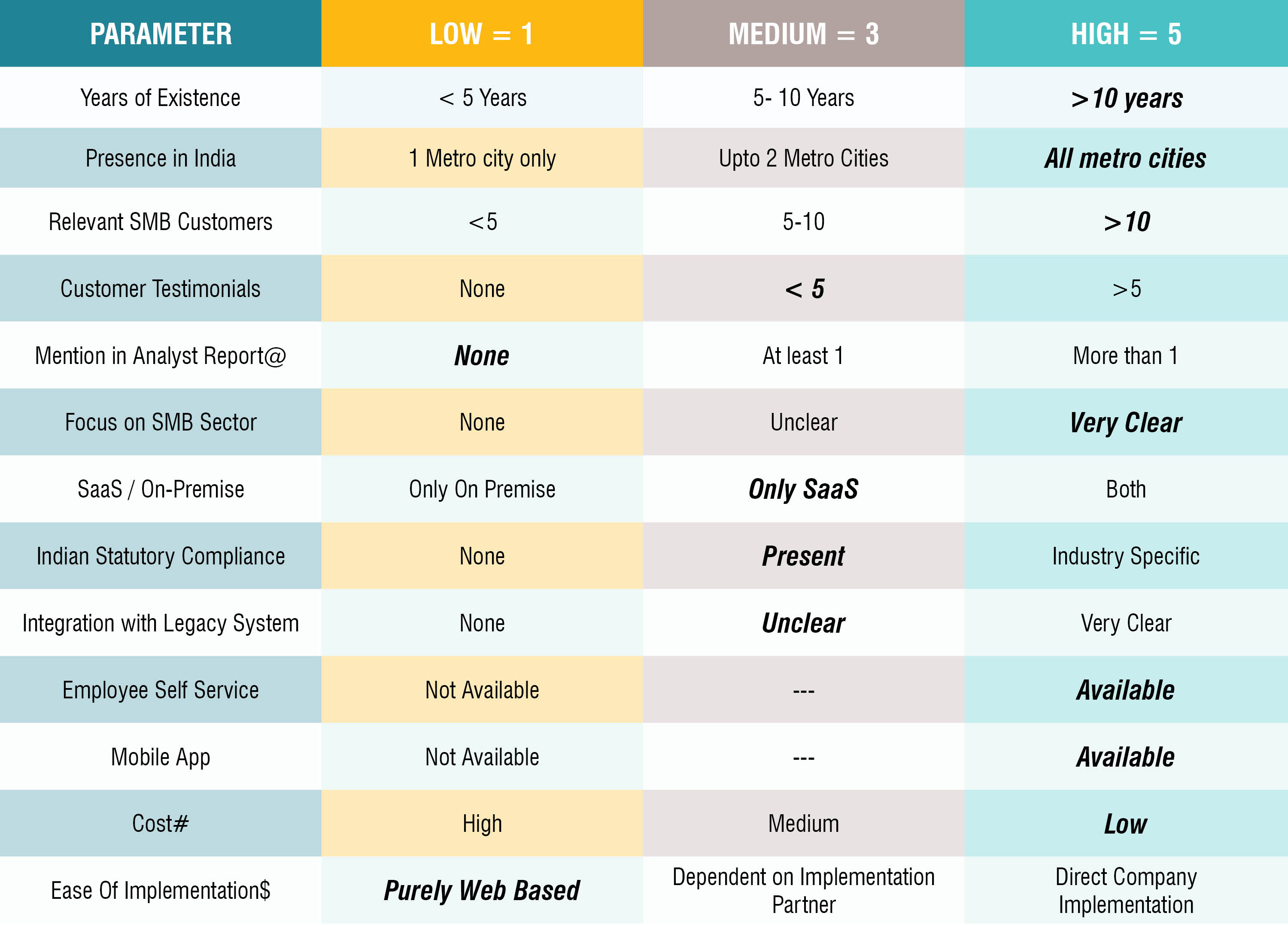 A word of caution on such web only – players purely because there are some implicit assumptions at play – as I mentioned in the Grey Tip review. You would have to critically assess not only the software capabilities but also your own capabilities to ensure the software will work for you.
How Much does it cost?
I know, if you are an SMB owner or HR person and have come this far, you are wondering – Can I really afford ADP Or Ramco Or PeopleStrong? – Well… I haven't gone to that level of detail with this study at this stage, however what I can provide you is a comparison of pricing based on what some of the companies have put on their website – Mind you this is purely the SaaS based product pricing – which means that you still have to consider the effort of your own team to ensure that the chosen SaaS product works the way you want it to – aka –setup the product & configure the rule of your organization – by far the most critical aspect of any technology implementation.
The table gives you a comparison of cost per employee per month for various companies who featured in either of the lists mentioned above. I ensured that all products compared here would have Attendance Management/Integration, Leave Management, and Employee Self Service along with Payroll management.

Disclaimer: This information has been taken from the respective company website is subject to changes to the specific companies pricing policies or disclosures from time to time. Kindly refer to the respective company websites for latest pricing information. It's very evident here that larger and a bit more established player are charging a premium than the newer entrants in the market & hence if you are a decision maker you need to ask the established player – What is the premium for? What is that the established player is able to do which the newer player can not?
What is Missing here?
What is not here are local midsized service providers who would manage your payroll process for a flat fee per month- typically most accounting firms do this work. Since that's a much wider pool and purely service based it was not considered for the purpose of this exercise.
Some of the newer players in the market , example – Playbooks – via Intuit and an interesting new player Quickchex is not here.
While both were considered in the overall set of companies it's not showing up in the final list as it's not a matured product in the market as yet.
In Conclusion
Making any technology decision is fraught with risk unless you are clear about 3 things:
What do you want – meaning – what are the exact requirements of my organization & the people who are going to use/interact with this solution


What is available & what is the value – Cost Benefit trade off


How do I implement the chosen solution in my context to ensure it survives & thrives – this is largely linked to how good a job you have done on #1 above.


I hope that this series of article on the Payroll & Attendance solution has given you some insight into the vast pool of options available before you while also giving you some broad / simple framework to arrive at short listing of companies that you are considering.
Disclaimer: This is not a comprehensive list of players, and the opinions expressed are those of the author. Please write to us at editorial@peoplematters in case you know of great products in HR technology and services that you would like us to consider.
How to buy HR Tech - Payroll, Leave & Attendance System - Part 1
How to buy HR Tech - Payroll, Leave & Attendance System - Part 2
Download the PDF
Price: Free
No. of pages: 0
File Size: 0 KB
Register to download. It's FREE and takes few seconds
Register